Microsoft Wireless Sculpt Ergonomic Desktop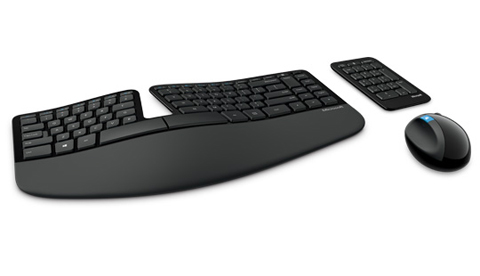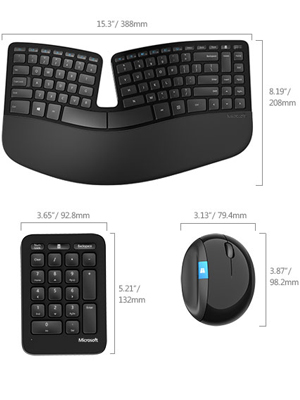 Advanced Ergonomic Design
Sculpt Ergonomic Desktop is built on advanced ergonomic principles, with a split keyboard layout that keeps wrists and forearms in a relaxed position, and a cushioned palm rest to provide wrist support. The domed keyboard shape works to reduce and correct wrist pronation that can cause pain and limited mobility.
True Comfort for Lasting Productivity
Sculpt Ergonomic Desktop is designed for productivity, with an eye on ergonomic excellence. By providing a relaxed, comfortable computing experience, it enables you to work without the stress, strain, and discomfort of other keyboards and mice you may have used in the past.
It's All in the Angles
The natural arc keyboard layout follows the curve of your fingertips for a more natural way of typing. Reverse tilt design positions the keyboard at the correct angle to give you a straight, neutral wrist position. Additionally, the shape of the mouse is designed for maximum wrist comfort. Plus its Windows button provides one-touch access to the Windows 8 Start screen.
Designed for Comfort
The Sculpt Comfort Keyboard is packed with ergonomic features including a contoured keyset, removable padded palm rest, and palm lift. These features are designed to encourage a more natural, relaxed positioning of the arms, hands and wrist, providing greater comfort and helping to avoid injury during extended use.
Built for Productivity
Microsoft believes in the constant pursuit of excellence, and is always looking for ways to improve the comfort and productivity of our hardware. The new split spacebar with backspace functionality on the Sculpt Comfort Keyboard is the perfect example. Research shows that 90 percent of people use only their right thumb to hit the space bar, and that the backspace key is one of the most frequently used keys on a keyboard. Knowing this, Microsoft Hardware designers built a larger, split spacebar that includes a backspace bar on the left-hand side. The new design helps improve typing speed and provide improved comfort.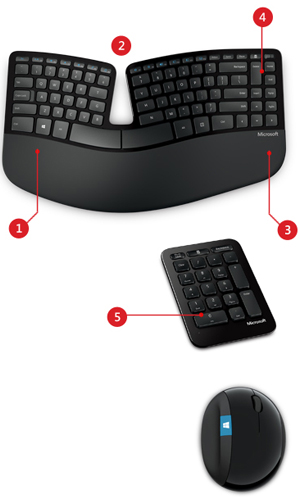 Cushioned Palm Rest
Cushioned palm rest provides support and promotes a neutral wrist position.
Split Keyset Design
Split keyset design helps to position wrists and forearms in a natural, relaxed position
Natural Arc
Natural Arc key layout mimics the curved shape of the finger tips
Domed keyboard Design
Domed keyboard design positions wrists at a natural, relaxed angle
Separate Number Pad
Separate number pad provides greater flexibility for workspace setup
---