The VG2732m-LED is one of ViewSonic's latest 27" models. Full 27" display with native 1920x1080 resolution is big enough to replace most dual-monitor setups. Wat makes it even more appealing is the LED backlight for up to 50% energy savings. Monitor is also fully ergonomic with 90° pivot, height adjust, swivel and tilt. The slim bezel design coupled with hidden stereo speakers make VG2732m-LED a space saver. You can put it on your desk or mount on your wall or on any VESA® compliant monitor stand. With ViewSonic's strongest pixel performance guarantee and 3-year limited warranty, you will have peace of mind in your investment.
Key Features:
Full 27" widescreen provides plenty of room for large spreadsheets and dual document editing
Eco-mode saves up to 40% energy* while helping reduce your energy bill
Slim Bezel design conserves desk space and is perfect for multi-monitor applications
4-port USB hub for easy connectivity of devices such as digital cameras, flash drives and mice
100 x 100 mm VESA® compliant for 3rd party wall mount or monitor stands
DisplayPort, DVI, and VGA inputs for diverse connectivity options
Highest grade panel with one of the best pixel performance policy in the industry

*Energy savings may vary based on cost, actual usage and other factors.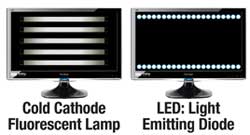 What is a LED monitor?
The term "LED monitor" generally refers to a monitor with a LCD panel and a LED backlight. A typical LCD monitor uses cold cathode fluorescent lamps (CCFL) as a light source to illuminate the LCD panel. In an LED backlit monitor, white LEDs (Light Emitting Diodes) are used as the light source.LED backlights provide the following benefits:
About 50% less power consumption compared to traditional CCFL monitor
20,000,000:1 MEGA Contrast Ratio
Mercury-free backlight
Low EMI (Electro Magnetic Interference)
Slimmer design
Weight reduction

Eco-mode for up to 40% energy savings
ViewSonic's proprietary Eco-mode function comes standard with the VG2732m-LED. When you don't need all of the powerful features VG2732m-LED has to offer, you have the option to reduce the monitor's brightness, save energy, save the planet and prolong the lamp life. You can select one of the "Optimize" or "Conserve" options and save up to 40% energy. Especially under low ambient light conditions, adjusting the brightness will improve visibility by reducing eye fatigue. Reducing brightness will also prolong the monitor's lamp life, improving your return on investment.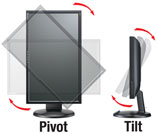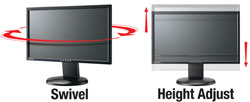 Efficiency and comfort
Ergonomics is defined as profession of designing tools and work environments to best accommodate human performance and behavior. The VG2723m-LED is one of the great examples of an ergonomically designed tool. Based on your height, chair and desk conditions, you can adjust it up and down for 5.3 inches, swivel it 356°, or tilt it 20° degrees, whatever makes you more comfortable.
Also, when designing a portrait mode image or a document (such as a flyer or a magazine page), you can rotate the monitor 90° and utilize your 27" screen size at its full extent. You can also adjust your graphics card settings so that all your graphics are rotated 90° as well.

Full HD Resolution
VG2732m-LED features a 27" widescreen with 1920x1080 resolution that is capable of displaying a native Full HD 1080p image. In today's world, Full HD capable devices are getting more and more common which in return increases the demand for 1080p content. In order for graphic designers and movie producers to work more efficiently on 1080p content, a display that natively supports this resolution becomes essential.
ViewSonic VG2732m-LED's 27" panel offers another new trend in the LCD panel market - 16:9 aspect ratio. This new aspect ratio not only natively supports Full HD 1080p content but also in a "non-distorted" way. For example, a 1920x1200 resolution monitor will also support Full HD 1080p but it will either stretch it to fit into a full screen or show blank side bars to avoid distortion. With a 16:9 aspect ratio panel, you will get the most out of your HD content since HD contents are natively designed in this format.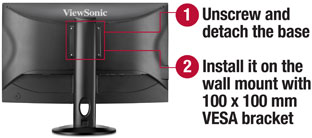 VESA mount and multi-monitor setup
The VG2732m-LED provides maximum flexibility, whether you're planning to install on a custom stand for multi monitor setups or wall mount it, we've included a 100 x 100 mm VESA mount holes in the back. You can detach the base easily by unscrewing four screws and then mount the display on its new stand or wall mount.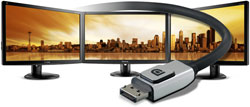 High performance DisplayPort connectivity
The VG2732m-LED is equipped with DisplayPort digital interface, which transmits both audio and video signals through a single connection to deliver ultimate versatility and performance. DisplayPort supports all kinds of multimedia devices for convenience in video production, graphic design and more.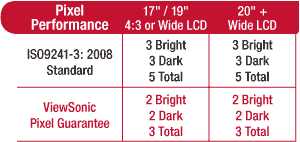 Peace of mind with one of the best pixel performance guarantee and 3-year limited warranty
One of the aspects that make ViewSonic a market leader in displays is its commitment to quality. LCD panels are produced in factories and as everything else, they may have flaws too. One of the flaws of an LCD panel is a dead pixel, bright or a dark one. Some panels will have no dead pixels while some will have one or two or more. When LCD display manufacturers build their monitors, they will have the option to use different grade panels with different tolerance levels for the number of dead pixels. ViewSonic is committed to use the highest grade panels and offer one of the best pixel performance policy in the market. We also back our displays with a 3-year limited warranty for your peace of mind.

Diverse connectivity
The VG2732m-LED features DisplayPort, DVI-D digital, and a VGA analog input. You can connect multiple sources at the same time and then toggle between them by selecting the input source through the On-Screen-Display (OSD). You can also connect one of your computer's USB ports to the monitor's USB uplink input which then multiplies the USB ports to four. This way, you can connect up to four USB devices to your monitor and save yourself from the hassle of reaching out to your computer's USB ports.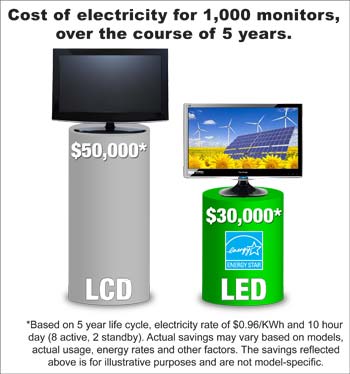 Save cash and save the planet
With its mercury-free backlight and low energy consumption, the ENERGY STAR® certified VG2732m-LED saves your electricity bill. The savings of LED can add up to thousands of dollars saved for large install bases, such as big corporate buildings or schools. The savings can be as dramatic as $20,000 in five years!
Dimensions and other features: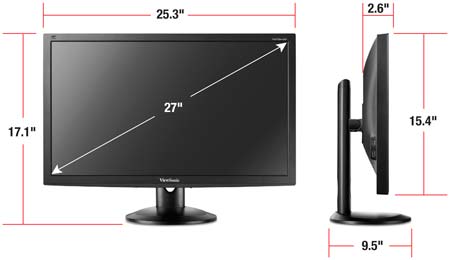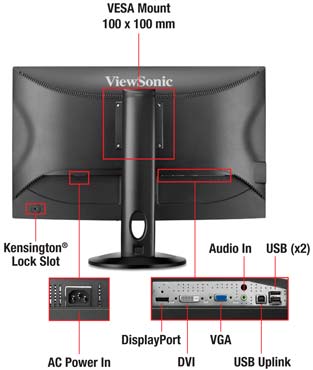 Corporate names & trademarks mentioned herein are the property of their respective companies. Copyright© 2012 ViewSonic Corporation. All rights reserved.