Exceptional interactivity comes standard in the ViewSonic TD2340. It's the Windows 8-certified 23", 10-point multi-touch monitor with 1920x1080 Full HD resolution and projected capacitive touch technology delivering seamless and accurate touch response. Experience stunning color performance with IPS technology and a 20,000,000:1 MEGA Dynamic Contrast Ratio. Integrated speakers with SRS premium sound provides a complete multimedia package. DisplayPort, HDMI, and VGA inputs provide flexible and convenient connectivity. Advanced dual hinge stand design ensures outstanding ergonomic comfort and productivity, with VESA mountable option for additional convenience. The TD2340 is fully USB HID compliant and certified with Windows 8. It is the gateway to the new world of interactivity.
Key Features:
23" 10-point projected capacitive touch enabled LED monitor with Windows 8 Touch Certification to deliver best in class experience
IPS panel technology with 1920x1080 Full HD resolution to provide stunning image and picture quality for photography and entertainment
Advanced dual hinge stand designed for optimal touch experience
Versatile connectivity with DisplayPort, HDMI and VGA
7H scratch resistant surface hardness helps ensure high touch accuracy and durability
Stereo speakers with SRS Premium Sound for crystal clear sound performance
ENERGY STAR and EPEAT Gold certified for up to 50%* energy saving with LED backlight
VESA mountable design and Kensington holes ready for enterprise applications and public environments
Backed by Viewsonic's 3-year limited warranty, highest grade panel and industry leading pixel performance policy

What is Projected Capactive Multi-Touch?
Multi-touch refers to the ability of a touch surface to recognize two or more contact points simultaneously. Projected Capacitive touch has been widely used in consumer mobile devices such as the Apple iPhone and iPad, tablets and other smartphones. It provides you with a smoother and more accurate touch experience over other touch technologies. Multi-touch allows for direct interaction with electronic devices by using gestures with two or more fingers to zoom in/out, rotate, and navigate.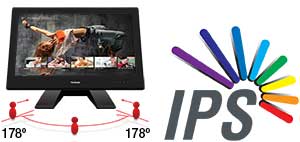 What is an IPS Panel?
IPS (in-plane switching) technology is one of the highest performance panel technologies available in LCD displays. The specifications and details of IPS panel technology are considered best for high accuracy in color, contrast and wide viewing angles. IPS panels offer excellent picture reproduction for photography, graphics design, movie production, CAD/CAM engineering, medical and security applications. With IPS panels, you won't get color shifts or changes in the contrast ratio when you move the image across the screen or change your viewing angle.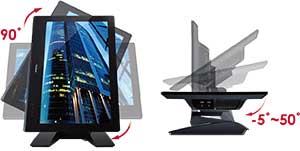 Most Advanced Ergonomic Design
The TD2340 is equipped with one of the most advanced dual-hinge designs for displays to provide you with best-in-class productivity and maximum comfort. You can raise the monitor, rotate it, or lay it flat - whichever way you need it, you have it.
One-Stop Solution for Multi-Touch Monitor Needs
The TD2340's multi-touch interface and Full HD resolution make it an ideal touch solution for both commercial and consumer applications. It gives commercial users the capability to create a direct and interactive experience for their customers. Full HD resolution and high Dynamic Contrast Ratio deliver amazing image quality and color accuracy. Scratch resistant 7H surface hardness ensures the TD2340 can withstand heavy usage in high traffic environments, while maintaining a high-quality touch experience. For consumers, the TD2340 delivers seamless compatibility with Windows 8 and its touch functionality.
Some of the applications where the TD2340 can be a perfect solution:
Information Booth and Kiosk
Education
Digital Signage
Home Entertainment (images/videos/gaming)
Eco-mode for up to 40%* energy savings
ViewSonic's proprietary Eco-mode function comes standard with the TD2340. When you don't need all of the powerful features the TD2340 has to offer, you have the option to reduce the monitor's brightness, save energy, save the planet and prolong the lamp life. You can select one of the "Optimize" or "Conserve" options and save up to 40%* energy. Especially under low ambient light conditions, adjusting the brightness will improve visibility by reducing eye fatigue. Reducing brightness will also prolong the monitor's lamp life, so you get the longest life for your money.
VESA mountable
The TD2340 features a 100mm x 100mm VESA mountable design that allows you to mount it on a monitor stand or on a wall, depending on your specific needs. You can detach the base easily by unscrewing four screws and then mounting the display on its new stand or wall mount.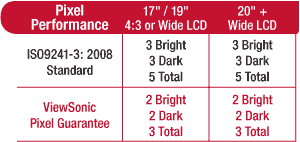 Industry leading pixel performance guarantee and 3-year limited warranty
One of the aspects that makes ViewSonic a market leader in displays is its dedication to quality. ViewSonic is committed to use the highest grade panels and offer the industry's leading pixel performance policy. We also back our displays with a 3-year limited warranty to add a little peace of mind.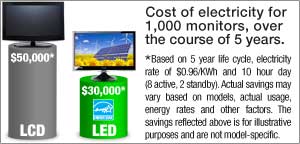 Save cash and save the planet
With its mercury-free backlight and low energy consumption, the ENERGY STAR certified TD2340 is not only environmentally friendly but also friendly on your electricity bill. The savings of LEDs can add up to thousands of dollars saved for large install bases, such as big corporate buildings or schools. The savings can be as dramatic as $20,000 in five years!
What's in the box:
LCD Display
Power cable
Audio cable
HDMI cable
VGA cable
USB cable (from PC to the monitor)
Quick Start Guide
ViewSonic Wizard DVD
Dimensions and Other features: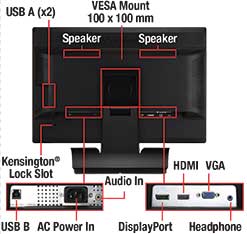 *Energy savings may vary based on usage and other factors.
Corporate names, trademarks stated herein are the property of their respective companies. Copyright© 2013 ViewSonic Corporation. All rights reserved.