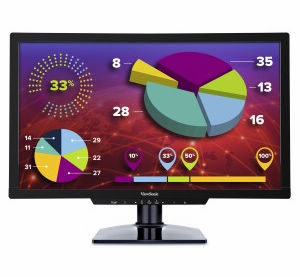 SD-Z225
Optimized for VMware View
The ViewSonic SD-Z225 22" (21.5" viewable) Zero Client monitor is based on the Teradici Tera2321 processor, with hardware accelerated PCoIP support. It requires no local memory or moving parts and the VMware-certified design guarantees performance and compatibility in your network. The SD-Z225 is a true Zero Client that allows advanced computing with greater security while reducing system-building and maintenance costs. With the additional DVI output, flexible support is provided for dual monitor productivity, and the eco-friendly design with LED display uses up to 80% less energy consumption than standard PCs.
Key Features
Teradici Tera 2321 CPU with 512MB System Memory
Hardware accelerated PCoIP optimized for VMware View
PCoIP Management Console provides web based global control
Full connectivity supports video out (DVI-D) for dual monitor productivity, 4-USB (V2.0) ports, Mic, Headphone, and RJ45 Ethernet for 10/100/Gigabit
Ultra-reliable design with no moving parts lasts twice as long
Key Applications
Enterprise Class Zero Client Computing Performance (VMware)
Financial, Healthcare, Government, and Education customers
No local file saving for Hipaa and Sarbanes Oxley compliance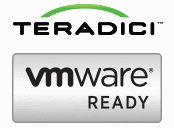 Optimized Power for VMware View
Teradici's Tera2321 is the most advanced processor for VMware-based virtualization. Experience all of your applications with blazing-fast response time.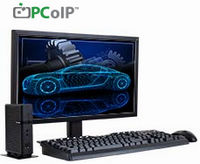 True Personal PC Experience
The SD-Z225 supports 2D and 3D graphic-intensive applications and a rich multimedia experience at full frame rates over Gigabit Ethernet. This is the no-compromise solution for demanding users.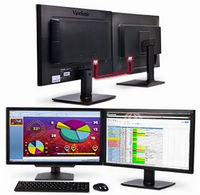 Dual Display Productivity
With its DVI-I digital or analog outputs, the SD-Z225 provides for dual display productivity when connected to secondary 1080p displays.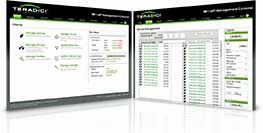 Simplified and Secure Management
The Teradici PCoIP Management Console provides for centralized deployment and management. With web-based access, administrators will be able to configure, update, manage, and even remotely control the power state for all of their PCoIP-based zero clients throughout the network.

Low Total Cost of Ownership
All of the benefits of a virtual desktop deployment can be realized with ViewSonic's SD-Z225 Zero Client. From simple and quick deployment, enhanced security with no local HDD, increased reliability and higher productivity—the SD-Z225 is an efficient and low-cost choice for virtualizing desktops.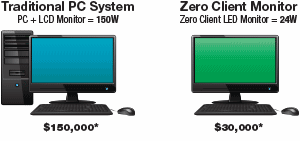 Save Cash and Save the Planet
With its ultra low 24W typical power consumption in Eco-mode, the SD-Z225 Zero Client monitor is not only environmentally friendly but also friendly to your electricity bill. The savings of this Zero Client monitor can add up to thousands of dollars for large install bases, compared to traditional PC's and monitors. The savings can be as dramatic as $120,000 in five years*. (Actual savings may vary based on model's actual usage, energy rates, and other factors.)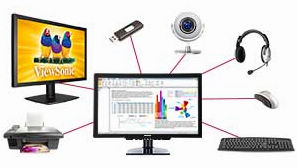 Flexibility for Your Peripherals
The SD-Z225 Zero Client monitor is equipped with video out (DVI-I), four USB (V2.0) ports for your peripherals, Mic, Headphone, and RJ45 Ethernet for your 10/100/Gigabit network.
VESA-Mountable Design
The SD-Z225 features a 100 x 100mm VESA mountable design that allows you to mount it on a monitor stand or on a wall, depending on your specific needs.