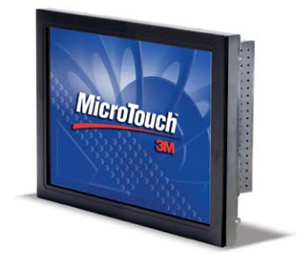 3M™ MicroTouch™ CT150 15" Touch Monitor, USB, Slimline Bezel
The 3M™ MicroTouch™ CT150 15" LCD touch monitor offers the fast, accurate, & reliable touch response of 3M™ MicroTouch™ ClearTek™ II Touch Technology and is designed for easy integration and multiple bezel options.
Multiple bezel options for maximum design flexibility
Mounting option flexibility including brackets and 75mm VESA pattern
Remote OSD simplifying display adjustments
Accepts 12V DC or 110 ~ 220VAC power
Color match files available to synchronize display color with printed output
FEATURES
The Clear Choice for Optics, Reliability, and Ease of Integration
The 3M MicroTouch Display CT150 (15"), a robust metal chassis display using 3M's industry-standard surface capacitive touch technology, provides a durable, optically-enhanced, and cost competitive alternative to five-wire resistive displays used in industrial automation equipment and kiosk enclosures. The CT150 display offers multiple mounting options to make integration easy and a variety of bezel options for sealing against liquids and other contaminants. A remote on-screen display module helps simplify any changes to the display image during installation or system maintenance.
The Clear Choice
The CT150 display utilizes an all-glass surface capacitive touch sensor with the proprietary 3M™ ClearTek™ Hard Coat to deliver superior durability, 91.5% light transmission, 225-nit brightness (with touch screen), 500:1 contrast ratio and an ultra-fast 5.4 millisecond touch contact time.
Multiple Mounting and Bezel Options
Multiple mounting and bezel options enable customers to meet their application needs at minimal cost. The CT150 display offers a 75mm VESA pattern to provide arm mounting capability for industrial automation equipment. This minimizes the capital expenditure needed to upgrade equipment with touch. L-brackets (standard) or a VESA mounting bracket (optional) are available for installations requiring the touch display to be fully enclosed.
The CT150 display offers three bezel options. The Slimline bezel is flush with the edges of the display and is ideal for arm-mounted applications. The Contour Flanged bezel provides a lip to cover the air gap between the touch display and the enclosure opening. These two plastic bezels are ideal for solutions that require a NEMA 1 seal rating. The Industrial Flanged bezel, a metal gasketed bezel, enables kiosks or others enclosures to support NEMA 4X / IP66 seal ratings.
Cost Effective
The CT150 display uses an all-glass touch sensor with no moving parts, whereas five-wire resistive solutions rely on compressing the top film layer against a conductive coating to recognize touch. Since force is required to activate a resistive touch sensor it is susceptible to mechanical wear and the appearance of "Newton Rings" which can potentially reduce product life and optical performance.
Feature
Benefit
All-Glass, One-Layer Solution

Provides 91.5% light transmission as compared to 80% for certain 5-wire resistive solutions
Unaffected by UV light that can cause degradation of optics and yellowing of film-based touch sensors over time
No moving parts improves reliability
Inherently free from the appearance of "Newton Rings"

3M ClearTek Hard Coat

Proprietary coating is uniformly heat infused into the glass creating a non-permeable barrier for increased scratch and chemical resistance
Low surface energy coating promotes smooth finger drag
Unaffected by surface contaminants

Total Touch Solution

Unlike other touch display manufacturers that utilize 3rd party touch sensors, electronics, and or software in their design, 3M owns, understands, and warranties the entire system for an unlimited amount of touches for three (3) years