Enjoy 3D movies or play 3D games on an ultra big 160"* screen with the Aaxa LED Showtime 3D projector. Powered by a 3D-ready DLP graphics processor, the Aaxa LED Showtime 3D delivers eye-popping 3D effects. With a powerful ARM processor, the Showtime can double as a stand-alone entertainment system without the need to connect to a video source or game console. LED light sources (life-span of 20,000 hours), advanced 450 lumen optical engine, and native 720p (WXGA) resolution ensure superb image quality. The LED light sources directly inject red, green, and blue colored light into the projection engine instead of relying on filtering white light. This projector eliminates the need to replace the projector lamp. Versatile connectors are also offered for versatile multimedia support. (*160" image possible in low-light conditions)
Stunning 450-Lumen Optical Engine
Native 720p HD Resolution
160" Screen Size for Immersive Games and Movies
20,000-Hour LED Light Source
Full Sized HDMI, VGA, Inputs
Powerful ARM Processor for Video, Pics
MP4, MP3, AVI, JPG, and Text File Support
3D Ready with Onboard Decoder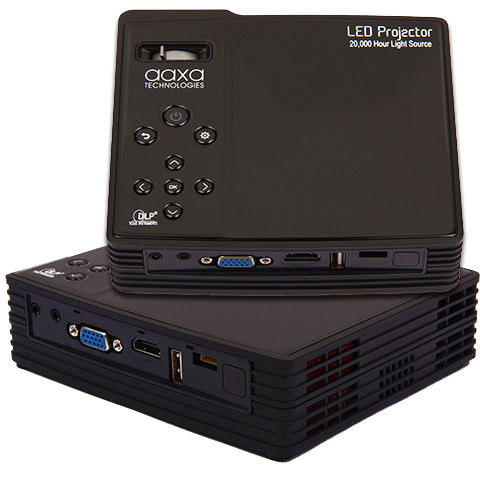 Highlights
3D Ready Processor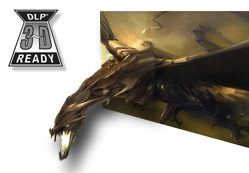 The Showtime is 3D Ready with "DLP-3D" image processing capability able to display 3D movies, games, and educational content. 3D Operation requires 3D glasses and Quad Buffered 3D Graphics card.
Game and Movie Ready

The LED Showtime 3D is the perfect match for both gamers and movie enthusiasts. The LED Showtime is optically tuned for fast paced gaming where the color-sequential light-source coupled with a fast-acting imager eliminates color-smearing and rainbowing found on older color-wheel type projectors. Luminus LEDs were selected for the best color reproduction found in solid-state projection lighting. And its 160"* screen size enables immersive games & movies. (*160" image possible in low light conditions)
High Definition WXGA Resolution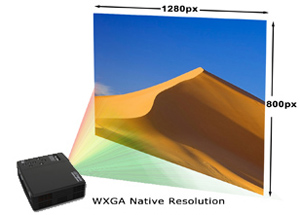 The LED Showtime 3D features highest-in-class resolution at WXGA (1280 x 800), otherwise known as "High Definition 720p" and is the base resolution for Blu-ray DVDs. Unlike competitors who claim high resolution through digital scaling, the LED Showtime 3D's native resolution is 1280 x 800 pixels and is capable of scaling resolutions up to 1080p providing a native high definition experience.
Super Color and Image Quality
The Vibrant Color Technology and triple Luminus LED light source in the LED Showtime 3D produces a vivid display with amazing color saturation.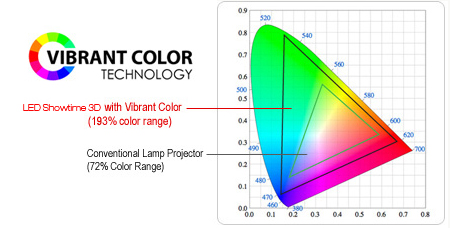 High Perceived Brightness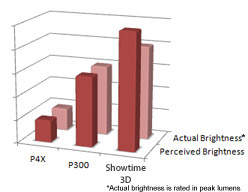 In darker environments the perception of brightness is influenced by contrast, color quality, and other optical factors rather than raw lumens. While the LED Showtime 3D's 450 lumens is brighter than the P300 model (rated at 300 peak lumens), the perceived difference is even greater because the LED Showtime 3D is specifically engineered for improved contrast, optical characteristics and color quality resulting in a substantially higher perceived brightness compared to the Aaxa P300.
Long Operation Life and Quick On and Off

Conventional lamp-based projectors require frequent bulb changes with very expensive bulbs that cost hundred of dollars.

The Showtime's LED light source lasts 10 times longer than conventional lamps so bulb changes are a thing of the past!

Long warm-up and cool down times, sometimes for several minutes, are required for projectors using traditional lamps.

The LED light source enables the LED Showtime 3D to achieve full brightness within seconds. Of course, it turns off instantly as well.
Automatic Keystone Correction
The LED Showtime 3D has an advanced automatic keystone correction so your image is never out of proportion. The device will automatically sense if the projected image requires vertical keystone, and will adjust the image digitally.

Versatile Multimedia Support
Onboard media player supports popular file formats
Share movies, videos, photos with friends and family
Bring presentations anywhere and everywhere
Enjoy gaming and entertainment without large TVs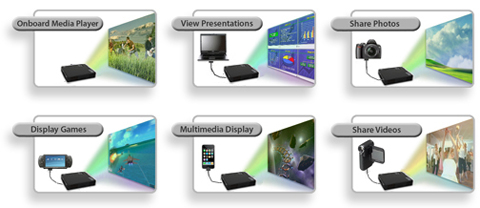 Inputs and Connectors
Full-Size VGA Connection
Full-Size 1080P HDMI Connection
USB Port for Video and Picture Playback
Composite RCA, Adapter included
Audio Out 3.5mm Jack, Headphone Out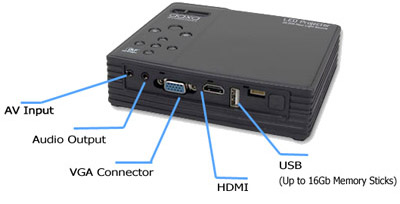 Environmentally Friendly

The Showtime's LED light source consumes less power. The LED is also 100% free of mercury and, as the bulb never needs to be replaced, there are no discarded bulbs.