FUNC HS-260
The HS-260 has been designed to help you through long gaming sessions with comfortable, breathable ear cups and an extremely accurate sound image. The closed ear cup design blocks background noise allowing you to stay focused on your game, while the controls are located on the ear cup for easy access allowing you to keep your eyes focused on the screen with minimal distractions. The added features of the removable microphone and detachable cord solution ensure that you have a well-rounded, multi-functional gaming headset.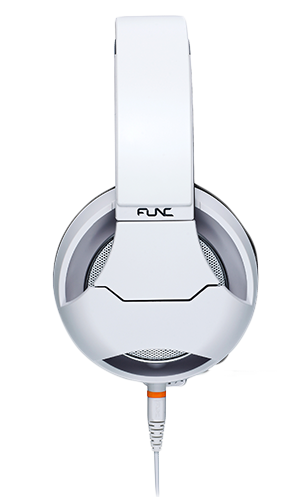 50MM DRIVERS SOUND OPTIMIZED FOR GAMING

The drivers have been carefully tuned to deliver a well-balanced sound image. This will allow you to achieve a distinguished speech as well as a full audio experience during gaming sessions. The speakers have been synced to work at the same performance level which will help you to pinpoint the exact position of an enemy in-game.

HIGH QUALITY MICROPHONE RECORDING QUALITY

Transmitted voice is recognizable with little distortion.

ADJUSTABLE CORD AND MIC POSITION

Convert the headset to headphones thanks to the detachable microphone. The microphone and audio cable can be connected on either side of the headphones as they are removable and will work in both positions.

"The audio and modular design is very nice. Never seen that before. The volume and mic mute aren't on a cable which is nice. The mic is also very low profile which I like."

COMFORTABILITY

One of the most comfortable gaming headset built around a gamers needs of long durations of gaming sessions.

"Comfortable as hell. It takes some absolutely extreme usage for me to start felling remotely fatigued from wearing the headset"

TWO SETS OF EAR CUSHIONS FOR PREFERENCE

Changeable ear cushions, comes with a one set of velour and one set of leather cushions.