JLab Go Bluetooth Wireless Headphones
With Perfect Fit and Extended Battery (Black)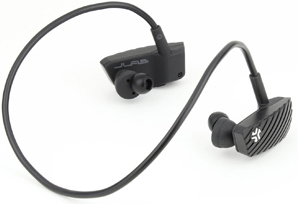 The JLab Go Bluetooth Headphones are ideal for gym use, cyclists, runners, tri-athletes, walkers, hikers, or any kind of workout. With up to a 30-foot range of wireless connectivity, the Go Bluetooth allows you to free yourself from cumbersome wires found on traditional headphones. The behind-the-head design offers lightweight, sweat proof wearing with a comfortable fit that's perfect for your daily workout, outdoor adventure, or when you're on the go.
Simple controls on the headphones allow you to adjust volume, change tracks, play/pause music, or take phone calls. Music automatically pauses during calls and resumes when complete. The built in, rechargeable lithium ion battery provides up to eight hours of play time.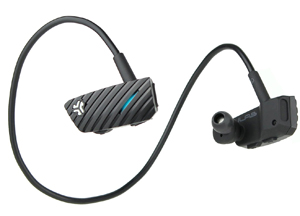 Go Bluetooth
Freedom to Listen - Wherever You Go!
Hands-Free Liberation - No matter what you're into.
We're shattering your old-school, wire-bound shackles to let you bask in the afterglow of pure audio freedom. Run, walk, bike, hike. Just Go.
Free Yourself. Powered by Bluetooth 2.0
It's the most advanced hands-free stereo headphone available, powered by the industry's popular Bluetooth 2.0 standard. Connect any device - mobile, tablet, desktop and more - to wirelessly enjoy your music. Your way.
Control Your Whoa.
Volume control. Track control. Total control. Do everything you need right from GO. Yeah, whoa.
Yeah, it just Fits.
And what a feeling it is. Caress your scalp with a wireless, wrap-around design for a light, comfortable and secure fit, regardless of size. That's nice.
Sound Logic.
Brought to you by the sweet, full bass from JLab's dynamic 13-millimeter drivers. They're finely tuned to keep the music right and keep you motivated.
We're Going Streaming.
Crystal-clear music streamed right from your favorite mobile apps. Seamless audio goodness straight from Pandora, Rdio, Spotify, iHeartRadio, Songza, and more.
Go Long.
Feel free to roam up to 30 feet away from your device. And with an integrated mic, you'll stay connected without missing the beat. Or dropping that call.

Your Satisfaction is Guaranteed.
JLab guarantees your satisfaction on every JLab product, no matter what. All JLab products sold on Amazon come with a limited one-year warranty and JLab's world-class customer service. Please use the serial number on your warranty card to register your product with JLab.
---
What's in the Box