Crossfade LP2 Limited Edition Over-Ear Noise Isolating : MATTE BLACK METAL : Headphones






"These are without a doubt the finest set of over-ear headphones I've tested"

- Slashgear



"Sound quality of the V-MODA Crossfade LP is phenomenal"

- DJ Mag



"Ultimate versatile and multipurpose headphone, Crossfade is made for people on the move at the gym or on the stage "

- E!



"Crossfades are an essential part of my life, not just on the road but in the studio. I could never defect to another model or brand..."

- Funkagenda, DJ, Sound Engineer, Producer



"Not only does the Crossfade sound the best, but they look the best!!!"

- Paul Harris, Grammy Award winning Producer/DJ and part of Dirty Vegas



Crossfade LP
2
Matte Black Metal over-ear headphones are part of V-MODA's "Live Play" series trusted by the pros and elite DJ's worldwide. A refined edition of the original legendary Crossfade LP, LP
2
brings modern music enthusiasts high-fidelity sound, virtually indestructible quality, luxurious ergonomic comfort and a limited edition matte black finish. "The original LP has quickly become the #1 lifestyle DJ headphones from the street to the stage," says Val Kolton, V-MODA CEO and DJ. "LP
2
empowers modern music enthusiasts with military grade durability, timeless materials, and a life-like V-PORT soundstage."



50mm Dual-Diaphragm drivers (biggest in class)
Vibrant Bass, Vivid Mids, Vivacious Highs
V-PORT V3 Soundstage
BLISS™ Noise Isolation w/o Leakage
Ergonomic Utilitarianism




Lightweight, steel construction
Ergonomic Steelflex Headband
Exoskeleton hard case
Military-Level quality (MIL-STD-810G)
Kevlar® reinforced cables (3-button, Audio Only) passes 1 million flex cycles
Master
Crafted
Professional Quality
The Crossfade series is tuned and trusted by a legion of legendary musicians, Grammy-Award winning producers and DJs. Crossfade LP
2
packs unique materials, professional acoustics, natural noise isolation, ultimate ergonomics and military-level ruggedness into a minimal fashion forward design. Crafted from lightweight metals and featuring V-MODA's unique metal "V" design, the Crossfade LP
2
is a sophisticated tank that stands out in a carbon-copy crowd. Refusing to conform to the sound-age of over-processed digital compression and disposable products, LP
2
is a salute to the true masters of music, machines and materials.
Pure
Sound
The nucleus of LP
2
is its patent-pending and biggest-in-class 50mm Dual-Diaphragm Drivers that deliver multi-driver sound with the energy efficiency and consistentcy of a single driver. To recreate a pure balanced sound, LP
2
uses no batteries or artificial sound processing and is power efficient enough to rock even with the built-in amplifier of mobile devices.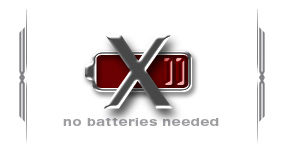 BLISS Noise Isolation
Supple BLISS memory foam ear cushions naturally isolate noise and immerse you into your own world of sound without bothering others. The specially tuned V-PORT V3 and memory cushions create a true 3D live sound stage by regulating air in and out of the ports with minimal leakage for tranquility. It's the perfect balance of isolation, staging and ergonomics that makes LP
2
the essential companion for long play sessions on smartphones, notebooks and tablets.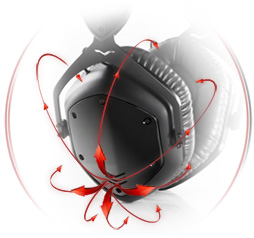 Material
Edge
LP
2
's first-class materials are virtually indestructible including a steel frame, STEELFLEX headband, interchangeable brushed metal shields, durable microfiber suede and replaceable memory foam cushions. The LP
2
also comes fully loaded with two Kevlar-reinforced microphone cables for universal smartphone compatibility and an exoskeleton carry case for added road warrior armor.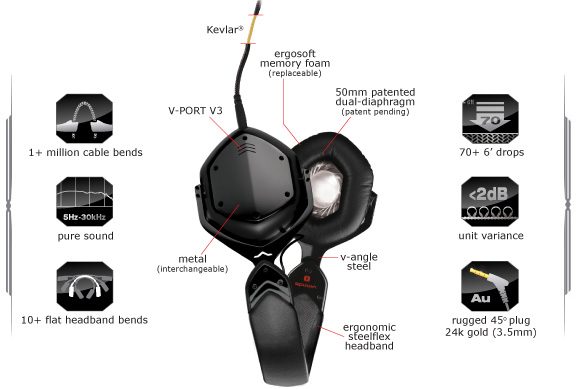 "In the sound-age of over-processed digital compression and disposable plastic products, our virtues were to develop a quality product that salutes the true masters of music, machines and materials. It's an incredible value for hi-fi sound and sophisticated style that says as much about you as your shoes, watch or car." says Val Kolton, V-MODA CEO and DJ.
Gunmetal and Custom Shields
V-MODA's virtues are rooted in personalization, with the Crossfade series you can "endorse yourself" and become truly unique. With LP
2
, we get you started by including a Gunmetal Shield kit in the package. Additional metal colors, designs and even shields with your own logo are also available. Perfect for those who want to express themselve, from minimal to maximal.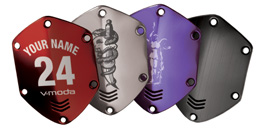 Military-Level Durability
Military MIL-STD-810G and V-MODA's even tougher VMQA guidelines validate V-MODA's heavy duty testing. The Crossfade series is deployed in real-life military scenarios, as V-MODA was co-founded by active and former military personnel.
MIL-STD-810G and V-MODA Quality Tests
Headband bend: Bend 10+ times flat, not break and retain its memory and shape (view)
Cable/Plug bend: Kevlar reinforced detachable cables and 45-degree plug strain relief can each bend over 1 million times, over 100x industry standards
Concrete drop: Survives 70+ drops on concrete from 6 feet (approximately 3x the industry standard major functions operational)
Sound variance: Virtually inaudible sound variances across the spectrum of less than 2dB from unit to unit versus 10-30dB+ of inferior products
MIL-STD-810G environmental: high and low temperatures, humidity, salt spray and UV exposure
Fit is The Sound
Relentless research over the course of 4 years in ergonomics was spent to perfect the ergonomics of the Crossfade Series. To make supernatural sound requires supernatural ergonomics, as the fit alters the sound greatly. Additionally, Crossfade LP
2
is so comfortable it can be worn for hours, perfect for watching your favorite shows, jamming to your favorite mix or performing on stage.
True
Hertz
Did you know that not all headphone drivers are created equally? Without rigorous quality testing, many headphones have variances from unit to unit of up to 30dB, even on the left to right channels. But V-MODA's strict driver testing program guarantees consistent quality and critically-acclaimed sound in every single pair of LP
2
headphones, every time.
When it comes to the frequency response curve, the traditional old-school specifications people judge headphones by, such as 5Hz-30kHz, does not paint a full picture. It's akin to only considering a statue by its height versus its finer details in the sculpted curves and artistic expression. V-MODA sculpts the sound at every step along the entire frequency response range by utilizing a 31-band EQ, lab and subjective testing during the tuning stages.
Satisfaction Guarantee
V-MODA's commitment to quality stays with you: Each LP
2
purchased from V-MODA.com or any of our Verified Dealers is backed by an unrivaled 2-Year V-MODA Premier Warranty. And in the unlikely event you run over your headphones with a real tank, don't worry. With the LP
2
's Immortal Life Program, you get a 50% off replacement in any disaster.
Universal Compatibility and Microphone Communication
LP
2
comes with 2 cables for universal compatibility with all modern mobile and audio devices. The 3-Button remote microphone cable is designed for the latest Apple devices, including iPhone®,iPad®, iPod®, and Macbook series. The long audio-only cable and 1/4" adapter is universally compatible with all audio devices and professional equipment.

Also, the microphone works great for gaming and is fully Skype compatible on smart phones, tablets and the latest generation Apple products without the need for an adapter. Additional cables and adapters are also available.
What's Included?
V-MODA Crossfade LP
2
headphones, exoskeleton hard case, detachable Kevlar reinforced 3-Button mic/audio cable, detachable Kevlar reinforced audio cable, 1/4" adapter, carabineer bag clip.
Specifications
Impendence: 32 Ohms
Speaker Drivers: patent pending 50mm Dual-Diaphragm High-Fidelity Driver
Frequency Response: 5 Hz - 30 kHz
Standard Cables: Kevlar reinforced, 80" audio only cable, 26" 3-button remote/mic cable
Plug: 45 degree, 24k gold-plated 3.5mm (1/8") stereo plug
Weight: 260g (headphone only)