- HEAD-FI Founder, Jude
- Best Headphones Guide
- iLounge
- InnerFidelity + Stereophile Editor, Tyll Hertsens
- iCreate Magazine
Half the size of the rock solid leading Crossfade LP, M-80 fuses Pure Noise Isolating
Sound, Military-Level Durability and Timeless Materials.



40mm Dual-Diaphragm drivers (biggest in class)
Vibrant Bass, Vivid Mids, Vivacious Highs
V-PORT V3 Soundstage
BLISS™ Noise Isolation
Ergonomic Utilitarianism

Lightweight, steel construction
Ergonomic Steelflex Headband
Exoskeleton hard case
Military-Level quality (MIL-STD-810G)
Kevlar® reinforced cables pass 1 million flex cycles
Authentically tuned by a legion of legendary musicians, Grammy-Award winning producers and DJs, Crossfade M-80 packs unique materials, professional acoustics, natural noise isolation, ultimate ergonomics and military-level ruggedness into a design 53% smaller than its now legendary, over-ear sibling. Refusing to conform to the sound-age of over-processed digital compression and disposable products, M-80 is a salute to the true masters of music, machines and materials.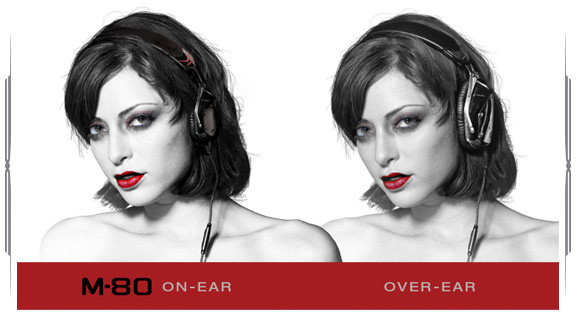 The nucleus of M-80 is its patent-pending and biggest-in-class 40mm Dual-Diaphragm Drivers that deliver multi-driver sound with the energy efficiency and consistent quality of a single driver. To recreate a pure balanced sound analogous to Vinyl, M-80 uses no batteries or artificial sound processing and instead relies on immortal acoustic techniques.
Supple BLISS memory foam ear cushions naturally isolate noise and immerse you into your own world of sound. The specially tuned V-PORT V3 and memory cushions create a true 3D sound stage versus fully closed-back headphones by directing air out of the ports to maintain tranquility. It's the perfect balance of isolation, staging and ergonomics that makes M-80 the essential companion for long play sessions on smartphones, notebooks, and tablets.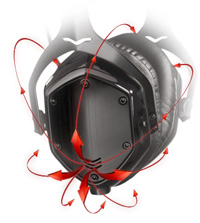 V-PORT V3 Airflow System
M-80's first-class materials are virtually indestructible including a steel frame, STEELFLEX headband, interchangeable brushed metal shields, durable microfiber suede and replaceable memory foam cushions. The M-80 also comes fully loaded with two Kevlar-reinforced microphone cables for universal smartphone compatibility and an exoskeleton carry case for added road warrior armor.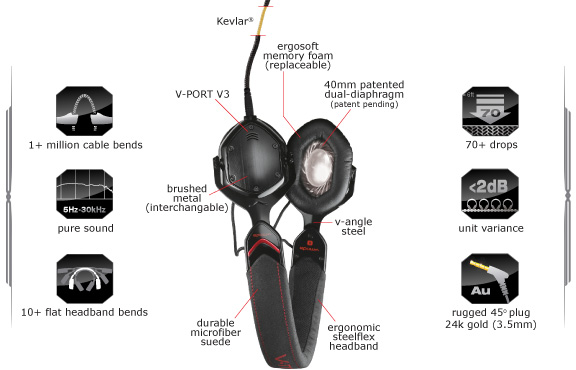 "In the sound-age of over-processed digital compression and disposable plastic products, our virtues were to develop a quality product that salutes the true masters of music, machines, and materials. It's an incredible value for hi-fi sound and sophisticated style that says as much about you as your shoes, watch or car." says Val Kolton, V-MODA CEO and DJ.

- CTV News, Chad Sapieha (Crossfade M-80 and V-80 review)
V-MODA believes in the ability to be unique and remix your headphone. With the M-80's interchangeable custom metal shields, you can choose from a selection of colors, designs, and even submit your own artwork.
Using strict military testing guidelines (MIL-STD-810G), no company puts their product through more punishment and duress than V-MODA to ensure quality.

The M-80 is tested under strict MIL-STD-810G military testing and V-MODA's even tougher VMQA guidelines, of which a few are listed below.
Kevlar reinforced detachable cables and 45-degree plug strain relief can each bend over 1 million times, over 100x industry standards
Survives 70+ drops on concrete from 6 feet, approximately three times the industry standard
Headband can bend 10+ times flat, not break and retain its memory and shape
Virtually inaudible sound variances across the spectrum of less than 2dB from unit to unit versus 10-30dB+ of inferior products
MIL-STD-810G environmental tests including high and low temperatures, humidity, salt spray and UV exposure
To make supernatural sound required supernatural ergonomics, as the fit can alter the sound up to 50dB with on-ear headphones. Additionally, most on-ear headphones are so uncomfortable they can only be worn for a few minutes, which is unsuitable for watching your favorite shows or jamming to your favorite mix in our modern mobile lifestyle.

The M-80's tailored fit is balanced enough to create a natural sound with a proper on-ear seal, and ensures there's never too much pressure on any part of the head at any time, so you can rock on deep into the night.

- iLounge (Crossfade M-80 and V-80 review)
True
Did you know that not all headphone drivers are created equally? Without rigorous quality testing, many headphones have variances from unit to unit of up to 30dB, even on the left to right channels. But V-MODA's strict driver testing program guarantees consistent quality and critically-acclaimed sound in every single pair of M-80 headphones, every time.

When it comes to the frequency response curve, the traditional old-school specifications people judge headphones by, such as 5Hz-30kHz does not paint a full picture. V-MODA sculpts the sound at every step along the entire frequency response range by utilizing a 31-band EQ, lab and subjective testing during the tuning stages.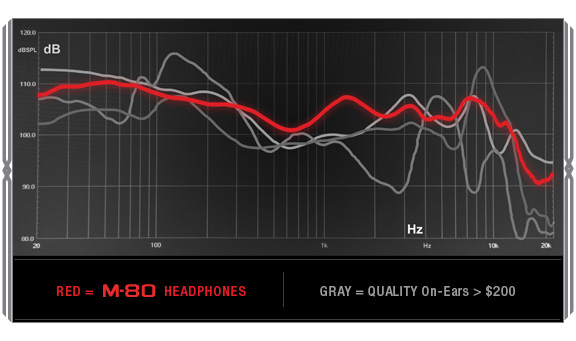 *Verified by independent lab technicians.
V-MODA's commitment to quality stays with you: Each M-80 is backed by an unrivaled two-year premier warranty. And if you're rough on your headphones, don't worry. With the M-80's Immortal Life replacement program, you get a 50% off lifetime replacement guarantee.
M-80 is universally compatible with all audio devices, smartphones and tablets with a standard 3.5mm port. It works perfectly on all iPhone®, Android®, BlackberryTM, iPod®, tablets, notebook, MP3 and audio devices.

Included are two detachable cables, a 1-button microphone and a 3-button cable for Apple products. Also, it's great for gaming and fully Skype compatible on smart phones, tablets and latest generation Apple products without the need for an adapter. Additional cables and pro audio ¼" adapters are also available.
V-MODA Crossfade M-80 headphones, exoskeleton hard case, detachable Kevlar reinforced 1-button mic/audio cable, detachable Kevlar reinforced 3-button mic/audio cable, carabineer bag clip, 2-year warranty. V-MODA's immortal life program.