Win with the battle-ready ROCCAT Raivo high-velocity gaming mousepad. Three optimized layers – an innovative micro-granular surface, an integrated support plate, and a non-slip rubber back – provide the velocity, precision, and stability you need to dominate in hectic gaming sessions. Available in three great colors: stealth black, lightning blue, and midnight black.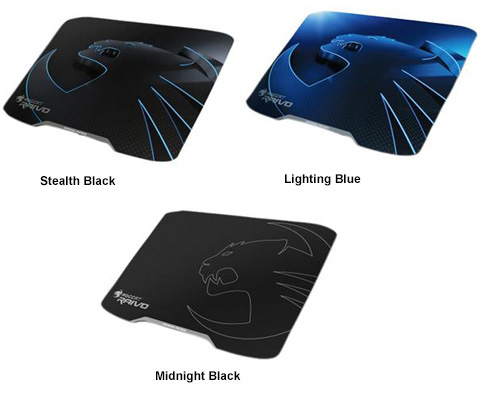 MICRO-GRANULAR SURFACE WITH HIGH VELOCITY The micro-dots on the mega-precise granular Raivo surface are extra small to ensure super slick glide – for optimum tracking with laser and optical mice.
INTEGRATED SUPPORT PLATE FOR MAXIMUM STABILITY The integrated support plate is semi-flexible, so the mousepad will never warp or lose its shape. At the same time, it is solid enough to sit in perfect harmony on whatever surface you put it.
ERGONOMIC SHAPE FOR COMBAT PRECISION The ingenious, ergonomic "battle shield" shape, with wrist cut-out, ensures that your wrist will sit in the optimum position. There'll be no muscle strain or fatigue, no matter how lengthy the battle!
NON-SLIP BACKING FOR WORRY-FREE WARFARE The innovative rubberized backing, with grip-hard traction orbs, ensures your mousepad will stay where you put it. It won't budge an inch!
DIRT-RESISTANT COATING Dirt-resistant coating makes tracking interference a thing of the past. This coating also makes this mousepad easy to clean.
COMBAT-TESTED MATERIALS The ROCCAT Raivo uses combat-tested materials. Be armed with this mousepad for the longest life of relentless, hardcore gaming action.