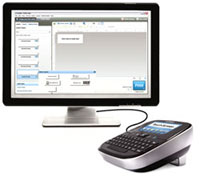 Touch-screen label maker connects to PC or Mac.
Computer-style keyboard and full-color touch screen.
Customize with fonts or graphics using DYMO label software.
DYMO LabelManager 500TS Label Maker
User-Friendly Touch-Screen Design
The DYMO Touch Screen label maker puts labeling power and efficiency at your fingertips. Save time and keystrokes every time you label--just tap the revolutionary, full-color touch screen to change fonts, format text, add graphics and much more.
Plus, the label maker connects to your PC or Mac*, and it uses DYMO Label software, which makes it possible to customize your labels with fonts or graphics--even download your labels for editing and printing on the go.
Highlights
+
Fast text entry on the computer-style keyboard
+
Eliminate the hassle of manual cutting with an automatic label cutter
+
Customize your labels with 10 fonts, 25 font sizes, 32 text styles, 5 boxes plus underline, and hundreds of built-in symbols and clip-art images
+
Prints crystal-clear graphics, barcodes and logos at 300 dpi resolution
+
Share without losing your settings--new user profiles let you store settings and data for up to five different users
+
Store over 500 labels on your machine
+
Prints twice as fast as other DYMO label makers
+
Avoid the cost and waste of disposable batteries with the rechargeable battery pack
+
Uses DYMO D1 labels in 1/4-inch, 3/8-inch, 1/2-inch, 3/4-inch and 1-inch widths
What's in the Box
LabelManager 500TS label maker, rechargeable battery pack, USB cable, 1 DYMO D1 1-inch black-on-white starter label cassette, quick start and reference guides, one-year limited warranty card
Convenient Multi-Purpose Labeling
| | | | |
| --- | --- | --- | --- |
| USB labels | Scan contact data directly from business cards. | Drawer labels | Outlet labels |
Choose the LabelManager That's Right For You
DYMO Label Makers
Label
Manager
500TS
Label
Manager
450D
Label
Manager
420P
Label
Manager
360D
Label
Manager
PnP
Label
Manager
260P
Label
Manager
210D
Label
Manager
160
Reasons for Use (Files, binders, office supplies, etc.)
•
•
•
•
•
•
•
•
Label Widths
1/4-inch; 3/8-inch; 1/2-inch; 3/4-inch; 1-inch
1/4-inch; 3/8-inch; 1/2-inch; 3/4-inch; 1-inch
1/4-inch; 3/8-inch; 1/2-inch; 3/4-inch
1/4-inch; 3/8-inch; 1/2-inch; 3/4-inch
1/4-inch; 3/8-inch; 1/2-inch
1/4-inch; 3/8-inch; 1/2-inch
1/4-inch; 3/8-inch; 1/2-inch
1/4-inch; 3/8-inch; 1/2-inch
Keyboard Style
QWERTY
QWERTY
ABC
QWERTY
N/A
ABC
QWERTY
QWERTY
Machine Style
Desktop
Desktop
Handheld
Desktop
Desktop
Handheld
Desktop
Handheld
PC or Mac Connectivity*
•
•
•
•
Uses D1 Label Cassettes (a variety of colors available)
•
•
•
•
•
•
•
•
Prints Water-Resistant Labels
•
•
•
•
•
•
•
•
Prints Easy-Peel Labels
•
•
•
•
•
•
•
•
Barcode Printing (Asset Tagging)
•
•
•
•
*Compatible with Microsoft Windows XP, Windows Vista, Windows 7 or Mac OS v10.5 or later