Canon EOS-1v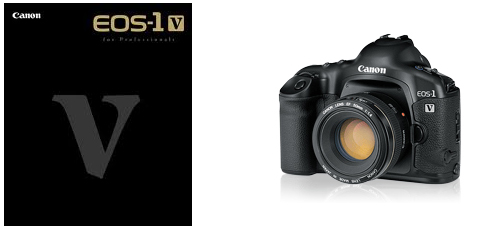 State-of-the-Art Technology Combines Strength and Elegance in a Lightweight yet Rugged Enclosure
The ultimate in professional vision with the world's fastest AF, and a continuous shooting speed of up to 10 frames per second, the EOS-1v continues the Canon tradition of advanced features and exceptional speed in a rugged, reliable package. The EOS-1v has more customizable features than any other Canon 35mm SLR: a 45-point AF system, 100% viewfinder coverage, a top shutter speed of 1/8000 second, a flash sync of 1/250 second, 21-zone evaluative metering, E-TTL auto flash, full-time depth-of-field preview, and much, much more. Part of a comprehensive professional system, the EOS-1v supports EOS Link software and is compatible with Canon's full line of autofocus lenses and Speedlites. The EOS-1v's rubber-covered magnesium alloy body, combined with a hybrid chassis, 72 individual gaskets for proven moisture and dust resistance, a shutter tested to 150,000 cycles and familiar EOS-1 control layout make this flagship 35mm perfect for any pro.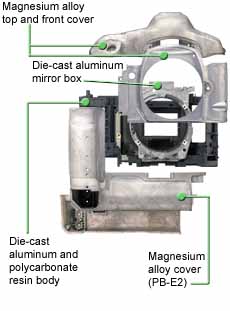 This Lightweight Body is the Perfect Blend of Rigidity, Durability and Total Precision
Canon built the body of the EOS-1v to deliver top performance regardless of the shooting environment. Top priority was placed on the precise machining of all parts. The aperture and hybrid framework structure, which serve as the base for various parts and fittings, are diecast aluminum, with glass-fiber reinforced polycarbonate resin, which is equal in strength to metal. The main outside covers are made of magnesium alloy. The lightweight body benefits from remarkably improved rigidity, precision, and durability, realized by the optimum use of carefully chosen high-tech materials.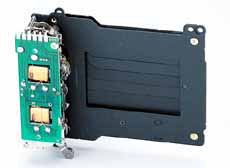 The EOS-1v's Revolutionary Shutter has been Tested to 150,000 Cycles
The EOS-1v's electronically controlled rotary magnet shutter has been designed to eliminate the possibility of operational trouble. This shutter unit ensures constant operation that remains as accurate as its original performance even after long use and under severe shooting conditions.
In this shutter system, the first and second shutter curtains are controlled by a non-contact rotary magnet, which does not suffer sticking problems due to dust accumulation. The shutter blades are made of carbon fiber and super-duralumin, for high reliability in all shooting conditions over extended use. This has been confirmed by in-house testing in which the unit recorded in excess of 150,000 shutter-cycles. The unit performs high-speed shutter operation with exceptional accuracy at a maximum shutter speed of 1/8,000 second and a maximum flash sync speed of 1/250 second.
What is more, battery power consumption is minimized because the unit requires no power to hold the second shutter curtain open during bulb exposure. Accordingly, it realizes up to 1,000 hours of operation with the 2CR5 battery at room temperature.
Amazing Continuous Shooting Performance that can Capture Ten Images in a Single Second

EOS-1v features the incredibly fastest continuous shooting speed, enabling film transport at an astounding rate of 10 fps. Now Canon gives you the power to transform one dramatic moment into a series of heart-stopping images. With the Power Drive Booster PB-E2 (driven by the NP-E2 Ni-MH Battery Pack) the EOS-1v allows unprecedented levels of visual creativity. Sensational gains in continuous shooting performance mean rapid film transport of up to 9 fps even in predictive AI Servo AF mode, which can focus track a subject approaching the camera at 50 km/h up to 8 meters away (with the EF 300 mm f/2.8L IS USM).

What's more, even when set at an intermediate film transport speed of around 3 to 5 fps, the EOS-1v demonstrates outstanding basic performance. For example, the viewfinder blackout time is remarkably shortened, the minimum distance at which a high-speed moving subject can be autofocused is reduced, and so on.
Up to 20 Custom Functions with 63 Settings can be Selected to Match your Shooting Style

The Custom Functions serve to adapt the EOS-1v to the photographer's preferences. The EOS-1v features 20 Custom Functions that enable the input of detailed selections and settings. Most Custom Function items are numbered in the same way as for the EOS-1N, for the convenience of users of that model. Arbitrary setting of Custom Functions can be performed either on the camera itself, or on a personal computer with optional EOS Link Software ES-E1 installed.
The EOS-1v's Capacity to Capture Moving Subjects with the Outstanding Tracking Performance and High Focusing Speed of 45-Point Area AF Propels Autofocusing

45-point Area AF is the result of Canon's pursuit of an AF system that allows continuous shooting ease and expanded framing freedom. The 45 focusing points are densely packed within an 8 x 15 mm zone and can be manually or automatically selected to meet the needs of the situation. When multiple points are selected, AF system capabilities are significantly extended. Born of Canon's original technology, this system has been refined for the EOS-1v to ensure the unconditional reliability, accuracy and high focusing speeds requisite for professional use.

While photographers have the freedom to frame images through the viewfinder as they choose, the lens is automatically brought into focus as soon as the active focusing points cover the subject. Like a human eye, Canon's 45-point Area AF tracks and aims true. This is typical of Canon's state-of-the-art AF technology, recognized by professional photographers everywhere.
Sophisticated Auto Exposure Control - EOS-1v Aims to Capture the Light as You See It

Canon's exclusive AIM (Advanced Integrated Multi-Point control) system integrates Area AF and all six metering modes available with the EOS-1v.

Focus on a subject within the Area AF ellipse, and the EOS-1v will meter that area for the optimum result where it's needed most. All six metering modes use the 21-zone evaluative metering sensor. Six metering modes, three flash metering modes capture your vision in all manner of lighting situations. Six exposure modes for greater creative control.
Optional EOS Link Software ES-E1 Enables Advanced Customization, and Management of Shooting Data, Through PC Connectivity.

If a PC is linked with the EOS-1v, camera functionality and the capacity for representation are markedly expanded. Simply connect the EOS-1v, via the Connecting Cable ES, to a PC with EOS Link Software ES-E1 installed.

Once connection is established you can achieve various forms of customization, function extension, data download by following messages on the monitor screen.

ES-E1 software is primarily intended for advanced Personal Function customization, so users of the EOS-1v can program it to reflect their personal preferences, shooting purposes and conditions. It also allows the management of data relating to settings used for exposed film.
Comprehensive System

World's largest selection of interchangeable AF lenses, E-TTL Flash System, Remote Controllers, Close-up Accessories & more.
Viewfinder Information
On the screen: Area AF ellipse, focusing points, center spot metering circle
Below the screen: Manual exposure setting, AE lock, flash ready, unsuitable FE lock warning, high-speed sync (FP flash), shutter speed, FE lock (FEL), bulb (buLb), focusing point selection mode, depth-of-field AE (dep 1, 2), aperture, exposure compensation/flash exposure compensation, in-focus indicator.
Right of screen: Exposure level scale (±3 stops), exposure level indicator, flash exposure level, frame counter, frame count down indicator
Focus Modes
One-Shot AF: Autofocus stops when focus is achieved, resulting in AF lock.
AI Servo AF: Tracks subject movement up to the start of exposure. No in-focus indicator (blinks at 8 Hz only if AF fails).
Manual focusing: Enabled with the focusing ring when the lens focus mode is set to MF (or M). Electronic manual focusing during continuous shooting and exposure is enabled with PB-E2 and NP-E2.
Metering Modes
Evaluative metering (linkable to any point)
Partial metering (approx. 8.5% of viewfinder at center)
Center spot metering (approx. 2.4% of viewfinder at center)
Spot metering (linked to focusing point at approx. 2.4% of viewfinder) * During continuous shooting with "Center spot metering" mode and "Spot metering", the first shot is metered in real time and the meter reading is locked (AE lock) for subsequent shots in the same burst.
Multi-spot metering (Max. 8 multi-spot metering entries)
Center-weighted averaging metering
Exposure Modes
Program AE(shiftable)
Shutter speed-priority AE( in 1/3,1/2 or full stops, safety shift enable with Custom Function)
Aperture-priority AE(in 1/3,1/2 or full stops, safety shift enabled with Custom Function)
Depth of field AE
E-TTL program flash AE (high-speed sync, FE lock, and wireless control enabled with 550EX)
A-TTL program flash AE
TTL program flash AE
Manual
Bulb