Canon VIXIA HF R50

With built-in Wi-Fi® and amazing image quality, the compact VIXIA HF R50 makes it easy to connect to friends, family and the world by sharing vivid Full HD video of special occasions and everyday fun. The camcorder's huge 57x Advanced Zoom gets you the shot you want from virtually anywhere without interrupting the scene, and with the SuperRange Optical Image Stabilizer video is clear and steady, even at the long end of the zoom and when you shoot while walking. Stunning 1920 x 1080 Full HD video from the 3.28-Megapixel Full HD CMOS Image Sensor and DIGIC DV 4 Image Processor preserves your memories with lifelike detail and natural color. You can capture up to three hours of video on the 8GB internal flash drive, or record directly to a convenient SD memory card for even more storage capacity. Built-in Wi-Fi®* is now easier than ever to use: share recorded video or live stream on your Android™ or iOS® device** and even control the camcorder remotely with the new CameraAccess plus app. And now with the optional new Camera Pan Table you can remotely monitor a wide 200-degree area on your device via Wi-Fi®, whether you're in another room or on the road. Moving subjects are captured with smooth, blur-free precision thanks to 1080/60p recording in MP4 (35Mbps), and AVCHD Progressive (28Mbps). Dual Recording lets you record in both formats simultaneously, and built-in downconversion creates easy-to-share MP4 files for the web. An improved Baby Mode gives parents easy, organized ways to capture the daily growth and development of up to three children. Just pick up and shoot: the mode automatically ensures the best quality for the given shooting situation. With an intuitive interface and 3.0-inch capacitive touch panel LCD, operating the VIXIA HF R50 camcorder is a snap, and with a high capacity battery pack, you won't miss an important moment.
Steady Shooting Through a Mega Zoom Range
57x Advanced Zoom
You won't miss any of the action when shooting video with the VIXIA HF R50 camcorder and its impressive 57x Advanced Zoom range. Long-range shooting allows you to create videos with dynamic variety, and is less likely to disrupt the action you're shooting. It's perfect for formal ceremonies, animals in the wild, candid family videos and more. Advanced Zoom, available in manual mode, has been achieved with more efficient use of the effective imaging area. It takes the camcorder's telephoto power from 32.5mm all the way to 1,853mm (35mm equivalent) for extraordinary flexibility in shooting. For more convenient shooting and better creative control over your videos, the camcorder offers continually variable Zoom Speed settings, with 15 levels available.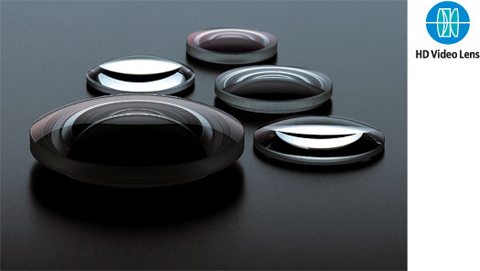 SuperRange Optical Image Stabilization
Canon's sophisticated SuperRange Optical Image Stabilizer corrects camera shake instantly, so even handheld video taken at long focal lengths is sharp and steady. Providing continuous adjustment throughout the entire zoom range to correct a broad range of motion, with extra compensation applied at wide-angle focal lengths, the Dynamic Image Stabilization system on the VIXIA HF R50 stabilizes rotational camera shake. Controlling rotational camera shake – horizontal, vertical and roll axis – ensures smooth, distortion-free video, even when you're walking while shooting.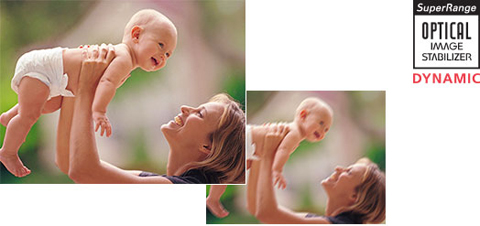 Exceptionally Lifelike Image Quality
3.28-Megapixel Full HD CMOS Image Sensor
The VIXIA HF R50 camcorder is equipped with a 3.28-Megapixel Full HD CMOS Image Sensor to capture your memories in true 1920 x 1080 resolution. Canon's advanced, high-resolution HD CMOS Image Sensor features extra sensitivity that delivers beautifully lifelike Full HD video with natural color, even in low light. On-chip noise reduction brings bright clarity to every frame. Video is rich, clear and amazingly detailed anywhere you view it, even when played back on a large HDTV.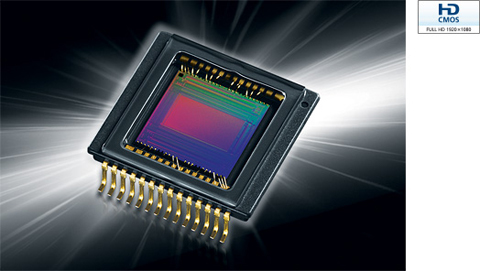 Advanced Technology Delivers Exceptional Clarity
DIGIC DV 4 Image Processor
The VIXIA HF R50 incorporates the latest and most advanced Canon HD Image Processor, the DIGIC DV 4 Image Processor, for exceptional imaging performance. The DIGIC DV 4 Image Processor captures more light, for brighter, noise-free images even in dark scenes. Dramatically increased processing power lets you record in both AVCHD and easy-to-share MP4 formats simultaneously with the VIXIA HF R50 camcorder's Dual Recording. It also enables the built-in transcoding from AVCHD to MP4.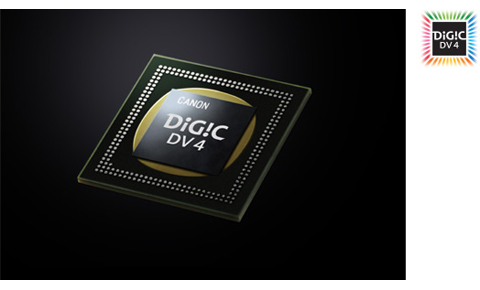 Capture Moving Subjects Crisp and Clear
MP4 (35Mbps) or AVCHD Progressive (28Mbps) Recording
The VIXIA HF R50 gives you the highest quality recording, whether you're capturing MP4 or AVCHD files. 1080/60p recording captures twice the amount of information as 60i, and with images captured at a rate of 60 frames per second, diagonal noise is eliminated so even fast moving subjects show up crisply with motion and patterns clearly recorded. This greater sense of detail and faithful rendering of moving edges, plus enhanced color and fine tonal gradation, gives your video everything Full HD has to offer. AVCHD Progressive records at a bit rate of 28Mbps, which is the highest in the AVCHD standard, and MP4 files are captured at a bit rate of 35Mbps, so regardless of the format you're shooting or viewing, image quality is as high as can be.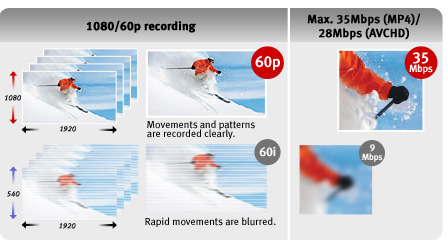 Own the Freedom of Wireless Technology
Built-in Wi-Fi®
Built-in Wi-Fi® technology on the VIXIA HF R50 lets you share your HD video with friends and family anytime, anywhere. Connect with compatible home networks, wireless hotspots, and iOS® mobile devices using the free Canon Movie Uploader app*. Videos and photos can be easily shared over the internet with a free registration on CANON iMAGE GATEWAY# – an online photo storage service that lets you upload to social networking sites. And now you can use your PC to browse remotely through the previously shot videos stored on your camcorder, without connecting a cable. The Remote Browse function uses a standard Web browser and does not require a special app.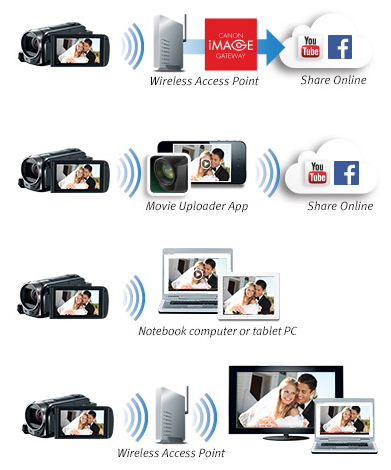 Live Stream Anywhere You Go
Live Streaming
Stream video from your camcorder wherever you are – at home, at the office or away on vacation – with the improved Live Streaming on the VIXIA HF R50 camcorder. It is possible to receive the live video and sound that your camcorder is recording from a remote location on your iOS® or Android™ device not only when you're on the same wireless network but over the internet too! With the new CameraAccess plus app, you can use your smartphone or tablet to monitor babies and pets, capture wildlife videos remotely without disturbing the scene, create perfect self-videos and lots more, anywhere you're wirelessly connected. You can also remotely control camcorder functions including start/stop and zoom, and even access information about remaining battery charge, recordable time, zoom position and more.
Monitor From Wherever You Are
Compatibility with Camera Pan Table CT-V1
The VIXIA HF R50 camcorder is compatible with an exciting new optional accessory that you can control with your mobile device – Camera Pan Table CT-V1. With your Wi-Fi® enabled camcorder mounted on the Camera Pan Table CT-V1, you can remotely monitor a viewing range of approximately 200 degrees with your smart device**. Using the improved Live Streaming of the VIXIA HF R50 camcorder, panning and recording can be powered by the pan table, or controlled remotely over the internet and the new CameraAccess plus app. Flexibly designed to plug into an outlet or run on AA batteries, it also powers your camcorder. An energy-efficient stand-by mode awaits your command so you never need to worry about wasting or running out of power. With enough range to span two rooms, it's easy to check on pets or children while you're away for the day, monitor your home while you're on vacation and more.
Choose the Recording Format to Fit the Situation
The Right Format for Any Use
Dual Recording and built-in transcoding ensure that no matter how you decide to use the video you've recorded, you'll have the right format available. Using the power of the DIGIC DV 4 Image Processor, the VIXIA HF R50 camcorder can simultaneously record video to internal memory in AVCHD format, and to an SD card in MP4 format. The widely used MP4 format provides quick, conversion-free playback on tablets and smartphones, and lets you upload videos directly to social networking sites for easy sharing with friends, family and the world. AVCHD is perfect for watching videos on an HDTV or archiving them to Blu-ray discs. The camcorder also has a built-in transcoding function that converts AVCHD files to MP4s, or from MP4 to MP4 across memory media, making them easy to upload to the Web or save to an SD card.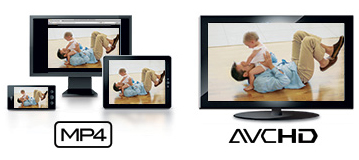 Intuitive Control with Capacitive Touch
3.0-Inch Capacitive Touch Panel LCD
The VIXIA HF R50 features a 3.0-inch Capacitive Touch Panel LCD screen, making shooting and other operations easy. Simply open the panel and the power is on. The display is clear and vivid, and just as with your smartphone or tablet, a gentle touch activates intuitive functions. Choose a focal point, track moving subjects, control exposure for selected areas, and operate camcorder controls from the screen, all with a simple touch. In addition, the easy-to-use user interface makes your shooting experience simpler and more fun. The Home button is on the menu screen, and provides quick access to all functions. Clear explanations for key settings pop up when selecting shooting modes and recording formats, so you can be confident in the decisions you make.
The Easiest Way to Capture, Track and Share Your Baby's Development
Baby Mode
A complete solution for capturing, tracking, organizing and sharing every precious moment of your baby's development, Baby Mode on the VIXIA HF R50 camcorder has been advanced to allow you to follow the growth of up to three children. A custom control button on the shooting screen activates the mode, and optimal settings for the shooting conditions, including Intelligent IS and more, are automatically selected. Simply pick up the camcorder and start recording, knowing capture will be of the highest quality. Videos shot in Baby Mode are automatically saved into a dedicated Baby Album so they'll never get lost among your other videos. You can then view the Baby Album chronologically for a seamless way to relive and share your baby's growth with friends and relatives.
More Shooting Time with Every Charge
High Capacity Battery
The VIXIA HF R50 is powered by a high capacity battery pack. The rechargeable lithium-ion battery not only lets you shoot for long periods, but features intelligent technology that accurately indicates remaining battery time down to the minute, for extra insurance that you'll never miss an important shooting opportunity.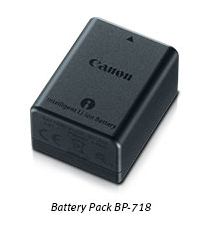 Additional Features
Audio Scene Select
Audio Scene Select offers five modes that automatically optimize settings based on the recording situation, making it easy to record realistic, immersive audio in a range of situations.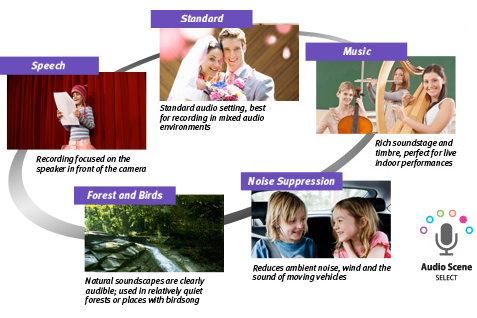 Smart AUTO and Auto Tele Macro
Smart AUTO lets you capture clear, bright, well-focused video while the camcorder takes care of all the details. The system recognizes 38 shooting situations based on numerous factors, then automatically chooses the optimal settings for the situation. When you shoot a nearby subject in telephoto zoom mode, Auto Tele Macro gives your video the high-end artistic effect of a well-focused subject against a beautifully blurred background.
What's in the Box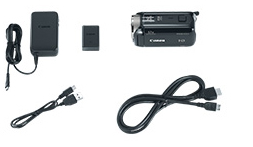 VIXIA HF R50
Battery Pack BP-718
Compact Power Adapter CA-110
USB Interface Cable IFC-300PCU
Mini-HDMI Cable HTC-100