10X Zoom in Slim Body
The small camera with a big performance. The FinePix T400 / T350 packs intelligent scene recognition, 16MP/14MP and a 10X optical zoom into a body that is so compact it fits in every pocket, purse or bag.
Super Slim Styling in Seven Amazing Colors
The FinePix T400 / T350 is sleek and slim. This 19.8mm of super slim compact body fits in your pocket or purse effortlessly. Colors available in Black, Silver, Champagne Gold, Blue, Red, Pink and Purple.

Fujinon Wide Angle 28mm & 10X Zoom Lens
Highly Regarded by Professionals World-Wide

A high-quality Fujinon 10X zoom lens delivers picture-perfect results across the entire zoom range, from wide-angle compositions to dramatic close-up shots.
16MP/14MP - With Vivid Colors and Clarity
An impressive 16MP or 14MP resolution won't miss the finest details of your subject. Images are captured sharp and clear, in vivid colors, even when printed at large sizes.
High Sensitivity + CCD Shift Image Stabilization

Dual Image Stabilization is the combination of high sensitivity and CCD shift image stabilization that works to eliminate blurred photos by freezing action and minimizing blurs at maximum zoom range.
Works in scenes such as subjects in motion, low-light conditions, and underwater that usually gives blurry results.
Large 3in. LCD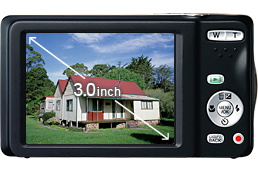 The large, bright LCD display makes it easy to compose great photos. Sharing pictures is a pleasure, thanks to a high-impact 230,000-dot resolution.
HDTV-Compatible Photos and Video
Able to capture both photos and movies in high-definition 16:9 format, the FinePix T400 / T350 lets you discover the impact of full-screen HDTV image display.
Capture high resolution images in 16:9 format (1280 x 720 pixels).

One-Touch Movie Recording Button
One Touch Movie Recording Button just for shooting movies! No settings. Just press, shoot, and enjoy the movie.
Post Capture Editing
Try our in-camera movie and image editing functions to artistically enliven photos, creating distinctive ambiences.
Editing
Movie Trimming
After you take a clip, just set the "In" and "Out" points to crop and save only the part you want. It's that easy.
Movie Join
Select any previously recorded movie file and "resume" shooting to create a movie, using up to 2GB.
Optional HDTV Connection Kit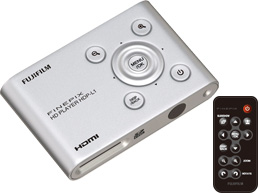 Combining an HD card reader and a remote control, the optional connection kit makes it easy to display photos and movies on your HDTV.
Please use commercially available HDMI cables for connecting with HDTV.
HDP-L1 is compatible with SD / SDHC cards only.
Six Scene SR Auto
Framed scenes are automatically detected and selected into appropriate camera settings: Portrait, Landscape, Night, Macro, Night Portrait, and Backlit Portrait.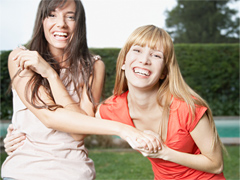 Portrait
Recognizes portraits by detecting the faces quickly in the frame and optimizing focus, brightness and white balance.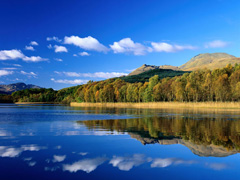 Landscape
Scenic shots such as mountains and buildings are automatically recognized. Colors of the sky, forests, and flower fields are captured in vivid colors and depth.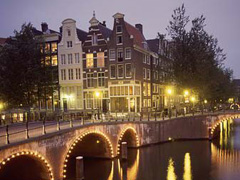 Night
For low-light and night-time scenarios, shutter speed and sensitivity are automatically adjusted, producing blur-free pictures with minimal noise.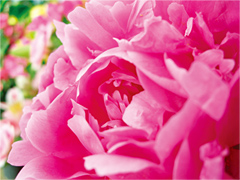 Macro
Macro mode sets the focusing position of the details of small flowers or tiny subjects accurately.

Night Portrait
When photographing people at night or in low light, SR Auto optimizes flash range, shutter speed, and exposure of the portraits, while capturing smooth and luminous backgrounds.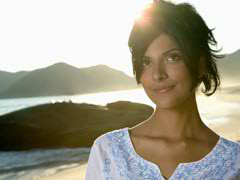 Backlit Portrait
Optimizes brightness of the faces that usually end up in shadow and underexposure caused by the light behind.
Face Detection
Face Detection optimizes people-pictures by detecting faces and adjusting focus and exposure to ensure bright, clear results.
Red-eye Removal in Detected Faces
Red-eye removal automatically detects and corrects flash reflection for a perfect end result.
Instantly Detect up to 10 Faces!
The Face Detection can simultaneously recognizes up to 10 faces in a photo. Share your group portraits using the Zoom Up function in playbacks, checking each detected face. Each priceless expression can be cropped and saved in clear high resolution results.
Blink Detection
The camera will warn you when people in the frame are blinking, giving you the option to retake the photo, or enlarge the face so you can save or delete the image before you take the next shot.
Smile and Shoot Mode

The Smile and Shoot mode of Scene Position, automatically releases the shutter when the smile appears so you won't miss the adorable smile the moment they happen.
Face Recognition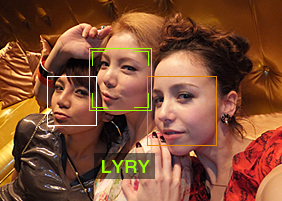 The FinePix T400 / T350 not only detects faces in a frame but it can also recognize who is who! You can register up to eight people in your camera and next time you take a photo of them it will bring up their name and optimize settings in favor of your registered faces. In playback, you can search for all photos containing registered faces to quickly find photos of your favorites.