An addition to the premium Fujifilm X series, the Fujifilm XQ1 features an elaborate and high-quality trimmed body design and control ring, and offers the high image quality of the X Series in a pocket size. The bright F1.8 lens and "Lens Modulation Optimizer" function ensures maximum resolution and description power. The Fujifilm XQ1 enables a comfortable high speed response at the world's fastest 0.06 second. Sharing will also be a cinch. You can transfer an image at the touch of the Wi-Fi button, without the need for ID and password.
High image quality of the Fujifilm X Series in a pocket size
Maximum resolution and description power with the bright F1.8 lens and "Lens Modulation Optimizer" function
A comfortable high speed response at the world's fastest 0.06 seconds*
Elaborate and high-quality trimmed body design and control ring
Wireless transmission capable through the touch of a separate button, without ID and Password

Large 2/3-Inch X-Trans CMOS II Sensor
Featuring Fujifilm's bespoke pixel array, the Fujifilm XQ1 captures high quality images with its large 2/3-inch X-Trans CMOS II sensor. And you'll be able to enjoy high-speed continuous photography and Full HD movie shooting thanks to the high performance CMOS element of the sensor.
2/3-inch 12M X-Trans CMOS II Sensor
1/1.7-inch Image Sensor
1/2.3-inch Image Sensor
---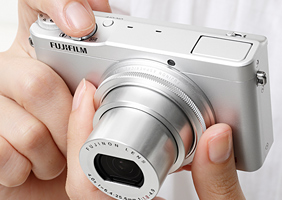 Fujinon Lens with Bright F1.8 Aperture Produces Stunning Pictures in Low Light
The bright F1.8 lens lets you capture quality pictures not normally possible with a compact camera. Noise is kept to a minimum without boosting sensitivity, while camera shake and subject motion are prevented due to high shutter speeds. And thanks to the large aperture, you can also create attractive "bokeh" blurred background effects.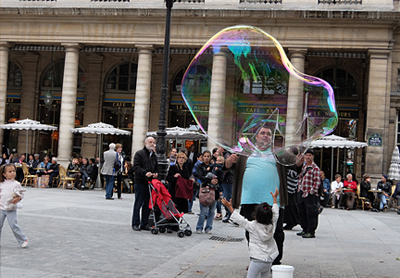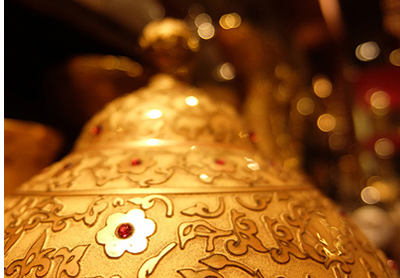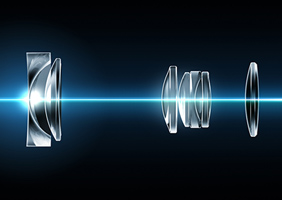 Fujinon F1.8 Lens: Compact Size, Superb Quality
Featuring state-of-the-art technologies including aspherical elements and high refractive index glass, the Fujifilm XQ1's lens boasts a fast F1.8 maximum aperture and a slim profile that would be virtually impossible with conventional lens designs. Another important feature is Optical Image Stabilization, which shifts one group of four elements to minimize camera shake without compromising resolution around the edges of the image, a common problem with conventional stabilization systems.
All Glass 6 Groups/7 Elements Configuration - Four Aspherical and Three Extra Low Dispersion Lenses
The slim-line lens achieves its aperture of F1.8 with a construction that features seven lens elements in six groups (four aspherical and three extra-low dispersion lenses)
1. Focal Plane

Intelligent Digital Zoom
Enlarging a Subject at a Distance
The 4X optical zoom and up to a max. of 16X zoom with intelligent digital zoom offer flexible telephoto photography equivalent to 400mm** at maximum.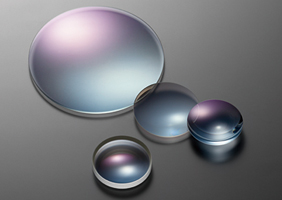 High-Transmittance EBC
High Transmittance EBC (Electron Beam Coating) is FUJINON's unique wide-band technology developed for FUJINON broadcast-use lenses. The Fujifilm XQ1 is the first compact camera to use the High Transmittance EBC for double sides of all glass lenses. Because highly refractive glass bends light rays more sharply than conventional optical glass, it creates greater potential for reflections which can cause ghosting and flare. HT-EBC technology effectively minimizes this stray light, assuring sharp, clear images under even the most demanding conditions.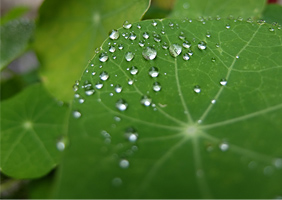 Six-Blade Aperture Diaphragm and 3cm Macro
With a maximum aperture of F1.8 at the wide angle setting and a six-blade aperture diaphragm, the Fujifilm XQ1's lens delivers beautiful defocused blur. Together with macro capabilities to within just 3cm of your subject, that means huge photographic potential in a highly compact body.
Elaborate and High-Quality Trimmed Body Design
Two colors have been prepared to fit the trimmed design - black overflowing with high class, and a highly-dignified clear silver.
---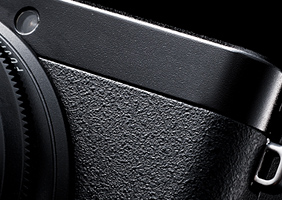 Contrast of the Upper Control Deck Against the Camera Body
The black model has an all-metal body with contrasting upper control deck.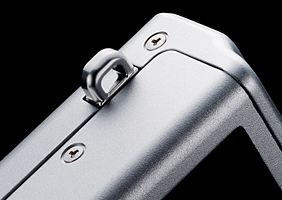 Simple Lines with a Refined, Sophisticated Design
Metal seam that lets the elegant one-tone silver body stand out.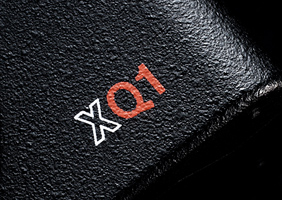 X Logo that Expresses Pride and Camera Quality
Proud of its place in the premium X series line-up, the Fujifilm XQ1's outlined X character gives a classic feel, along with a stylish accent color.
Metal Control Ring with Reassuring Texture
The control ring and dials are all-metal, with knurled edges which add to the superb feel and hold of the camera.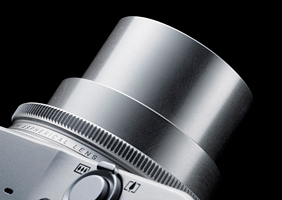 Ultra Compact Two-Step Lens Barrel
The lens barrel is made of just two sections so that it keeps as compact a form as is possible. This in turn enhances the durability of the drive system.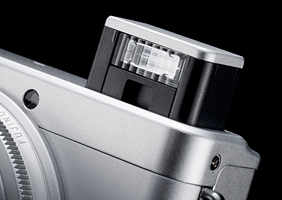 High Performance Super Intelligent Flash
Fujifilm's Super Intelligent Flash automatically adjusts the amount of additional lighting needed dependent on the scene. Natural images are produced even in close-up macro photography, with no blown out highlights.
The World's Fastest Phase Detection AF Speed of 0.06 Seconds* that Captures Any Photo Opportunity.
Integration of phase detection pixels into the advanced sensor. The world's fastest AF speed of 0.06 seconds* has been achieved with the on-sensor phase detection AF which brings subjects into focus in an instant with the phase detection sensor. Thanks to the synergy of phase detection AF and contrast AF bringing you precision even in low light, your subject can be captured quickly and accurately in many settings. In AF-C mode, once the focus point has been set, the movements of the subject will be accurately tracked, offering you multiple photo chances.
Advanced Filter. Transform Photos into Original Works of Art.
Featuring a choice of 8 artistic effects, Advanced Filter makes artistic photography as easy as pressing the shutter. Before you shoot, you can preview the effect on the LCD monitor and even fine-tune brightness.
---
Film Simulation - Signature Color Expression by Fujifilm
The vivid colors of Velvia! The gentle skin tonality of ASTIA! Just like choosing the ideal film for a creative direction, you can select and simulate the unique look of Fujifilm's acclaimed films. Film Simulation also lets you replicate MONOCHROME and SEPIA film photography.
Full HD Movie x Film Simulation Mode
Full HD Movie (1920 x 1080) mode features 60fps for smoother capture of the action in full high definition. You can also take advantage of Monochrome and the vivid color expression of other Film Simulation modes, and exploit the brightness of the lens to shoot movies with a dreamy "bokeh" effect. Also the new movie scene recognition function can automatically recognize six types of scene and optimize settings for beautiful results under a variety of shooting conditions.
Even when shooting moving subjects, Auto Focus keeps the action in sharp focus. And if you are shooting scenes while walking, image stabilization can minimize blur.
Multiple Exposure - Rediscover the Art of Double Exposure Photography.
Just select Multiple Exposure mode and take the first shot. Then frame and shoot the second exposure while viewing the first image in the LCD monitor. This lets you not only precisely position and focus the second shot, but also "see" how the finished Multiple Exposure image will look and make creative adjustments like zooming in to enlarge the subject.
Motion Panorama 360
Just sweep the camera right-left or up-down to shoot giant panoramas up to 360°. When you view the panorama playing back on your camera or personal computer, you can enjoy a seamless panorama image with both ends stitched together to create a "cylinder" view.
Image Processing Function of Multi-Frame Composition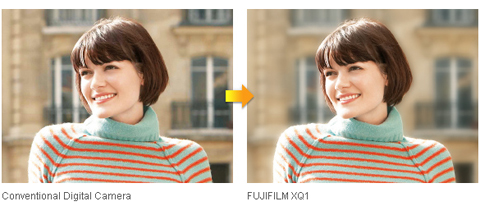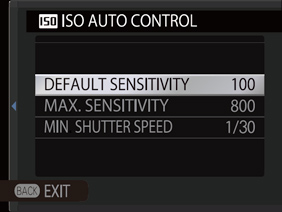 ISO Sensitivity
ISO100 - 12800 Sensitivity Setting Range
Select from the broad sensitivity range of ISO100 - 12800 for shooting at a full 12-megapixel resolution. The Fujifilm XQ1 also lets you set the AUTO ISO range (up to ISO 400 - 3200) and the shutter speed limit. For quick access to ISO settings, you can assign this function to the control ring.
---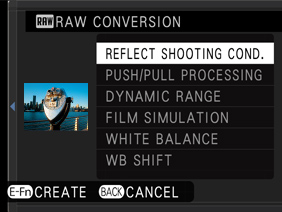 RAW Shooting
In-Camera RAW Converter
The Fujifilm XQ1's built-in RAW data converter lets you view and edit your results without the need for your PC. The conversion of RAW data not only takes into account exposure compensation, white balance and other in-camera image quality control settings, but also lets the user apply Film Simulation modes in the converter mode.
---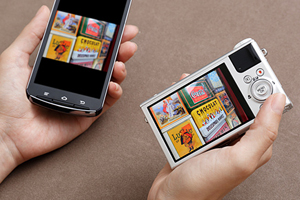 Share
Transfer Images to Your Smartphone with One Push of a Button
With the "Wireless Image Transfer" function, images are easily transferred to smartphones and tablets simply by pushing the Wi-Fi button. Users can set the camera up to read its location from smartphones and tablets enabling you to keep tabs on where you took your photos. By using PC Auto Save, a backup of your pictures can be saved to your PC in just a few seconds.
---