Professional Sound Optimization Made Easy
MAGIX Audio Cleaner Pro (MAC) offers a vast selection of intuitive, advanced tools and features for audio editing, noise removal, and sound optimization exclusively for Mac OS X. In just a few easy steps you can digitize, edit, and restore your audio files and recordings to get exactly the sound you're looking for. Your records, cassettes, live recordings, and speech recordings will always sound perfect!
Rescue your old vinyl and cassette recordings
Optimize speech recordings and memo dictation
Restore music and live recordings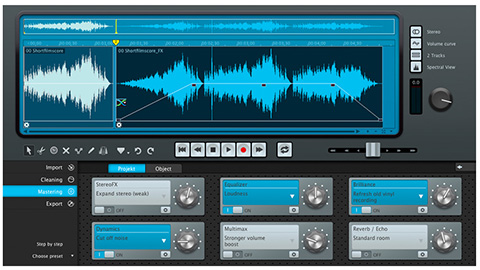 Over 250 Practical Presets for Sound Optimization Over 250 handy presets offer solutions to a wide variety of common sound problems, such as rain and wind noise, PC fan noise, mobile phone interference, and camera noise, as well as noise from airplanes, trains, traffic, and much more. Now, you can quickly and effectively remove annoying noise for pure sound.
Fully Automatic Cleaning and Step-by-Step Modes Sound cleaning will be much easier and quicker. MAGIX Audio Cleaner Pro offers fully automatic cleaning mode and a step-by-step mode. No more wasting time with complicated procedures. The program does the work for you. Achieve amazing results easily.
High-Quality Audio Tools for Audio Editing MAGIX Audio Cleaner Pro offers comprehensive tools – including a 10-Band Equalizer, Parametric EQ, Brilliance Enhancer, DeNoiser, Vinyl Support, and more – for extremely easy audio editing. Even those with no previous experience can get great results. The integrated Track Agent helps you to divide long recordings into separate tracks. Edit the track information for individual songs and complete it automatically. The volume of background music can be adjusted for spoken recordings automatically – ideal for podcasts and video comments.
Noise Removal with Direct Spectral Cleaning Simply select the audio noise with the mouse, click, and you're done! Direct spectral cleaning is intuitive and completely user-friendly thanks to full-stereo editing and precise visualization. By showing the frequencies of the audio track, the spectrum display lets you immediately detect and remove audio errors such as claps, coughs, etc.
Turbo Tape: Digitize Cassette Recordings with High-Speed Dubbing Turbo Tape makes cassette-recording digitalization quick and easy. Digitization takes place at double-speed, but the recordings are in normal time and can be optimized and enhanced with the audio tools in the program. Bring your old favorites into the digital age and enjoy your music wherever you want!