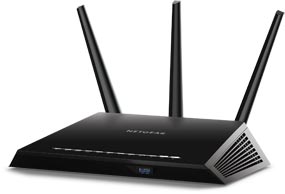 AC1900 Wi-Fi— 600 + 1300Mbps speeds
1GHz Dual Core Processor
Beamforming+ improves range & performance
High powered amplifiers & antennas to extend your Wi-Fi coverage
Advanced features for lag-free gaming
Prioritized bandwidth for streaming videos or music
Free automatic backup software for Windows PC & Time Machine compatible for Macs
Manage your home network with Netgear Genie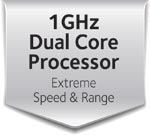 Gaming – For the Win
Avoid character freezing & enjoy lag-free gaming with the ultimate in AC speed & performance. Nighthawk delivers AC1900 Wi-Fi, a powerful dual core 1GHz processor, & advanced upstream QoS for optimized game play on consoles like the XBox. When microseconds count, let Nighthawk accelerate your game. For the win.

Streaming – Unlimited HD
Stop buffering and start enjoying uninterrupted streaming media. With features like downstream QoS, Beamforming+ and built-in iTunes server you'll begin to stream like you mean it. Access your stored media quickly with USB 3.0 and keep it safe with free automatic backup software for PCs & Time Machine compatible for Macs.

Mobile – Up to 100% Faster
Improve your mobile Wi-Fi speeds by up to 100% with Nighthawk! High-powered amplifiers & antennas help extend Wi-Fi coverage throughout large homes & even backyards. Beamforming+ focuses Wi-Fi signals to Wi-Fi devices. With signals locked onto your device, experience what it really means to be mobile!
Features & Benefits
Speed

World's Fastest Wi-Fi – Up to 600 + 1300Mbps

GIGABIT Wi-Fi – Next-generation Wi-Fi now at Gigabit speeds
Sharing

DLNA – Find & play your media on DLNA TVs & game consoles

ReadySHARE USB ACCESS – Wirelessly access & share USB hard drive & printer via two (2) USB ports

One Superspeed USB 3.0 Port – Up to 10x faster than USB 2.0

ReadySHARE Printer – Wirelessly access & share a USB printer

ReadySHARE Vault – Free software for automatic PC backup to a USB hard drive connected to the router

Time Machine – Automatic Mac backup to a USB hard drive connected to the router
Reliable Connections
Simultaneous Dual Band – Reduces interference for better connections to more Wi-Fi devices

Advanced QoS – Optimized for smooth HD streaming & gaming

Beamforming+ – Boosts speed, reliability, & range of Wi-Fi connections
Range

Ultimate Range – Wi-Fi coverage throughout your home

Antennas – High-powered amplifiers with three external antennas
Ease of Use

Easy Install – Easy setup for iPad, tablets, smartphones & computers

Netgear Genie APP – Personal dashboard to monitor, control and repair your home network

Push-n-Connect – Easy push button Wi-Fi connections (WPS)
Wi-Fi & Power ON/OFF – Convenient power savings
Security

VPN Support – Secure access to your home network

Parental Controls – Web filtering for all your connected devices

Guest Network Access – Separate & secure access for guests

Secure Wi-Fi Connections – Highest level wireless security with WPA/WPA2

Open Source Support – Download open source firmware from www.myopenrouter.com

Personal FTP Server – Customized free URL to create FTP server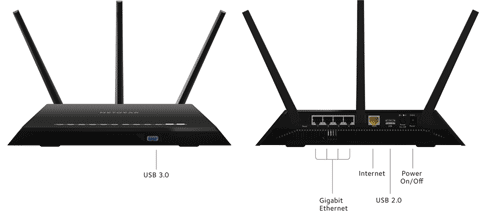 Choose the Wireless Router that Fits Your Needs
R6200v2
R6250
R6300v2
R7000

Range
Better
Better
Best
Ultimate
Simultaneous Dual Band Wi-Fi (2.4GHz & 5GHz)

Processor Speed
800MHz
Dual Core 800MHZ
Dual Core 800MHZ
Dual Core 1GHz
USB Storage Access Speed
Better
Best
Best
Ultimate
USB Ports
One USB 2.0
One USB 3.0
One USB 2.0 + One USB 3.0
One USB 2.0 + One USB 3.0
Ethernet Ports
10/100/1000 Gigabit Ethernet
10/100/1000 Gigabit Ethernet
10/100/1000 Gigabit Ethernet
10/100/1000 Gigabit Ethernet

Netgear Genie

Guest Networks

Live Parental Controls

Broadband Usage Meter

DLNA

Beamforming+

Open Source Support (from myopenrouter.com)

ReadySHARE USB

ReadySHARE Printer

ReadySHARE Vault

Apple Time Machine Compatible

Personal FTP Server

VPN Support

Advanced QoS for Video Streaming

Advanced QoS for Gaming

iTunes Compatible

Email, chat, surf

Online gaming

HD Streaming

Multiple HD Streaming
Netgear Genie App
Home network manager
Makes any printer AirPrint compatible to print from an iPad or iPhone
My Media – Find and play media files in your network
EX Mobile connect – Scan QR code to connect to your home network
Turbo-Transfer – Quickly transfer files within your home network across various devices 40% faster than normal file transfers
For PC, Mac, iPhone, iPad, & Android devices

What is Beamforming+?
Focuses Wi-Fi signals from the wireless router to Wi-Fi devices like smartphones, tablets & laptops
Automatic signal management checks with your device to keep Wi-Fi signal at its optimal strength
Designed for home environments to support multiple Wi-Fi device connections for highest quality
Extends Wi-Fi coverage, reduces deadspots, & boosts signal strength
Beamforming+ boosts speed & range for the newest AC Wi-Fi devices like Macbook Air & Samsung Galaxy S4
Compatibility
Package Contents
Nighthawk AC1900 Wi-Fi Router
Three (3) detachable antennas
Ethernet cable
Power adapter
Quick install guide
Minimum System Requirements
Microsoft 8, 7, Vista, XP, 2000, Mac OS, UNIX, or Linux
Microsoft Internet Explorer 5.0, Firefox 2.0, Safari 1.4, or Google Chrome 11.0 browsers or higher
Use laptop with 2x2 300 / 3x3 450Mbps adapter or 802.11ac adapter such as the Netgear A6200 for maximum performance
Technical Specifications
Model #: R7000-100PAS
Simultaneous Dual Band Wi-Fi – 2.4 & 5GHz
Wi-Fi Transmitters / Receivers (Tx/Rx)
3x3 (2.4GHz) + 3x3 (5GHz)
Wi-Fi Boost with high-powered radio amplifiers
Memory: 128MB flash and 256MB RAM
Downstream & upstream Quality of Service (QoS)
IPv6 support (Internet Protocol Version 6)
Five (5) 10/100 (1 WAN and 4 LAN) Gigabit Ethernet ports with auto-sensing technology