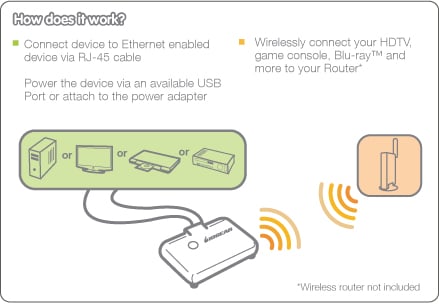 Get your Ethernet enabled devices such as Gaming Consoles, Blu-ray players, computers or HDTV connected to your wireless home network.
The new IOGEAR Universal Wireless-N Adapter allows you to connect your device such as a Blu-ray player, HDTV, or game console to any Wireless-N network in your home or office. The Wireless-N (IEEE 802.11n) Adapter works with any device with an Ethernet port. No need to purchase an USB adapter that only works with a specific brand or device. Simply connect the adapter to your device without worrying about re-wiring your home.
Using dual antennas (1T1R) this product provides data rates up to 150Mbps and reduces Wi-Fi dead zones in your wireless environment. This new standard supplies sufficient bandwidth for faster file transfer, music downloads, video streaming, on-line gaming & HD multi-media applications. In addition to the increased speed and coverage, you will be pleased to know that it is compatible with your existing 802.11b and 802.11g routers and access points. The unit also features a WPS (Wi-Fi Protected Setup) button offering a quick and secure network setup.
IEEE 802.11b/g/n Compliant Compliant with IEEE 802.11n and backward compatible with 802.11g/b, the IOGEAR GWU627 smoothly integrates into any existing wireless network with up to 150Mbps data transfer speeds. Wi-Fi N technology improves effective throughput and range over existing 802.11b/g products.
Universal Compatibility The IOGEAR GWU627 works with any Ethernet enabled devices such as a Blu-ray player, DVR, HDTV, game console, media PC, and more - no need to buy a Wi-Fi adapter that only works with one type of device.
Enhanced Security & WPS The IOGEAR GWU627 supports WEP, TKIP, AES, WPA and WPS2 hardware encryption schemes. Push-button Wi-Fi Protected Setup (WPS) simplifies secure and easy wireless configuration.
Easy to Use This compact, stylish WiFi Adapter is Plug-n-Play - no drivers required! It's USB-powered option means no exposed wire hanging from the TV so you can avoid long stringing cable and enjoy the freedom to place your home entertainment center anywhere and still connect to the Internet.