HOWABN1: Hi-Gain™ Outdoor Multifunction Access Point
Dual-Function: Multiple Solutions in One Weather Proof Outdoor Unit
Satisfy all of your outdoor wireless needs with the Hawking Hi-Gain Outdoor Wireless-300N Multifunction Access Point. This versatile device combines an access point, an Ethernet bridge, and a Wi-Fi repeater into a single convenient device. And thanks to its completely weather proof design, the HOWABN1 can be installed anywhere to minimize interference and provide better wireless coverage.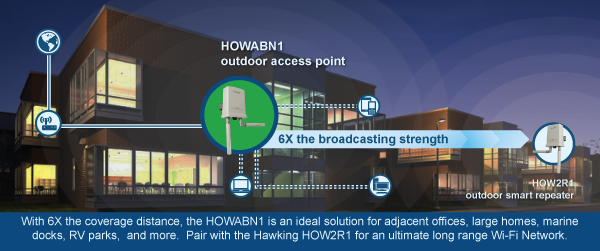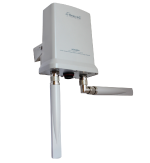 The HOWABN1 increases the wireless coverage of your wireless network up to 2X larger. It reduces your wireless dead spots, provides extended coverage for outlying devices. In addition, it stabilizes your wireless connection with high performance broadcasting technology. For the previously out of reach devices, you'll see an improvement in the data transfer speed and a reduction in lag while streaming or downloading multimedia content (video, music, etc.) with the addition of the HOWABN1.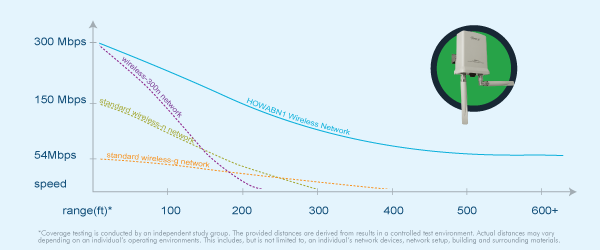 How It Works
The HOWABN1 is a 2.4GHz wireless 802.11b/g/n compatible solution that allow you to repeat signal from any wireless access point or wireless router. This product is designed with multiple operating modes: Access Point, Bridge, Point-to-Point, Point-to-Multiple Point, and WDS Bridge. The Multifunction Access Point provides optimal connectivity, regardless of what mode you're using. It features two high-gain antennas which allows the device to function over large ranges. So whether you are using installing the HOWABN1 for your home or business, indoor or outdoor, the Multifunction Access Point is the solution for long range wireless environments.
Use the HOWABN1 to connect to your boat.

Use the HOWABN1 to create an outdoor hotspot.

Use the HOWABN1 to extend coverage from one building to another

Use the HOWABN1 to bring your wireless network outdoors.


The Multifunction Access Point has a durable design that can withstand the elements. Its outdoor enclosure is sturdy and watertight, and all of its components are waterproof. A waterproof gasket kit is included for coating the RJ-45 Ethernet jack, so you won't have to worry about water damage to the repeater.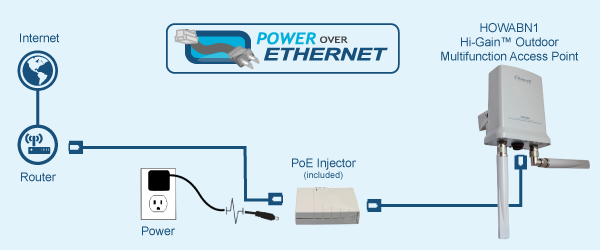 The HOWABN1 also comes with a Power-over-Ethernet injector. This convenient accessory eliminates the need for a separate power cord; instead, power is transmitted to the repeater through your Ethernet cable. This helps reduce cable clutter and saves you the trouble of running a power cord outdoors. For added convenience, the cable can connect up to 300 feet and is extendable using an Ethernet switch.
Features:

High Speed 300 Mbps Wireless-N networking
Converts wired networks into wireless-N networks
Complies with 2.4GHz Wireless 802.11b/g/n network standards
Features multiple operating modes and Power-over-Ethernet option
Heavy duty weatherproof design