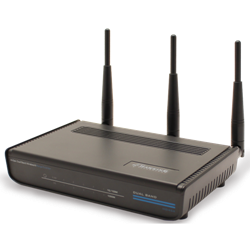 INTRODUCTION
Premium Wireless Performance with Extended Wireless Coverage!
Hi-Gain™ Dual-Band Wireless-N Range Extender repeats wireless signals from any access point or router with 2.4GHz or 5.0GHz signal from an existing network. Compatible with 802.11a/ b/g/n networks, the HD45X is an ideal solution to upgrade and improve your wireless experience. It's an essential component to accommodate the growing demand for high-definition content. The HD45X doubles the size of your Wi-Fi network at up to 450Mbps, 3X faster than standard Wireless-N Range Extender in the Market.
Along with wireless connectivity, the 5 Gigabit Ethernet LAN ports provide blazing fast connection for devices that do not have wireless access. The HD45X also offers the latest wireless security features, ensuring that your files and network are safe from outside intruders.
THE BENEFITS OF DUAL-BAND
The 2.4GHz is the most commonly used wireless bandwidth. It also has a limited number of bandwidth for multiple activities, such as sending emails, video chatting, streaming movies, playing games, etc. Interference and major backlog to online activities are common in the 2.4GHz frequency since it is shared by different devices (i.e. laptops, tablets, smartphones, and even your microwave). The Dual-Band technology provides maximum flexibility for your Dual-Band compatible devices to connect to the popular 2.4GHz frequency and also off-load traffic to a faster less-crowded 5.0GHz frequency.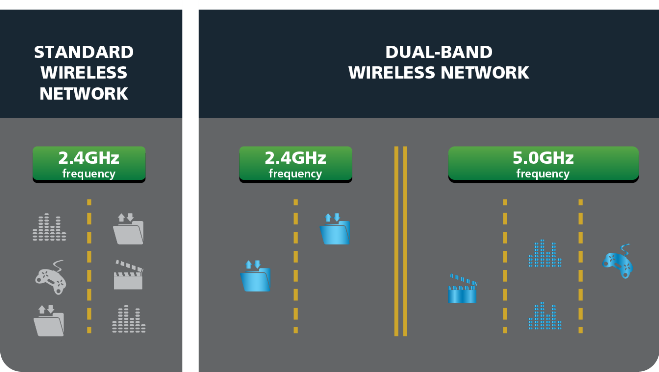 DUAL-BAND VERSATILITY
As you can see from the image above, interference with other 2.4GHz networks is inevitable, limiting your network speed and performance. With the availability of the 5.0GHz frequency, users can circumvent this interference and optimize their Wi-Fi connectivity.

HAWKING DUAL-BAND PERFORMANCE
A common problem with high performance wireless networks, is that quality diminishes at a higher throughput rate and the network becomes limited. The HD45X maintains that high performance by doubling your wireless coverage for your dual-band network. As a result, it provides a stronger and more solid wireless connection to improve overall performance, such as improving the data transfer speed and reducing lag while streaming or downloading multimedia content (video, music, etc.).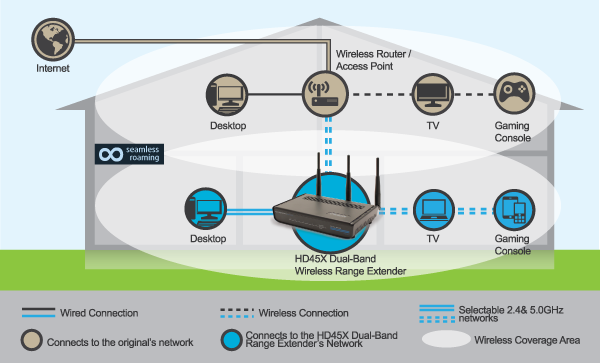 In addition, Hawking Dual-Band Wireless-N Range Extender promotes data speeds of up to 300Mbps for the 2.4GHz frequency and 450Mbps for the 5.0GHz frequency. This means users can have more bandwidth and transfer more files in less time.

EASY UPGRADE FOR LONG RANGE ENVIRONMENTS
The HD45X combines Dual-Band technology with removable external antennas to upgrade your overall wireless experience.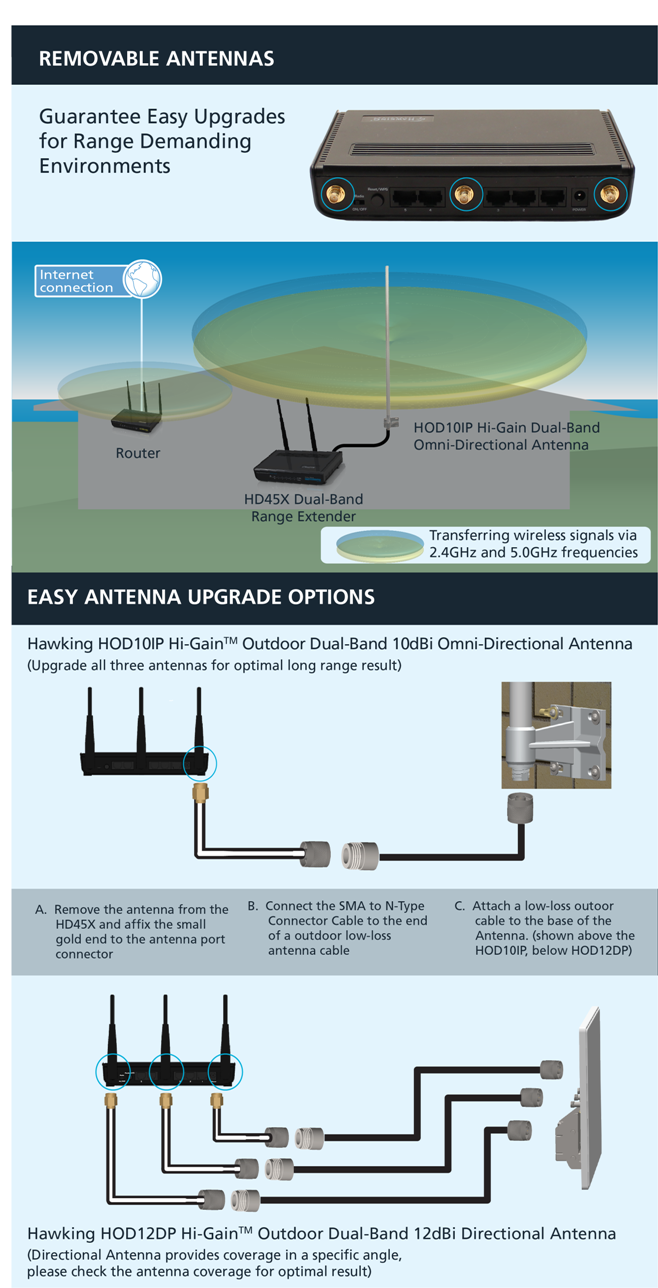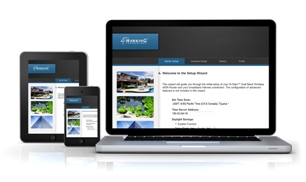 HASSLE-FREE INSTALLATION
The HD45X is quick and easy to install using a Wi-Fi enabled device (i.e. tablet, smartphone, Mac or Windows computer). Hassle-free means, there is no Ethernet cable or CD required for the installation. Simply power up the unit, use a Wi-Fi enabled device, and log into the set up page. This installation feature lets you configure and set up the HD45X within minutes.
HELP ME CHOOSE
Choose a Range Extender that fits your wireless network. The HD45X Dual-Band Wireless-N Range Extender is a great wireless solution for consumers looking to extend their wireless range with blazing fast speeds.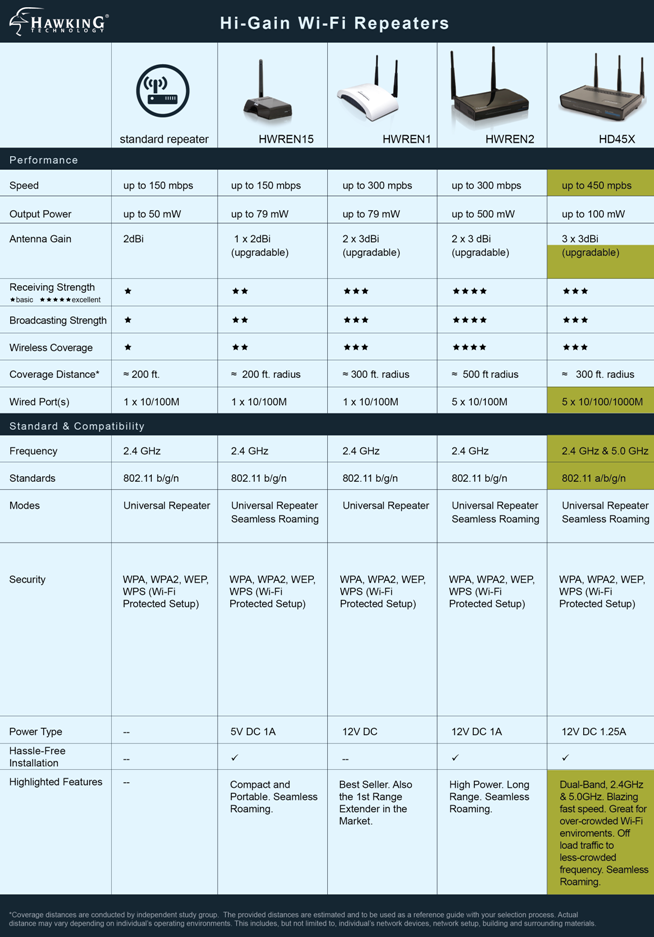 | | |
| --- | --- |
| FEATURES | |
| | Increased frequency range improves your overall wireless experience |
| | Doubles your standard data rates with selectable 2.4GHz and 5.0GHz availability |
| | Mirrors the original wireless network and lets your Wi-Fi enabled device roam freely |
| | Maximizes wireless with 3x the speed and range of standard Wireless-N |
| | Easily upgradable for long range wireless environments |
| | Blazing fast transfer speeds for your wired devices like printers, desktops, gaming consoles, and multimedia players |
| | Install using a tablet, smartphone, mac or windows computer |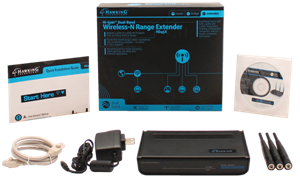 Package Content
One Hi-Gain™ Dual-Band Wireless-N Range Extender
Three 3dBi Hi-Gain Omni-Directional Antennas
One Mac/PC CD
One RJ-45 Ethernet Cable
One Power Adapter 12V/1.25A
Quick Installation Guide