INTRODUCTION
Wireless USB Network Adapter with Dual-Band frequency, delivering premium performance & extended wireless coverage!
Avoid interference and maximize throughput for smoother and faster video streaming, wireless gaming, and file transferring with this Hi-Gain™ Dual-Band Wireless-N USB Adapter. The HD45U instantly converts your laptop or desktop wireless connection to blazing fast speeds, even in heavily congested Wi-Fi areas. Compatibles with Mac and Windows computers, the HD45U Adapter connects to 2.4GHz or 5.0GHz, at up to 300Mbps or 450Mbps respectively.
THE BENEFITS OF DUAL-BAND
The 2.4GHz is the most commonly used wireless frequency for wireless networks. Interference and major backlog to online activities are common in the 2.4GHz frequency since it is shared by many different devices (i.e. laptops, tablets, smartphones, and even your microwave). The Dual-Band technology provides maximum flexibility for your laptop or desktop to connect to the popular 2.4GHz frequency or off-load traffic to a faster less-crowded 5.0GHz frequency. This lets you stream video smoothly, upload or download files in less time, and surf the internet with ease.
Image below compares a standard wireless network to a Hawking Dual-band Wireless Network. In a standard wireless network, all network activities are going through a narrow and smaller bandwidth. Dual-band Wireless Network let's your traffic follow freely and at a faster speed.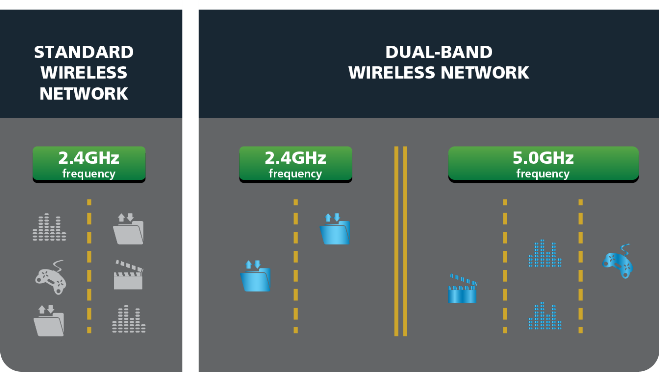 HAWKING DUAL-BAND USB NETWORK ADAPTER
Standard Dual-Band transfer speeds are up to 300mbps for both frequencies. In addition, limited coverage can result in slow and unstable connections, or even no connection at all. The HD45U is an external adapter with a 4dBi Antenna. With the addition of 5.0 GHz, this means users can transfer more files in less time, at up to 450Mbps. The external 4dBi antenna lets you connect with more freedom.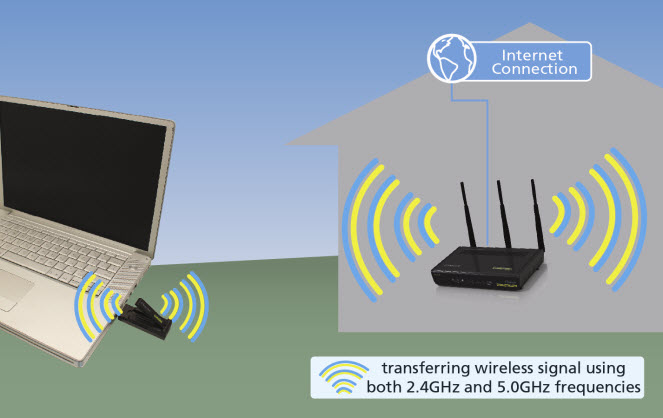 HOW IT WORKS
A common problem with standard wireless routers is that the quality of most standard wireless networks diminishes significantly past a coverage radius of 200 feet. With the arrival of 5GHz Wi-Fi, wireless networks can improve on these slow speeds and unstable connections. The HD45U is designed with Dual-Band technology to increase your wireless reception so you can receive both 2.4GHZ frequency signals and 5.0GHz frequency signals.
HAWKING DUAL-BAND PERFORMANCE
While most standard Dual-Band transfer speeds are up to 300mbps for both frequencies, the Hawking Dual-Band products promote data speeds of up to 300mbps for the 2.4GHz frequency and 450mbps for the 5.0GHz frequency. This means users can have more bandwidth and transfer more files in less time.

PERFORMANCE CHART
Use the chart below to see which USB adapter is right for you. The HD45U Dual-Band Wireless-N USB adapter is a great wireless solution for consumers in a Wi-Fi congested area looking for incredibly fast network speeds and for consumers looking to create 5.0GHz network compability for their laptop or desktop.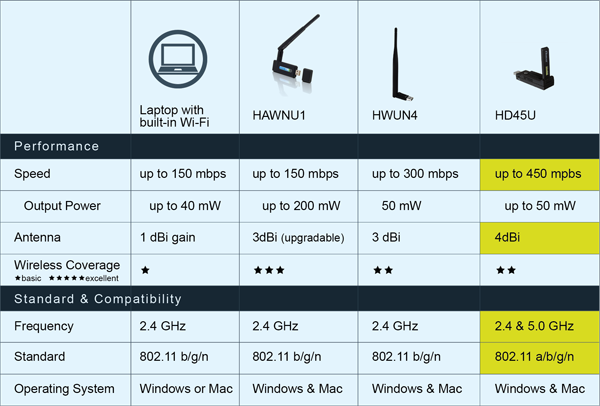 | | |
| --- | --- |
| FEATURES | |
| | Increased frequency range improves your overall wireless experience |
| | Doubles your standard data rates with selectable 2.4GHz and 5.0GHz availability |
| | Maximize wireless with 3x the speed and range of standard Wireless-N |
| | Standby Technical Support is available anytime for your convenience |
Package Content
One Hi-Gain™ Dual-Band Wireless-300N USB Adapter
One Mac/PC CD (includes User's Manual and Support Utility for PC)
One USB flexible cable
Quick Installation Guide