Rosewill RPLC-200PKIT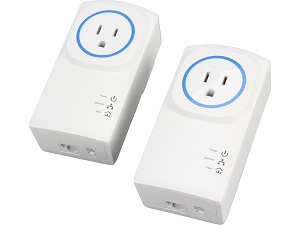 Rosewill RPLC-200PKIT Premium 200 Mbps Powerline AV Pass-Through Adapter expands your high speed network to multiple rooms where Wi-Fi signals cannot reach. Applying advanced technology, RPLC-200PKIT provides up to 30% faster data transfer than the standard Powerline AV200. Simply plug Rosewill RPLC-200PKIT in the existing power outlets, and it will turn the electrical power line into high speed internet without running messy cables. RPLC-200PKIT comes with one Ethernet port which allows you to hard wire a Smart TV, Blu-ray player, computers, laptops, game consoles, etc., to enjoy a reliable high speed network to surf the internet, stream online and HDTV video, play online games, transfer large files, and operate many more bandwidth-demanding applications. RPLC-200PKIT incorporates a built-in noise filter to reduce power interference and enhance data transmission quality.
With the built-in AC pass-through outlet on the adapter, you'll conveniently provide power to another electrical device while you connect the high-speed network.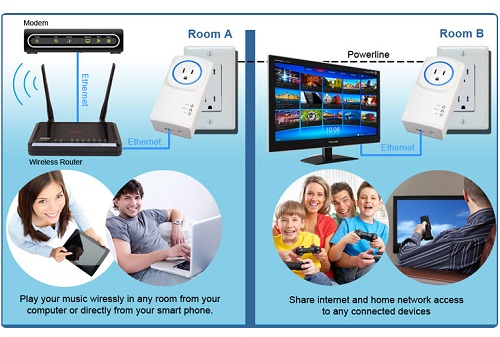 Key Features
30% Faster than Standard 200Mbps Powerline Adapter
RPLC-200PKIT Premium is embedded with the Qualcom Atheros AR7420 chipset, which delivers PHY rates of 500Mbps. It provides up to 30% faster data transfer speeds than the standard Powerline AV200. The robust RPLC-200PKIT allows you to stream HD/3D videos, play online games, transfer larger files, and much more with low latency.
Extra Noise-Filtered Pass-through Outlet
Provide power to electrical devices.
Plug and Play
Simply plug RPLC-200PKIT in the power outlets without any configuration needed, and you have the internet up and running.
Easy Encryption Button
Just one push on to RPLC-200PKIT and you have a safe network encrypted with advanced 128-bit AES security Protection.
Built-in QoS
The built-in QoS prioritizes the bandwidth-sensitive data, optimizing the quality of multimedia streaming and data transferring.
Power Saving
Automatically shuts down the RPLC-200PKIT when idle to conserver power. The power saving feature will also help you save on your electric bill expense.
Rosewill High Performance Powerline Adapter

Product
Model
RPLC-201KIT
RPLC-201PKIT
RPLC-200KIT Premium
RPLC-200PKIT Premium
RPLC-500KIT
Speed
(PHY Rate)
Up to 200Mbps
Up to 200Mbps
Up to 500Mbps
Up to 500Mbps
Up to 500Mbps
Ethernet Port
1* 10/100 Port
1* 10/100 Port
1* 10/100 Port
1* 10/100 Port
1* 10/100/1000 Port
Passthrough Outlet
HD Video Streaming
Online Gaming
Security One-Push Button
Encryption
128-bit AES
128-bit AES
128-bit AES
128-bit AES
128-bit AES
Power Savings
Built-in QoS
Application
Rosewill High Performance Powerline is designed to connect with:

Computers in multiple rooms (where Wi-Fi is not available or connection is poor)
Smart TV / HDTV
XBOX 360, PS3, or any ethernet-capable game consoles
NAS
Blu-ray Players
Media Players such as Roku
VoIP phones