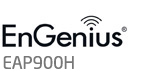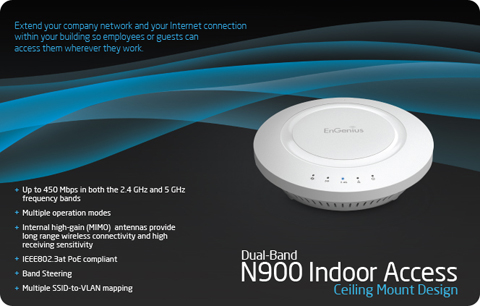 Dual Band N900 Access Point Extend your company network and your Internet connection within your building so employees or guests can access them wherever they work.

EAP900H is a Dual Band Wireless N900 Indoor Access Point that features high transmit RF power of up to 28 dBm on both the 2.4 and 5 GHz frequency bands delivering connectivity to wireless laptops, tablets, smartphones and other devices within 3 floors of a typical office building, hotel or other multi-floor structure. With wireless speeds up to 450 Mbps on each radio and a Gigabit port for connecting to a switch or router, the EAP900H is ideal for expanding a network with additional bandwidth to support newer dual-band enabled devices.

Data Protection that never stops
The EAP900H has been designed to appear as a low-profile smoke detector and thus unobtrusively blend in with other common building infrastructure appliances. Because the EAP900H is designed for deployments on ceilings where power outlets may be scarce, it is also PoE (Power-over-Ethernet) IEEE 802.3at for use with an 802.3at-capable PoE injector or 802.3at-capable PoE switch. The EAP900H draws up to 25 watts of power.
This dual band Wireless N900 Access Point enables companies to connect to more employees, guests, staff or students who transfer large files within the network or use other bandwidth intensive applications like streaming HD video. The AP's Gigabit Ethernet port also offers greater bandwidth capacity and faster data transfers through the network. Its enhanced receive sensitivity and six internal MIMO (Multiple In/Multiple Out) antennas, extend wireless coverage and enhance connectivity to client devices even in areas where connections have been previously challenging or non-existent.
Band Steering Keeps Data Moving at Optimal Speeds
The EAP900H features Band Steering, which is a selectable setting in the browser-based interface that a network administrator can invoke. Once selected, Band Steering enables the EAP900H to recognize dual band or 5 GHz-capable client devices in the network and automatically pushes those clients to the 5 GHz SSID. Doing so alleviates the congested network traffic often found on the 2.4 GHz frequency band thus optimizing connectivity and wireless speed for all the client devices associated with the Access Point. The EAP900H can also be configured to operate in as a dual band Wireless N900 Access Point or a WDS (Access Point or Bridge).
The EAP900H can also be configured to operate in as a dual band Wireless N900 Access Point or a WDS (Access Point or Bridge).
Seamless Roaming
The EAP900H supports PMKSA that distributes and caches a designated WPA/WPA2- Enterprised encryption key to neighboring EAP Access Points. This feature along with a Fast Handover feature that detects a weakening wireless link between Access Point and client initiates a handover of the client from one EAP Access Point to the nearest Access Point with a stronger signal to keep clients continuously and seamlessly connected to the network.
Remote Management
The EAP900H is remotely manageable with SNMP v1/v2c/v3 with MIB I/II and private MIB.
FEATURES
Up to 28 dBm transmit power enabling long range connectivity
Supports IEEE 802.11a/b/g/n wireless standards with up to 450 Mbps data rate on each band
Six internal 5 dBi omni-directional MIMO antennas
Can be monitored after deployment with EnGenius EZ Controller™ software for Windows (Free online download)
Can be used with included power adapter or via PoE with PoE 802.3at - capable switches or injectors
Dual Band/Three Stream
SSID-to-VLAN Tagging
Leader in Price/Performance
Band Steering shifts dual band clients to 5 GHz for better overall throughput performance on both bands
Guest Network option for more secure connectivity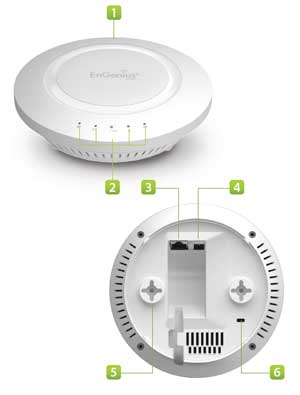 Physical Interface
Reset Button
LED Indicators
Gigabit Ethernet LAN Port 802.3at (PoE)
Power Connector
Ceiling (Wall) Mount Hole
Kensington Security Slot