INTRODUCTION
Long Range Wireless Coverage, Increase the Strength of Wi-Fi Devices up to 700%
The high-grade, heavy duty, HAO17SDP Hi-Gain Wireless 17dBi Directional Antenna extends the coverage of your existing wireless 2.4GHz 802.11b/g/n devices. Most Wi-Fi devices are built with 2dBi antenna gain, the HAO17SDP increases the standard antenna strength from 2dBi to a staggering 17dBi, resulting in up to 700% increase in wireless strength and coverage.*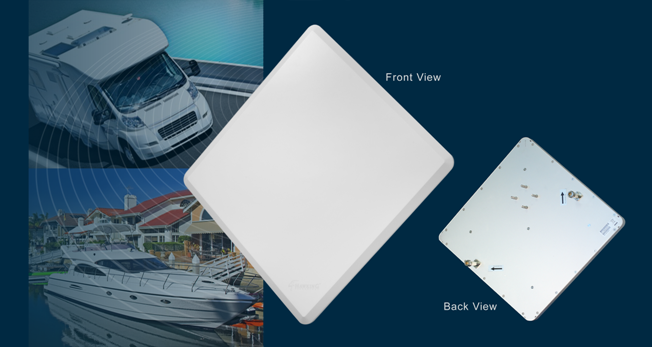 Dual-Polarization MIMO feature ensures quality performance for data intensive applications: streaming HD video, VoIP, online gaming, syncing files to your cloud server, etc.
The HAO17SDP is a dual-polarization MIMO antenna, a smart antenna technology, that is used to improve wireless communication between your devices. Unlike most standard Wi-Fi antennas using the same pathway to transmit and receive data, the HAO17SDP is designed with multiple pathways to optimize your data transfer speed. As a result, the HAO17SDP provides an unsurpassable wireless coverage for your wireless network.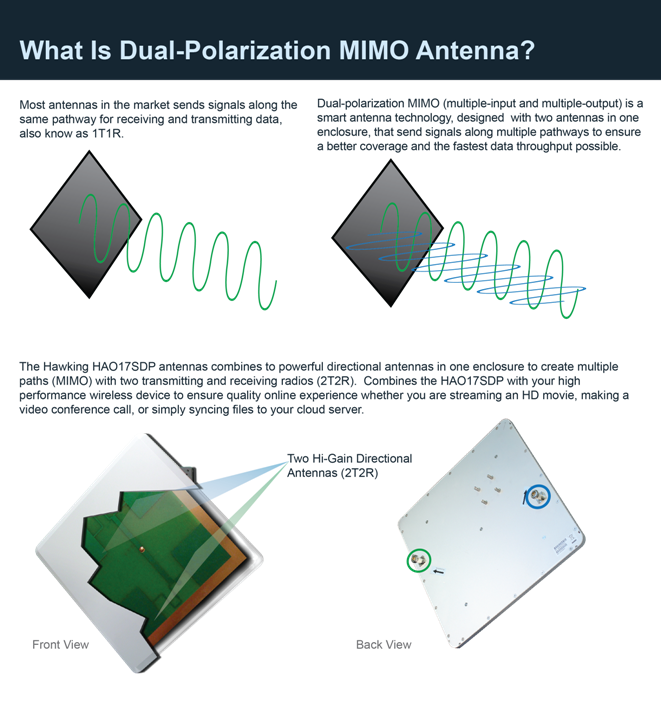 DIRECTIONAL ANTENNA FOR LONG RANGE POINT-TO-POINT WI-FI APPLICATIONS
The Directional Antenna concentrates the signal in one direction for stronger signal and better long range wireless connections. The Directional Antenna is also great for long range Point-to-Point wireless applications as in the diagram below. For extended wireless coverage, pair the Directional antennas, one on each end, to maximize your distance (as illustrated in the image below, from location A to B).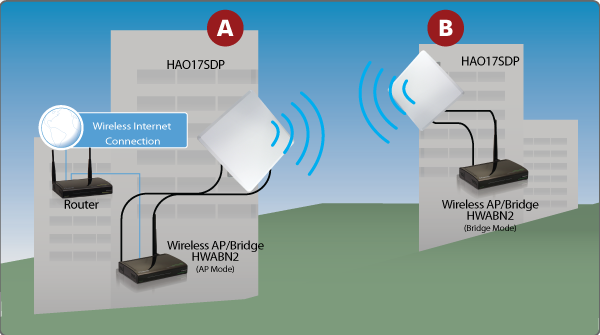 PLUG-AND-PLAY INSTALLATION
Simply replace your device antenna with the HAO17SDP. The HAO17SDP antenna has N-Type connector and comes with N-Type to SMA adapters, the most commonly used antenna connector. For other type of adapters, please visit Hawking Tech's website for additional selections. Outdoor Antenna cable is sold separately. Select the right length to minimize your cable loss.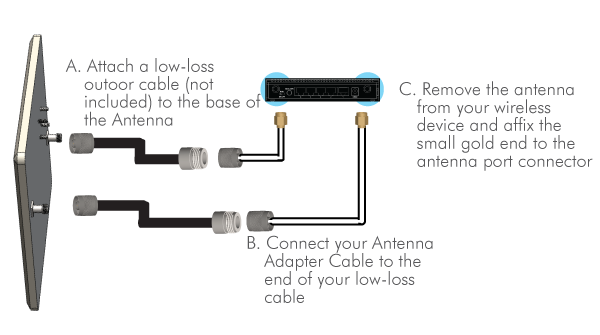 HELP ME CHOOSE
Choose an antenna that fits your wireless network environment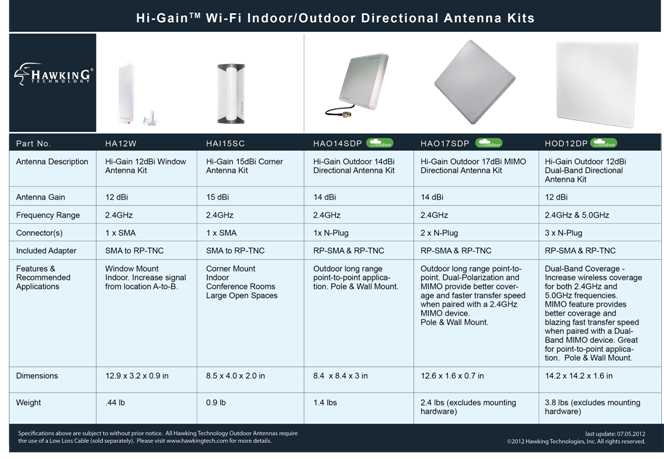 | | |
| --- | --- |
| FEATURES | |
| | Durable, Heavy-Duty enclosure to withstand the elements of nature |
| | Maximizes wireless range and performance of up to 7X |
| | Standby Technical Support is available anytime for your convenience |
| | Limited warranty protects your investment |
| | Quick and easy to install using tablet, smartphone, mac or windows computer |
Package Content
One Hi-Gain™ Outdoor 17dBi Directional Antenna
Two SMA to N-Type Adapters
Mounting Kit (Wall and Pole options)
Quick Installation Guide
*Percentage value derived from antenna gain equation and the results from a controlled testing environment. Result analysis is conducted by an independent study group. Actual results may vary depending on an individual's operating environment. This includes, but is not limited to, network devices, network setup, building and surrounding materials.