ASUS ZENBOOK Touch UX31LA-US51T Ultrabook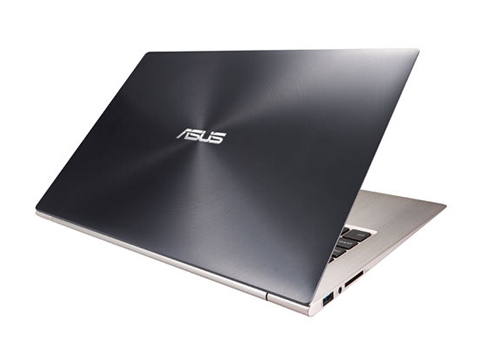 Meet the perfectly balanced ASUS UX31LA-US51T Ultrabook, and take your mobile computing experience to a new level. It offers impressive computing power, rich media features, and ergonomic keyboard in a super-thin, sleek profile, keeping you productive in and out of the offices.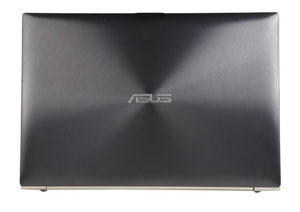 Incredible Beauty
Creating the perfect Ultrabook means striking a perfect balance between form and function. Zenbook Touch is carved from a single block of aluminum for a seamless design that's not only beautiful, but durable, too. A sophisticated milling process gives the ultrabook a beautifully patterned finish formed from fine concentric circles. It has a profile that tapers from 0.7" at the back to an incredible 0.12" at the front, and weighs only 2.87 pounds. Lift the lid and inside is a vibrant 13.3-inch Full HD IPS display that brings images to life over a wide viewing angle of up to 178 degrees. Complete with a 720p HD webcam, you can make video calls in crystal clarity. Zenbook Touch is the Ultrabook you'll want with you, wherever you go.
Impressive Inner Strength
Punch up the power in everything you do with the high-performance ASUS UX31LA-US51T Ultrabook. Powered by a speedy Intel Core i5 4200U processor (1.6 GHz), 8 GB of RAM, 128 GB SSD, and premium Intel HD Graphics 4400, it delivers outstanding computing power that lets you work smarter and play harder.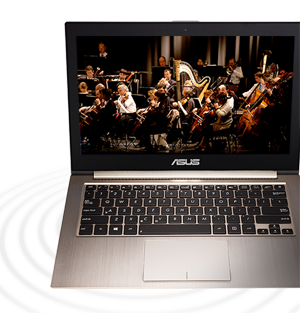 Sound You'll Love to Listen to
The ASUS UX31LA-US51T Ultrabook comes with built-in speakers, and features award-winning MaxxAudio software - a suite of advanced audio enhancement tools from Waves, delivering crystal-clear, robust, detailed and accurate sound to please your ears incredibly. Plus, the built-in digital array microphone gives you high-quality audio for video chats and conferences.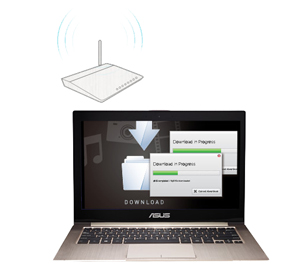 Keeping You Connected
The ASUS UX31LA-US51T Ultrabook has everything you need to stay connected to the wider world with the latest wireless technology. The 802.11ac Wireless LAN delivers a fast, strong wireless environment, so you can roam free and still enjoy an impressive wireless experience. It also has the brand new Bluetooth 4.0 for use with the latest ultra-low power wireless devices, so you can connect to compatible smartphones and tablets without ever having to worry about battery life.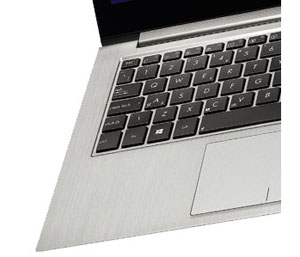 Crafted for a Better Typing Experience
A keyboard is still the best way to get things done for most people, so ASUS made sure Zenbook has the best available. Each key is expertly tuned to require just the right amount of force to press and have just the right amount of travel, so it's both quiet and comfortable for two-finger and touch typists alike. And since an Ultrabook is designed to be used anywhere, ASUS made the keyboard that way, too.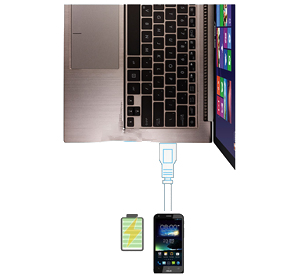 Designed for Your Convenience
The ASUS UX31LA-US51T Ultrabook gives you a wide array of connectivity options that include two USB 3.0 ports, one micro HDMI port and one Mini DisplayPort to ensure compatibility with various peripherals. And, the USB 3.0 ports support the latest high-speed storage - ten times faster than USB 2.0 port, and recharge mobile devices in double-quick time. This means you can transfer large amounts of data in seconds, and recharge your mobile devices in half the time compared to USB 2.0, even when Zenbook Touch is switched off.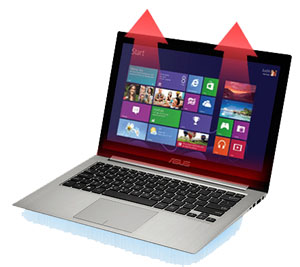 Designed to Never Lose its Cool
Inside the case is a custom heatsink made from beryllium copper alloy, which conducts heat away from hot components much more effectively than ordinary copper. Rather than spoil the sleek lines of Zenbook with unsightly grilles, warm air then is channeled through a vent below the screen hinge, well away from any part of your body that touches the case. The result is an Ultrabook that's much cooler than the competition - in more ways than one.