Gigabyte U2142-CF2 11.6-Inch Laptop
Intel Core i5 3317U 1.7GHz
4GB DDR3
128GB 5400RPM Hard Drive
11.6-Inch Screen
Windows 8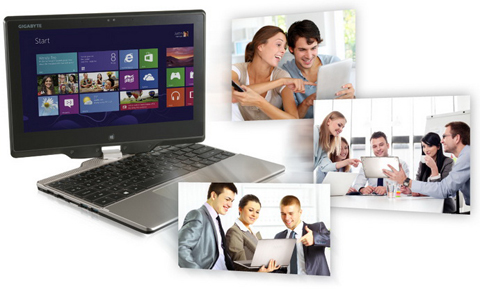 Overview
The 11.6-inch U2142-CF2, convertible Ultrabook heralds a new era in innovative technology. This convertible Ultrabook - weighing just 3lbs - is an excellent choice for users looking for both the power of a notebook with the touch capability of a tablet. The notebook has an exquisitely designed champagne gold cover that comes with a premium hairline aluminum brushed finish.
The U2142-CF2 packs a powerful 3rd generation Intel® Core™ i5-3317U processor in its body, and has a 1366 x 768 display with 10-point touch capability and 4GB DDR3 memory expandable up to 16GB.
Switching from tablet mode to an Ultrabook is a snap. All you need to do is swivel and close. The dynamic swivel panel makes it adjustable and convenient to share and view the display from a multitude of angles. Battery on this Ultrabook lasts up to 5.5 hours making it an extremely portable choice.
Be a power presenter! Whether creating designs in tablet mode or making a presentation, the U2142-CF2 has a wide array of connectivity ports that will help you present and connect to most external devices. The full-sized chiclet keyboard not only enhances the look of the U2142-CF2 but also provides a comfortable typing experience. Plus, the wide key space facilitates swift and accurate key strokes.
Features
Convertible Ultrabook. Both a Tablet and an Ultrabook at your fingertips.
Enjoy more freedom with exceptional mobility. Ultra thin, light and powerful. It's only 0.8in. (20mm) thick and weighs just 3lbs.
Impressively fast, amazingly large. Supports a dual-storage system: SSD + HDD.
Fully featured PC connectivity with I/O ports
Lightning Speed Computing with 3rd gen Intel® Core™ processor
Enjoy More Freedom with Exceptional Mobility
Ultra Thin, Light and Powerful
The 2-in-1 (Tablet and Ultrabook) is sleek, lightweight, and stylish. Only 3lbs (1.49kg) and just 0.8in. (20mm) thick! The stunning design is truly ultimate craftsmanship at its best.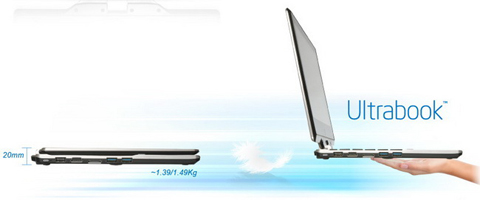 Impressively Fast, Amazingly Large
Dual-Storage Hybrid System
Most tablets and Ultrabooks still look for an external hard drive support, but the GIGABYTE convertible Ultrabook comes with high-speed and incredibly large dual-storage system that makes it extremely quick and easy to store all your files.
**The storage size may differ between different countries and regions. Please confirm with the local dealers or retailers for the latest specification.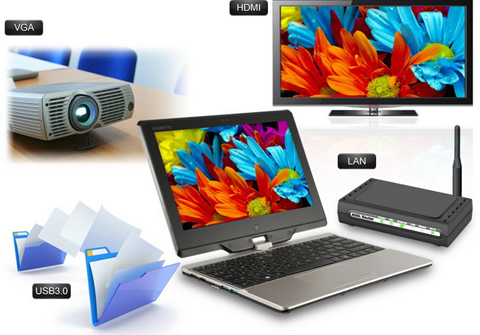 Excellent Linkage Capability, Full PC Connectivity with I/O Ports
No dongles or adapters needed! This convertible Ultrabook has exceptional connectivity options to hook up other peripheral devices. Whether at business meetings, at the office, or at home: sharing has never been as easy as this.
Lightning Speed Computing with New Intel Core Processors
Powerful 3rd Generation Intel Core processor delivers incredible performance and flies through demanding tasks with ease.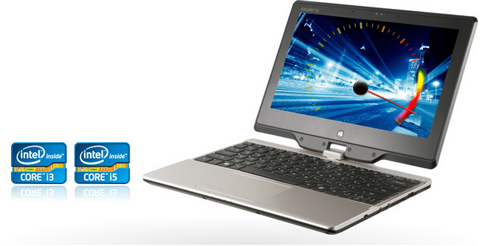 Be Professional yet Stylish with this Extraordinary Premium Design