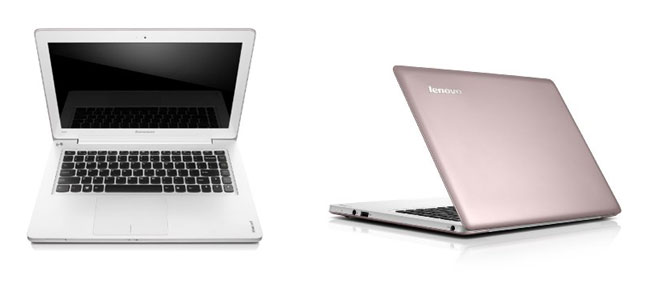 Lenovo IdeaPad® U310 Ultrabook™
Ultra Smart. Ultra Affordable. Utrabook™.
Whether you're making a statement with its stylish design or making progress with its responsive technology, this Ultrabook™ from Lenovo is mobile enough to go wherever you want, powerful enough to do whatever you want, and dependable enough to use whenever you want.
Key Specifications
3rd Generation Intel® Core™ i5-3317U processor
Windows® 8
13.3" HD display, 16:9 widescreen
Intel® 4000 HD graphics
4GB DDR3 memory, 500GB HDD storage & 24GB SSD cache
Stereo speakers with Dolby® Home Theatre v4 audio enhancement
Integrated 802.11b/g/n Wi-Fi
USB 2.0, USB 3.0, HDMI connectors & 2-in-1 card reader
Integrated 720p HD webcam
Ultra Slim & Stylish
Are exquisite design, ultra-mobility, and smart technology on your must-have list? The IdeaPad® U310 UltrabookTM is incredibly slim, it sports cutting-edge, performance-enhancing features, and it boasts long battery life. For too long, laptop consumers have had to either choose between world-class design and effective performance—or pay a hefty premium to combine the two. But with the IdeaPad® U310 UltrabookTM, you can finally have it all. And you're not stuck with a small screen. With the U310 UltrabookTM, you get all this in a 13.3 HD LED display.
Ultra Smart
AccuType keyboard with individual rounded keys for comfortable and accurate typing
Enjoy your notebook content on a big screen wirelessly with Intel® Wireless Display (WiDi) Technology
Intelligent Touchpad; glass touchpad with easy scroll, zoom and rotate functions
OneKey® Recovery makes data backup & recovery simple
Long Life Battery for extended use on the move; up to 7 hrs.
Lenovo Energy Management protects the long-term durability of the battery and uses advanced
Energy-saving technology increases time spent between charges
Ultra Smart Engineering

Fueled by an efficient, 3rd generation Intel® Core™ ultra low voltage processor, the IdeaPad® U310 UltrabookTM spares nothing in delivering a dazzling experience. Every component of the U310 Ultrabook has been carefully thought out and precisely engineered.

Type Comforably and Confidently

The IdeaPad® U310 UltrabookTM features an ergonomic AccuType keypad—which helps make your typing both easier on the wrists and more accurate. Plus, the intelligent, glass Touchpad provides easy scroll, zoom and rotate functions.
Delight in Your Down-Time
The IdeaPad® U310 UltrabookTM features an HD display that delivers dazzling visuals along with Dolby® Home Theater for a rich, immersive audio experience. Plus, enjoy your notebook content on a big screen wirelessly with Intel® Wireless Display (WiDi) Technology.
Smart Technology You can Count On
The Lenovo® IdeaPad® U310 Ultrabook™ is gorgeous to look at, but there's more to it than just a sophisticated design. It also raises the bar on durability and reliability, two areas where Lenovo has long been a market leader.
For one thing, the U310 Ultrabook™ uses a long-life battery—up to 7 hours—keeping you productive even when you spend long hours away from an AC power source. Lenovo Energy Management goes a step further, carefully orchestrating power management and battery use to get the most out of every charge.
Plus, the U310 Ultrabook's real metal casing makes it strong and reliable. When it comes to security, you can leave your worries behind.
Lenovo Cloud Storage by Sugarsync
Share files across all of your devices
Automatic syncing feature automatically downloads all files from the cloud onto every PC
Supports most mobile devices
Included Apps
The Lenovo® IdeaPad® U310 Ultrabook™ comes preloaded with a package of multimedia and productivity applications that provide a great interactive user experience. You also get many security and support applications that are responsive to your needs, with online help and up-to-date advice.
AccuWeather – customized weather reports for the cities you choose
Amazon Kindle – download ebooks
eBay – browse, bid and sell with ease
Skype – video and text chat with friends
Evernote – take photos, draw and make notes on any PC or mobile device
Nitro PDF – create and edit PDF files
RaRa – stream music with this subscription service
Lenovo Energy Management – easily control your notebook's energy usage
Lenovo Cloud Storage by SugarSync – share files across all of your devices
OneKey Recovery – quickly backup and restore your system