---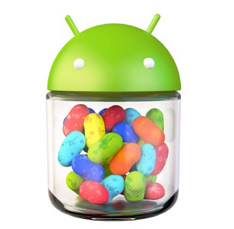 The Power of Android 4.1
The Android 4.1 (Jelly Bean) operating system is the latest version of the Android platform for tablets and more. It builds on the things people love most about Android: easy multitasking, rich notifications, customizable home screens, resizable widgets, deep interactivity, and powerful new ways of communicating and sharing. With open access to the world's largest app store, over 550,000 apps are only a touch away, giving you the freedom to customize your tablet for all of your web and entertainment needs.
Multitasking is a key strength of Android and it's made even easier and more visual on Android 4.1. The Recent Apps button lets you jump instantly from one task to another using the list in the System Bar. The list pops up to show thumbnail images of apps used recently, and tapping a thumbnail switches to the app.
---
High Speed 1.2GHz Dual Core Processor
IB Manufacturing has upgraded its processor to a new ARM Cortex-A5 chip 1.2GHz Dual Core processor, which enables the iB Pro to operate with higher performance and lower power consumption.
---
Light and Sleek Body
At 1.8lbs, the iB Pro tablet is remarkably light. Measuring 9.7in. x 7.5in. xy 0.4in. (W x H x D), this easy-to-grip tablet is designed to fit comfortably in your hand and travel with ease.

---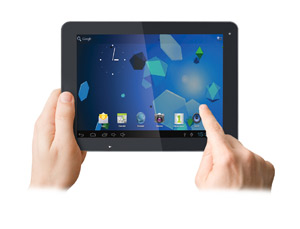 Capacitive Touchscreen
Capacitive touchscreens work by sensing the conductive properties of an object, usually the skin on your fingertip. This makes it more responsive than a resistive screen when it comes to gestures such as swiping and pinching. Capacitive touchscreens can only be touched with a finger, and will not respond to touches with a regular stylus, gloves or most other objects.
---
Browse the Web
More than ever, the Web is part of our daily lives. We live in a connected world that allows us to laugh, share, and live on the web. The iB Sleek Duo tablet allows you to do the little things you love - shop, check the weather, get recipes, keep in touch with friends and family, and keep up with the constantly changing stocks and news. It lets you instantly sync and manage Google Chrome bookmarks from all of your accounts, jump to your favorite content faster, and even save it for reading later in case there's no network available. Now experience your personal web up close with a lightweight tablet that powers on instantly anywhere (Wi-Fi connection required).
---
Check Email
Emails are easy. Fire off an email from your couch. Or the kitchen. Or the yard. With the built-in email app, iB tablets make it easy to stay in touch.
In Android 4.1, email is easier to send, read, and manage. For composing email, improved auto-completion of recipients helps with finding and adding frequent contacts more quickly. For easier input of frequent text, you can now create quick responses and store them in the app, then enter them from a convenient menu when composing. When replying to a message, you can now toggle the message to "Reply All" and "Forward" without changing screens.
For easier browsing across accounts and labels, the app adds an integrated menu of accounts and recent labels. To help you locate and organize IMAP and Exchange email, the email app now supports nested mail subfolders, each with synchronization rules. You can also search across folders on the server, for faster results. Where and who you email with is up to you (Wi-Fi connection required).
---
Listen to Music
With all the things you can do with iB tablets, don't forget to take a break for some music. The built-in music app lets you swipe and tap through your music by artist, album, song, or playlist. Listen to your favorite tunes at home or on-the-go.
---

Connect to Wi-Fi
Surf, watch, play, and do whatever you want, wherever you want. iB tablets connect quickly and easily to Wi-Fi networks. Support for Wi-Fi Direct lets you connect directly to nearby peer devices over Wi-Fi, for more reliable, higher-speed communication. No internet connection or tethering is needed. Through third-party apps, you can connect to compatible devices to take advantage of new features such as instant sharing of files, photos, or other media; streaming video or audio from another device; or connecting to compatible printers or other devices. Whether at home, at your local coffee shop, or maybe even on a plane or train - you'll enjoy the Internet unbound by wires
Auto-Orient Screen
Take advantage of the most creative apps available for Android with the built-in accelerometer. From unique and exciting games to handy utility apps, you'll be amazed at what your tablet can do.
---
1 Mobile Market: Free Apps
Whether it's for you or your loved ones, you'll find some great games with this free App store. Browse and download thousands of the most popular apps. With puzzle, strategy, action, racing games and more, there's something for everyone.

---
Memory Card Expansion
The iB tablet comes with 16GB of on-board storage. Need more room for music, movies, or pictures? Just insert a microSD or microSDHC card and increase your memory up to 32GB more. The right size is up to you.