The Ultra Station is the perfect solution for expanding your Ultrabook or MacBook into a full size workstation!
Introducing the most stylish and versatile docking station in the world. The j5create Newport Station (JUD200) is fully compatible with both MAC and Windows systems. The innovative technology packed into the Newport Station gives you a complete desktop setup, including an additional VGA connection for dual display capabilities through a single USB 2.0 port.
Simply connect your monitor, keyboard, mouse, Ethernet, speakers, microphone, and any other USB peripheral to your laptop with one USB cable. The VGA port gives you the most cost effective way of adding a second monitor without adding a video card, so you can add a second monitor with an extended display, a mirrored display, a rotational display (PC's only), or make it your primary monitor. Plus, you can set your laptop on top of JUD200's elegant design for improved cooling.
We know your digital lifestyle is fast paced and mobile, that's why we created the Newport Station. Don't settle for a limited interface. One Newport Station at the office, one at the house - and now your system is mobile, efficient, and better than ever.
Great Performance, Amazing Multitasking
The Ultra Station is an intelligent USB 3.0 laptop docking station that provides a host of connectivity options for Ultrabooks, Laptops, and Macbooks. In addition to allowing a second monitor to be attached via HDMI or VGA connectors, the Ultra Station has connections for Ethernet, Speakers, Microphone and other USB 2.0 and 3.0 peripherals. The Ultra Station also contains j5create's Wormhole technology solution, allowing you to copy and share files across two computers with just one USB cable. The Ultra Station is the perfect solution for expanding your Ultrabook or MacBook into a full size workstation.
Everything you need for your "Digital Lifestyle"
| | |
| --- | --- |
| 1. Power Adaptor 5v/4a | 5. VGA Monitor 2048x1152 |
| 2. USB 3.0 Host | 6. Speaker Port |
| 3. USB 3.0 Device w/battery charge | 7. Mic port |
| 4. HDMI Monitor 2048x1152 | 8. 10/100 Ethernet Port |
Outstanding Multi-tasking Performance
USB 3.0 plug-and-play compatible
Add an external display through VGA or HDMI with a 2048x1152 resolution
Wormhole Technology also provides keyboard input for a connected iPad
Compatible with Mac to Mac/Windows to Windows/Mac to Windows/Mac to iPad (keyboard only for iPad)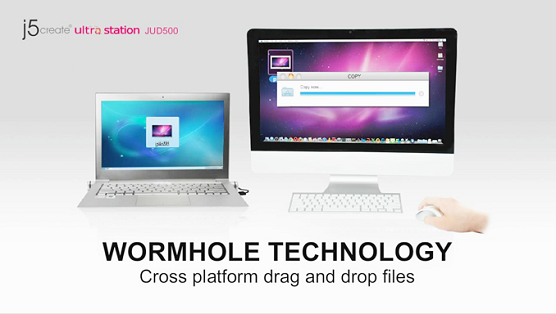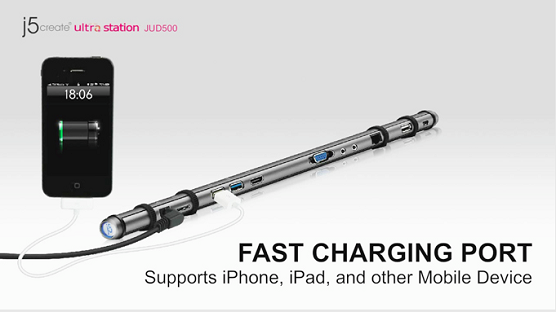 SPECIFICATIONS
POWER
Power Button - Blue LED button for on/off switch
Power Mode - Self-powered
Power Adapter - Input: AC100-240V, 50~60HZ; Output: DC 5V/4A
SYSTEM REQUIREMENTS

Operating Systems

- Mac OSX 10.6 Snow Leopard / 10.7 Lion compatible
Windows XP / Windows 7 / Windows 8

Computer Hardware

- Available USB port (USB 3.0 is recommended)

Minimum System Requirements

- CPU: Intel 2 core Quad 2.33GHz - RAM: 2GB DDR2
HOST

Upstream Port

- USB 3.0 port, Micro-B female connector

Upstream Cable

- USB 3.0 Micro-B to A-type, 1 meter
HUB

Downstream Port

- 1x USB 2.0 port
1x USB 3.0 port
1x USB 3.0 port with bttery charger 1.1 A-type female connector
VIDEO

VGA Port

- DB 15-pin female connector HDMI Port
HDMI female connector with audio

Modes Supported

- Extended, mirror, primary display

Display Rotation

0°, 90°, 180°, 270°
*Note: HDMI and VGA can be used simultaneously, however the output will be the same on both displays - either mirrored or extended
RESOLUTION AND COLOR DEPTH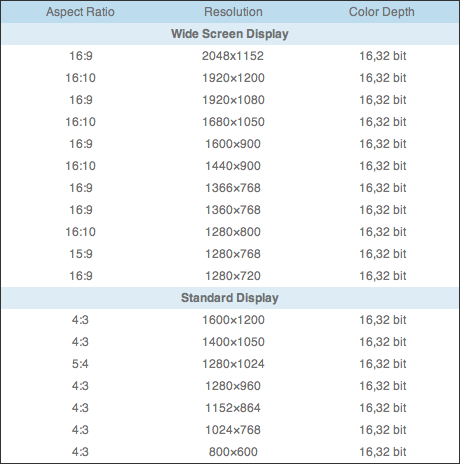 ETHERNET

Ethernet Port - 10/100 Base-T Ethernet RJ-45 connector

AUDIO

Microphone - 3.5mm stereo audio in
Speaker - 3.5mm stereo audio out

WORMHOLE SWITCH

Wormhole port - USB 2.0 Mini-B female connector
Cable - USB 2.0 Mini-B to A-Type, 2 meters
Transfer Rate - Up to 480MB/s

PHYSICAL SPECIFICATIONS

Housing Material - Aluminum
Dimensions - Main body (mm): 386.4(W) x 28.5(H) x 22(D)
Weight - 138g

ENVIRONMENT

Operating Temperature - -10°C–55°C (-50°F–131°F)
Storage Temperature - -25°C–75°C(-77°F–167°F)
Relative Humidity - < 95% non-condensing
Regulatory Compliance - FCC, CE, C-Tick, VCCI
RoHS - RoHS compliant
j5create Brings You Tomorrow's Technology Today!
j5create is continually bringing innovative concepts into the market, simplifying computer peripheral use and providing a simple and fun experience with a focus on being easy-to-use - all while still enabling you to work efficiently. With j5create, the user can truly experience convenient and friendly computer operating prosseses. The USB, with its plug-and-play ability, is currently the most commonly used hardware interface.