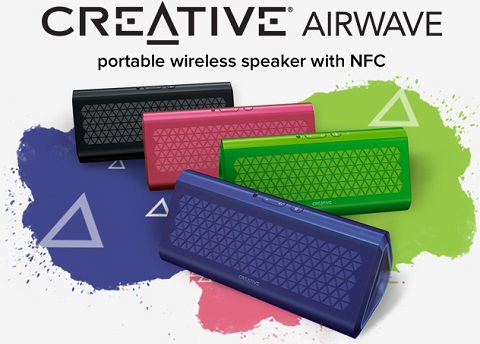 Simplify your audio experience with the Creative Airwave. Enjoy the convenience of one-touch pairing that's made quick and easy with Near-Field Communication (NFC). Featuring Bluetooth wireless audio and a rechargeable built-in battery, the Airwave is ideal for music on the go. Plus, it's available in four vibrant colors, so it looks as great as it sounds.
Three Ways To Play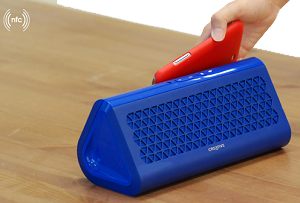 Tap and Play!
The Creative Airwave features Near Field Communications (NFC) technology allows easy, one-touch pairing by simply tapping your NFC-enabled Bluetooth smart device on the speaker.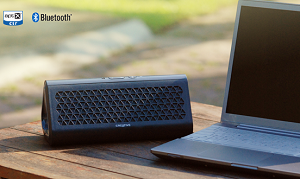 Pair and Stream
As for your smart devices that are not NFC-enabled, you can easily pair them with the Creative Airwave via Bluetooth using the conventional method.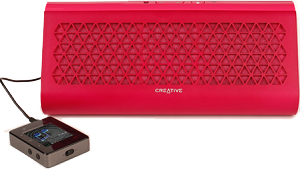 Integrated Aux In
You can also enjoy your music by connecting directly to the speaker via the integrated analog Aux-in connector.
Product Features
Full-Range Drivers
Houses two efficient 3" full-range drivers that produce stunning, room-filling sound
Unique Design
Featuring a unique triangular-style construction and geometric face panel design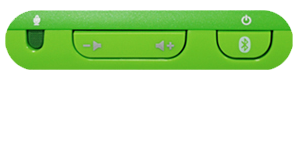 Built-in Microphone
Pair your phone for clear and amplified voice calls
Bluetooth Connectivity
Operate from up to 10 meters for Bluetooth streaming over AptX
Volume Control
Easily adjust the volume of your music playback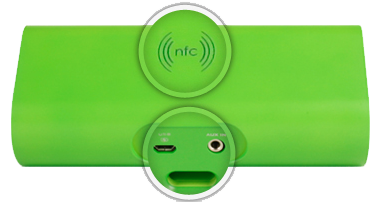 NFC Tap Point
Simply tap your NFC-enabled device to pair it with the Creative Airwave
Charging via Micro USB
Standard micro USB connection for charging the Creative Airwave
Built-In Lithium Polymer Battery
Rechargeable battery for portable on-the-go audio playback for up to 12 hours on a single charge. In addition, the battery level icon is displayed when paired with selected smartphones
Auxiliary Input
3.5mm integrated Aux-in for connection to other audio devices