Datalogic Memor Series Mobile Computer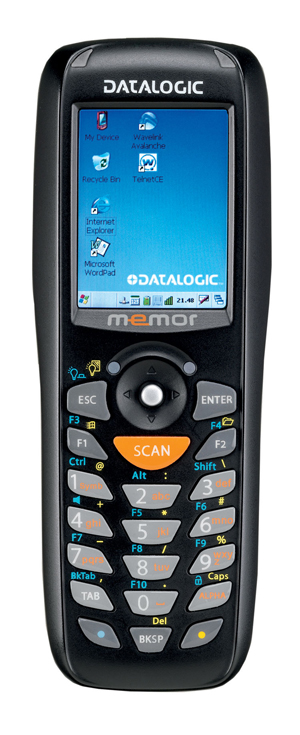 Rugged Ergonomics
Small and slim, the Memor™ mobile computer provides excellent ergonomics for single-handed use with rugged construction to survive unintentional drops and exposure to water and dust.
Compute
The Memor™ mobile computer leverages industry standard operating systems, a large on-board memory, and a user accessible SD card slot to backup data and manage large databases.
Capture
The Memor™ mobile computer captures tomorrow's bar codes today including GS1 DataBar™. A 2D imager enables a wide range of linear, stacked, 2D and direct part-marked bar codes. A laser scanner offers Datalogic's patented "Green Spot" technology for good read feedback.
Communicate
The Memor™ LAN radio combines with a color touch screen display, microphone, speaker and user friendly numeric keypad. Memor is available in Batch or Wi-Fi models, allowing you to transfer data through wired standards (USB, RS-232 or Ethernet via a cradle) or through a fully Cisco-compatible 802.11 a/b/g radio, supporting security protocols such as WPA™ and WPA2™.
Ready-to-Use
A full set of software tools including Pal Application Library and Wavelink® Avalanche™ make the Memor™ mobile computer ready to deploy. Every Memor™ comes with a power supply and mini-USB cable to be up and running out of the box.
FEATURES
Ergonomic, compact and robust
Microsoft Windows Mobile® 6.1 or Windows CE 5.0
Summit embedded IEEE 802.11 abg radio with CCX V4 connectivity and security
Bluetooth® wireless communications
Laser with Green Spot patented good read confirmation
Wide aspect 2D imager
128 MB RAM / 256 MB Flash memory
XScale™ PXA 310 @ 624MHz processor
User-accessible micro SD memory slot
Ruggedized with 4ft (1.2m) drop to concrete resistance and IP54 protection class
Wavelink Avalanche® device management