Featuring true on-line operation with pure sine wave output, zero transfer time to battery and complete UPS replacement capability with no downtime, the SU6000RT4UHV provides the highest level of protection available for mission-critical equipment from power outages, voltage fluctuations and transient surges. It converts incoming AC power to DC, and re-converts it back to filtered AC output with a pure sine wave, isolating connected components from all power problems in high-voltage environments. The SU6000RT4UHV has a 6kVA/5400W capacity and 4 AC outlets (2 L6-20R; 2 L6-30R).
With its detachable PDU, the SU6000RT4UHV is easily hot-swappable by a user of any skill set—no need for lengthy and expensive service calls, and no downtime if a repair or battery replacement is needed. In bypass mode, the PDU passes power to equipment without the use of the power and battery modules, allowing them to be removed while keeping your application in operation.
UPS battery backup keeps connected equipment operational through short power failures, and provides time to save data and perform an orderly system shutdown in case of a prolonged blackout. The SU6000RT4UHV's runtime can be expanded with optional external battery packs.
The SU6000RT4UHV features a highly efficient (94%) economy mode setting that can significantly reduce a facility's energy costs by minimizing heat output, reducing cooling requirements and consuming less electricity.
An LCD display with LED indicators enables IT personnel to monitor operating modes and conditions. The LCD/LED panel rotates for viewing in horizontal rack or vertical tower installations and includes an audible alarm that signals various conditions.
The SU6000RT4UHV features a USB port and a DB9 port that, when used with Tripp Lite's included PowerAlert software, provide comprehensive network power monitoring and control. An optional SNMPWEBCARD accessory can enable the UPS to operate as an IP managed device.
The unit requires only 4U of rack space in a standard rack enclosure and can be installed in a 2-post rack using the 2POSTRMKITWM accessory, or in a tower configuration with the 2-9USTAND accessory.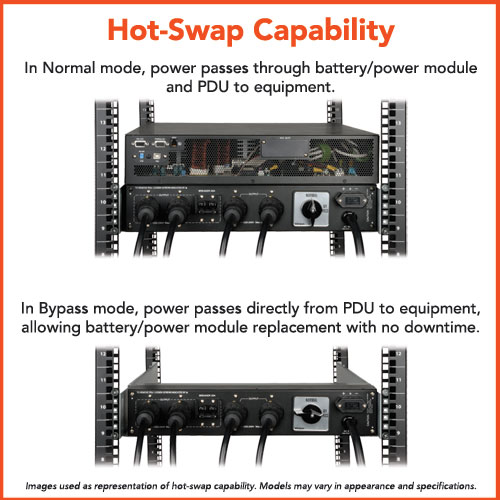 Finely Tuned Output Double-conversion operation offers full-time AC to DC, then DC to AC conversion to maintain perfectly regulated sine wave AC output with enhanced protection from harmonic distortion, fast electrical impulses and other hard-to-solve power problems not addressed by other UPS types. This unit with full-time active power conditioning maintains clean, continuous dual-conversion AC output free of voltage fluctuations, power interruptions and line noise. It maintains full-time sine wave output within 2% of selected 200/208/220/230/240V nominal in double conversion mode, and corrects brownouts to 156V at full load (100V at 50% load or less), and corrects overvoltages to 290V at full load (300V at 90% load or less).
Hot-Swap Capability Detachable back panel PDU contains input line cord connection and output receptacles, plus manual bypass switch to support hot-swappable whole UPS replacement with no interruption to connected equipment.
Exceptional Power Capacity Boasting 6kVA/5400W capacity (at 208V nominal, output is limited to 4992 watts), this unit supports connected equipment during blackouts for 8.5/2 minutes at half/full load levels, runtime is further expandable with optional external battery packs. (Some external battery configurations require the use of Tripp Lite's External Battery Configuration Software)
Comprehensive Communication/Control Capability This unit supports detailed monitoring of equipment load levels, self-test data and utility power conditions via built-in RS-232, USB and optional SNMP card slot interfaces. HID-compliant USB interface enables integration with built-in power management and auto shutdown features of Windows and Mac OS X. Includes Free PowerAlert monitoring software packages; PowerAlert LOCAL for desktops and small business networks, PowerAlert NSA (Network Shutdown Agent) for larger networks and PowerAlert NMS (Network Management System) for monitoring up to 250 SNMP-enabled UPS, PDU and other networking devices.
Intuitive Front Panel Display & Control Front panel LEDs and LCD readout with scroll controls support front-panel visual monitoring of all major UPS functions with support for a variety of control options to support advanced UPS settings and configurations. LED/LCD display panel rotates for viewing in rackmount or tower configurations.