Give your critical equipment continuous uptime whatever the quality of power coming in. The Liebert GXT3 UPS (Uninterruptible Power System) offers internal batteries, optional external batteries, and internal bypass capability with on-line design. It continuously conditions and regulates its output voltage. In case of power disturbances due to blackouts, brownouts, sags, surges or noise interference, the Liebert GXT3 UPS will protect your connected equipment and keep power clean and stable. There will be no break when transferring to battery. Your mission-critical equipment will receive a seamless flow of clean sine wave power.
On-line UPS Protection for Essential and Critical Applications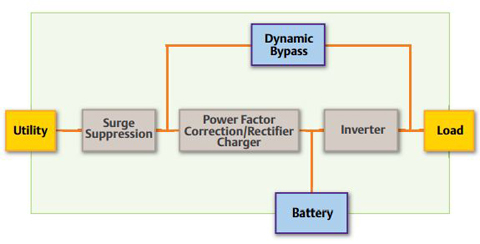 Liebert GXT3 handles all these potential power problems:
Power spikes and transients
EMI/RFI noise
Voltage sags and brownout conditions
Harmonics
Power-factor corrected loads
Outages
Frequency variations






The Liebert GXT3 UPS combines low cost of ownership with rich functionality, small size and high capacity. It is available in rack/tower (2U high) and mini-tower form factors, and in 500-3000VA models. Available configurations:
500, 700, 1000, 1500, 2000, and 3000 VA - 120V
700, 1000, 1500, 2000, and 3000 VA - 230V
3000 VA - 208V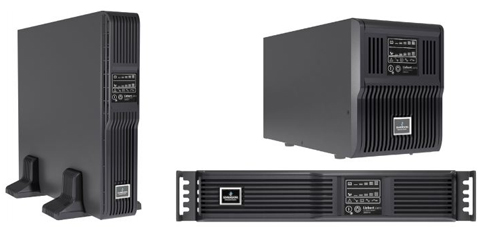 Features
On-line design means zero transfer time from external to internal power. When utility power fails, your critical load remains supported by a seamless flow of power.
Liebert GXT3 rated output power factor of 0.9 better matches up with switchmode power supplies used in today's IT equipment. A higher output power factor allows for a more efficient utilization of the UPS.
The UPS provides easy serviceability with user replaceable hot-swappable batteries.
For maximum control, Liebert GXT3 is custom configurable to your needs using a specially designed Windows software package.
Internal batteries
Frequency conversion
Internal automatic bypass to utility in case of adverse UPS conditions
Manual bypass capability
Support for up to four external battery cabinets (rack/tower models)
ENERGY STAR qualified models available.
Trade Compliance: Public sector customers may select from four capacities (1000, 1500, 2000 and 3000 VA, 120V) to provide TAA compliance.
Ideally suited for:
PCs
Network workstations
Servers
Network closets
Large network peripherals
VoIP
Flexibility
Up To Six Battery-Backed Outlets
A generous quantity of battery-backed outlets allows more equipment to be protected by the UPS.
Automatic Frequency Sensing
The UPS automatically adjusts to the input frequency, 50Hz or 60Hz.
Rotatable Display Panel
The LED display panel rotates 90° to make the readout of the LED display easy to see in rack or tower position.
Mounting Flexibility
Optional telescoping rack rails mount to the sides of the UPS for easy installation into a rack enclosure. A standard tower support base ships with the UPS.
Higher Availability:
Advance Early Warning of UPS System Status
Multiple audible and visual alarms immediately alert you to an output overload, low battery, bypass, battery discharge, battery loss or replace battery condition.
4-8 minutes of Battery Backup Time at Full load
Provides ample time for an orderly shutdown of connected equipment when utility power fails. Optional matching external battery cabinets offer additional backup time.
Full Sequenced Battery Testing
Provides automatic and manual self-diagnostic battery testing capabilities. This provides a comprehensive analysis of the condition of the batteries within the UPS and will notify you when the internal batteries need to be replaced.
User Replaceable Hot Swappable Batteries
Easy to replace batteries increase product life and provide prolonged UPS reliability. Batteries are conveniently located behind the front bezel of the unit.
Power-Factor Correction
Prevents noise, harmonics and distortion from being passed on to connected loads or from being fed back to the utility.
Internal Automatic and Manual Bypass Capability
Assures continuity of power to critical loads during system problems or maintenance.
Intelligent Battery Management
Includes efficient three-stage charging technique and comprehensive discharging protection that extends battery life for greater availability.
Input Circuit Breaker
Provides increased protection to ease recovery from overloads.
Lightning and Surge Protection
The transient voltage surge suppression (TVSS) circuitry inside Liebert GXT3 provides additional protection for the connected equipment from incoming spikes, surges, and other power anomalies present on the incoming utility power source.
Overload Capability
Designed to handle output overload conditions.
Lowest Total Cost Of Ownership:
0.9 Output Power Factor
Liebert GXT3 rated output power factor of 0.9 better matches up with switchmode power supplies used in today's IT equipment. A higher output power factor allows for a more efficient utilization of the UPS.
Wide Input Voltage Window
Prolongs battery life by allowing the UPS to maximize the use of utility power before transferring to battery when input voltage exceeds specified limits.
Intelligent Fan Operation
Automatically changes rotation speed depending on system requirements to decrease power consumption and noise.
Efficient Operation
Not less than 88% AC-AC, minimum.
Multiple Choices For Communication, Shutdown And Reporting:
SNMP And Web-Based Communication Options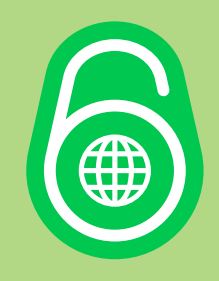 Liebert IntelliSlot Web Card provides SNMP (including SNMPv3) and IPv.6 and web-based management to your Liebert GXT3. Provides SNMP MIB to monitor and control your UPS from your network management station or any PC running Microsoft Internet Explorer.
Network shutdown
Sends both SNMP traps and emails for event notification, and automatically emails a daily UPS history
Auto-senses 10M/100M Ethernet
Compatible with shutdown software to ensure graceful computer shutdown
The Liebert GXT3 is also fully compatible with:
Liebert MultiLink shutdown software –included with the Liebert GXT3 UPS
Liebert Nform monitoring software
Liebert Multiport multiplexing unit
Liebert Intellislot Relay Interface Card
USB Communications
Windows (98 and later) built-in power management functions provide monitoring of UPS status and manage the automatic orderly shutdown of the computer if a power outage ever exceeds the battery capacity of the UPS. Liebert MultiLink shutdown software can also be used via USB connection.
Optional Liebert MicroPOD Output Distribution And Maintenance Bypass Module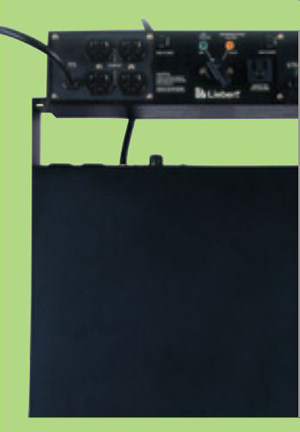 When your computer system can't be without power, even for scheduled UPS maintenance, the Liebert MicroPOD Maintenance Bypass and Output Distribution Unit ensures continuous uptime. It allows you to manually transfer connected equipment to utility power via a maintenance bypass switch, permitting scheduled service or UPS replacement without the need to shut down connected equipment. Features include:
2U height minimizes rack space requirements
Installs with plug-and-play ease
Two-year, no-hassle replacement warranty
Warranty, Returns, And Additional Information
Warranty
Limited Warranty period (parts): 2 years
Limited Warranty period (labor): 2 years