JBL SoundFly™ BT Plug-In Speaker
Introducing the JBL SoundFly™ BT, a powerful speaker that plugs directly into your home's electrical outlets and streams audio via your favorite Bluetooth®-enabled devices – no messy cables or shelf space required.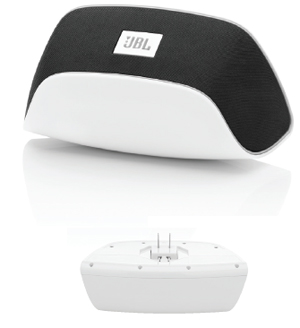 Looking for a wireless audio solution for your home? Meet the JBL SoundFly™ BT plug-in speaker. Designed to bring about the best possible wireless audio solution for your home, it plugs directly into your wall outlets – no wires, shelf space or expensive receiver needed. All you need is a Bluetooth®-enabled audio device. And don't be fooled by its size. This small wonder delivers a full spectrum of sound. A free downloadable Android™ app gives you additional functionality. With it, you can browse music with cover art, adjust volume, and fully customize the digital signal processing (DSP).
Completely Wireless Design
Works with your Bluetooth-enabled devices
Free downloadable Android app
Revolutionary plug-in design
Plug In to Great Sound
Great JBL® sound from anywhere in your house
Computer-optimized equalization (COE) and optimized compression topology (OCT)