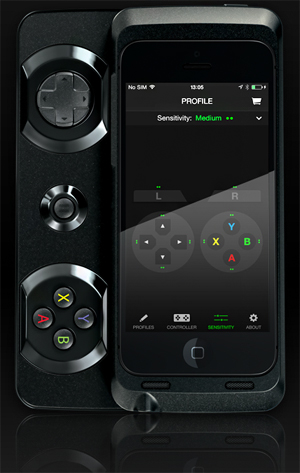 Overview
Shoot straighter, jump faster, and drive with more precision, when you hook up your iPhone to the Razer Junglecat mobile game controller.

The Razer Junglecat is designed with a D-pad, ABXY action buttons, and bumpers on a sliding gamepad case that is light weight and ultra-slim for hardcore gaming on the go. You can now experience superior tactility and precise controls in your favorite mobile games. When you get off the subway on to your next appointment, the gamepad slides right under the phone, returning it to its original pocketable form factor. It goes straight into your pocket, while the solid encasing acts as the phone's armor, protecting it during your fast-paced mobile lifestyle.

Fully customize the controller with the Razer Junglecat iOS app that lets you remap all of the gamepads buttons as well as adjust each individual button's sensitivity to your requirements.

Console Gaming-Grade Controls, on a Mobile Phone
Nothing can match the tactility and precision of a full-fledged game controller – and that's what you're getting with the Razer Junglecat for your iPhone. Highly-sensitive D-pad, ABXY action buttons, and bumpers that actuate in an instant. Your friends are going to have a hard time keeping up with your scores, especially when they're still tapping away on the screen. The Razer Junglecat is fully compatible with the latest iOS7 enabled games.
Pocketable Form Factor
The Razer Junglecat's design team worked tirelessly to shave off every unnecessary millimeter to ensure that the final product fits seamlessly with the sleek unibody design of the iPhone. The result is an ultra-durable slider that reveals and hides the gamepad as and when you need it. You won't ever need to take it off your phone either, because in its compact form with all buttons and ports available, it'll fit in your pocket with no extra bulk. At only 20mm thin, this controller feels just like a regular protection case.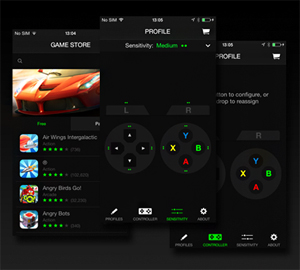 Fully Customizable
The Razer Junglecat comes with a downloadable iOS app that lets you remap all of its buttons, as well as adjust individual button pressure sensitivity levels, in just the way you need it. Store up to 20 personalized profiles on the app and have your favorite games boot with specific profiles loaded ready to go.