GOgroove BlueSYNC DRM (Teal Nouveau) Bluetooth v4.0 Wireless Stereo Speaker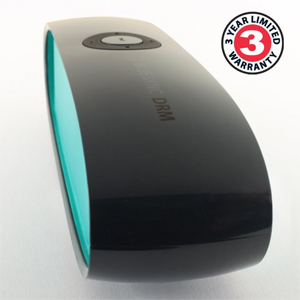 Technical Details
State-of-the-art Bluetooth 4.0 technology with CSR aptX Codec delivers a new level of clarity to wireless music - enjoy CD-quality audio when streaming your music or ebook library, Pandora, Spotify, iHeartRadio, and more!
Portable design with outstanding 10-hour battery life makes the DRM a perfect travel companion for trips to the beach, hiking, camping, outdoor sports, or relaxing at home.
Integrated microphone and call/playback control buttons make changing tracks or taking a conference call with the DRM as a speaker phone quick and easy!
Full-bodied, 2.1-channel sound is created by combining a 2.0-channel stereo configuration with a reactive, passive bass subwoofer for low-frequency sound development and fullness.
Quality Guaranteed - Backed by the GOgroove three-Year Manufacturer's Warranty! Includes touch-capacitive stylus pen!
Product Details
Product Dimensions: 7.75in. x 2.5in. x 2.0in.; Weight: 11.84oz


GOgroove BlueSYNC DRM Bluetooth 4.0 Speaker with aptX Codec
State-of-the-Art Wireless Streaming
Experience a new level of audio freedom with Bluetooth v4.0 wireless technology and incredible CD-quality aptX codec. You won't believe your ears when you sync your favorite Bluetooth-enabled device and enjoy stunning, crystal-clear audio from DRM's 8W peak drivers and passive subwoofer for the first time.
Portable, Rechargeable Style
An incredible 10-hour battery life opens up a world of possiblity - take the BlueSYNC DRM hiking, camping, boating, or traveling! Perfect for the backyard, outdoor lounge, beach, bedroom or home living room. The modern style and attractive colors appeal to adults, teens, and kids - boys and girls! If you know a recent grad or college student, it's an ideal back-to-school gift for the dorm room!
Cutting-Edge Functionality
Don't be fooled into paying hundreds for mediocrity. The BlueSYNC offers quality and a revolutionary feature set:
Integrated hands-free microphone and conference call controls
Onboard track change, volume, and pause/play controls
Aux-In Port for wired connection with non-Bluetooth audio devices
Standard Micro USB Universal Charging
Three-Year Manufacturer's Warranty
Tech Specs
Speaker Output: 2 x 35mm 2W; 8W Peak
Range: 30ft
Battery: 1250mAh; 10 Hour
Charge Input: USB 5v, 500mA
Specs: 7.75in. x 2.5in. x 2in.; 11.84oz

iPhone 5S, 5C, 5 , 4S, 4, 3GS, 3G
Samsung Galaxy S3 / S3 mini / S4 / S4 mini / Note 2 / 10.1 / Galaxy Tab 3 / 7.0 / 7.7
Motorola Droid RAZR / MAXX / MAXX HD
HTC One s / SV / V / X / XL / X+ / XT / DROID DNA
Blackberry Z10, Q10, Q5, Curve, Pearl, Torch, Tour
Huawei Ascend P6, D2, W1, G600, Mate, Prism, Fusion
Kyocera Hydro Xtrm, Hydro Edge, Event, Torque, Hydro, Rise, Milano
Pantech Discover, Perception, Flex, Marauder, Renue, Swift, Burst, Hotshot
ZTE Open, Grand Memo, Director, Grand S, P945, U887, Flash, Fury, Warp Sequent, Grand X
...on Boost Mobile, T-Mobile, Sprint, Cricket, AT&T, Verizon, MetroPCS, Virgin and more carriers!