SKYLANDERS SWAP FORCE STARTER PACK PS4 GAME
Embark on an exciting new adventure with the Skylanders and the SWAP Force. For generations, the SWAP Force protected the volcano that replenishes Skylands' magic. That is until an epic battle caught them in an eruption that blasted them apart, sent them to Earth and gave them the ability to swap powers. Only you can mix and match their tops and bottoms, put them on the new Portal of Power™ and save Skylands.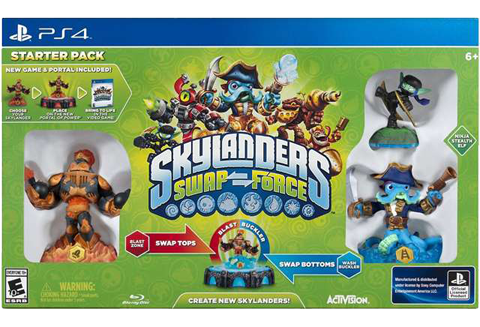 CHARACTERS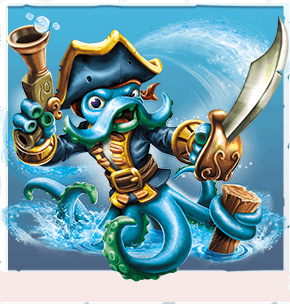 Wash Buckler was an Orphan Mermasquid...
...who grew up on one of the roughest pirate ships in Skylands. While most pirates were interested in pillaging and plundering, Wash Buckler had other ideas for the future of pirating. Over the years, he earned the respect of his crew and eventually convinced his fellow pirates that they didn't all need to be cantankerous bad guys. Thus, they set forward doing heroic deeds. Of course, this new good guy image did not sit well with other pirating crews, who attempted to sabotage Wash Buckler at every turn. But he was no ordinary pirate, and he defended his ship and his crew against the many attacking hordes. It was then that Master Eon took notice of Wash Buckler and asked him to join the Skylanders.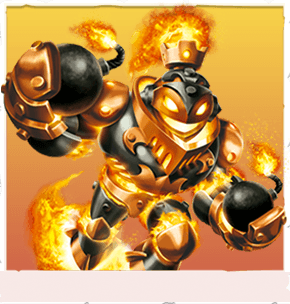 As a Young Furnace Knight...
...Blast Zone was part of the Skylands Bomb Squad, specializing in the safe disarming and removal of troll bombs. But it was not long before the trolls got tired of Blast Zone constantly thwarting their evil plans, so they decided to go after the furnace knight himself. Late one night, an army of trolls sneaked into Blast Zone's village and threw 100 bombs down his chimney. Acting quickly, Blast Zone swallowed each bomb and then belched a jet of fire back at the invaders - sending them fleeing with their boots on fire. The tale of the attack eventually reached the ear of Master Eon, who knew the brave furnace knight had all the makings of a Skylander.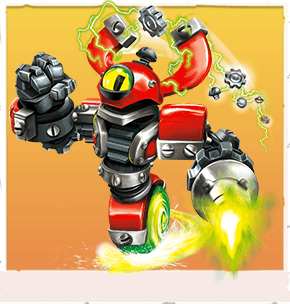 Magna Charge came from the Great Race of Ultron Robots...
...but was mysteriously created with a giant magnet head. This proved problematic, as his peers were all made of metal and were constantly being pulled towards him. As a result, Magna Charge was exiled to a faraway island, where he eventually learned to control his magnetic powers. After years of training, he returned to his home to demonstrate his abilities, but found everything completely destroyed. In searching for answers, Magna Charge caught the attention of Master Eon, who realized the unique Ultron soldier was a perfect candidate for the Skylanders.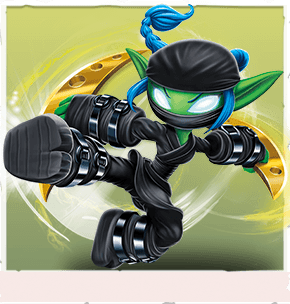 As a Small Child, Stealth Elf Awoke One Morning...
...inside the hollow of an old tree with no memory of how she got there. She was taken in by an unusually stealthy, ninja-like forest creature in the deep forest. Under his tutelage, she has spent the majority of her life training in the art of stealth fighting. After completing her training, she became a Skylander and set out into the world to uncover the mystery behind her origins.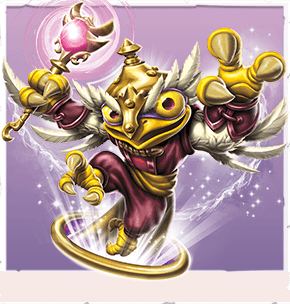 Hoot Loop was Raised by a Guild of Magicians...
...in Skylands' most famous traveling circus. At a young age, he perfected illusions and spells that only the very best of their guild could perform, and even mastered the art of teleportation! Soon enough, he became the star of the show, known far and wide as the Amazing Hoot Loop. However, one day an army of Greebles disguised as clowns invaded, determined to destroy the popular circus. It was then that Hoot Loop gave a performance that few would ever forget. Using his incredible powers, he fought off the invaders and saved the circus - to the raucous applause of the many spectators - including Master Eon, who presented Hoot Loop with an opportunity to learn some real magic as a member of the Skylanders.
No Matter what Boom Jet Did, He Always had to be the Best
He could be seen day and night above his home in the Billowy Cloudplains gunning his engines and performing daredevil maneuvers as he trained to become the best sky surfer in all of Skylands. Unfortunately, Boom Jet never had a chance to compete for the championship because a day came that changed his life forever. The Darkness had come. And with his town on the verge of being completely consumed by the ominous evil force, Boom Jet took action. Using his incredible flying skills, he raced from house to house, rescuing all of the citizens and carrying them to safety - just before The Darkness destroyed his homeland. It was then he realized the protection of Skylands was more important than personal glory, so he sought out Master Eon to offer his services to the Skylanders.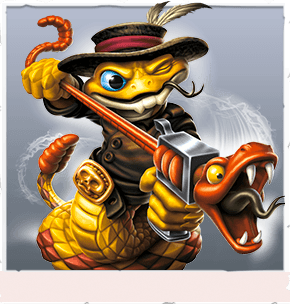 Some say Rattle Shake was the Best Tracker in the Cloudbreak Islands...
Others say he could strike the center of a gold coin at a thousand paces. But the legend of Rattle Shake was immortalized when he found himself trapped by the Black Hat Gang, the infamous group of cowboys who literally were large cows - and evil ones at that. They threatened to plunder the local village unless Rattle Shake led them inside the magical volcano Mt. Cloudbreak, where they hoped to discover enchanted treasure. Badly outnumbered, the ever calm Rattle Shake magically summoned every snake in the area and overtook the notorious bovines in an epic fight. The tale of his heroism was heard by Master Eon, who then recruited him to the Skylanders.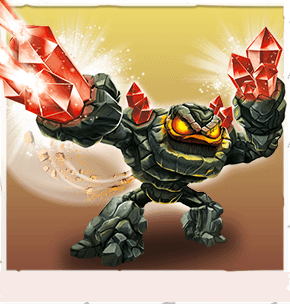 Prism Break was once a Fearsome Rock Golem...
...who didn't like to be disturbed. Then, an accidental cave-in left him buried underground. One hundred years later, a mining expedition digging for valuable jewels discovered him by chance with a well-placed blow from a pick axe - something Prism Break doesn't talk about. After 100 years of solitude, he found that the pressure of the earth had transformed him emotionally as well as physically, turning his crude rocky arms into incredible gems with powerful energy. Grateful for being free of his earthly prison, Prism Break decided to put his new abilities to good use and dedicated himself to protecting Skylands.
SCREENSHOTS