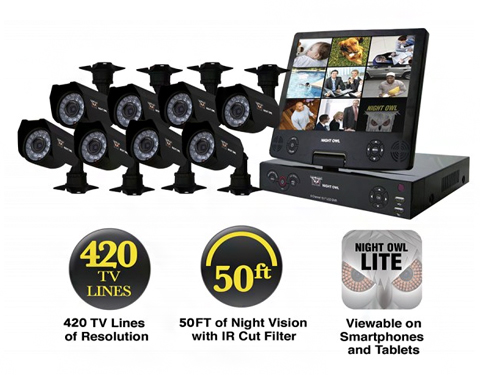 Night Owl's
B-108-8CM245-NHD

: Eight-Channel Complete Security Solution with 10.1" Fold-Out LCD Screen, Eight Hi-Resolution Cameras, and Free Night Owl Lite Software

Night Owl's B-108-8CM245-NHD is an advanced 8-channel / 8-camera 10.1" LCD-Video Security Combo System (no hard drive) is accessible on your Smartphone, Tablet, PC or MAC. You can easily store your DVR with the convenient fold-out LCD screen. Also, you can view all eight channels directly on the built in 10.1" LCD screen. This system also can record at D1 resolution at 30 frames per second on limited channels. With motion activated email alerts and easy Smartphone access, this Night Owl system gives you true 24/7 video security day or night no matter where you are located in the world.

Night Owl NODVR108 Series Surveillance Kits are manufactured for users to have reliable and affordable video security accessible at their fingertips anywhere in the world. All Night Owl NODVR108 Series DVRs come with our free Smartphone and Tablet application called "Night Owl Lite." This free Apple and Android accessible app allows the user to access multiple DVRs and view multiple cameras at once. In addition, all NODVR108 series DVRs are accessible over the Internet via PC and MAC computers. The included Control Management Software (CMS) for PCs gives you the ability to monitor multiple locations on one computer screen. Purchase up to 100 different NODVR108 series DVRs or surveillance kits and access all of them at once with the included CMS software.

The eight hi-resolution cameras are equipped for night vision up to 50 feet away in complete darkness. These sleek cameras are small enough to be placed inside or outside, and come with 60 feet of cable per camera that can be extended if needed.

This kit comes packaged with all the cables and accessories you will need to install yourself. If you are unable to setup the system yourself, we offer installation services throughout the continental US via InstallerNet (additional fees apply).