Zmodo 4 Channel Complete Security Solution with 4 600TVL High-Resolution Night Vision Indoor Outdoor Cameras and Free Mobile Apps
Developed and designed for the needs of numerous end-users, this advanced, 4-channel surveillance system has improved camera resolution to 600TVL, while still being affordable. This Zmodo Series Security Solution allows you to maintain your busy lifestyle while enjoying peace of mind knowing that your home, family, business or employees are safe and secure.
This advanced 4 channel complete security solution with 4 high-resolution (600 TVL) night vision cameras is fully controllable on your Smartphone, Tablet or PC. With motion activated push notifications, email alerts and easy Smartphone access, this Zmodo surveillance system gives you true, 24/7, day or night, video security no matter where you are located in the world.
Remote Connectivity & Compatibility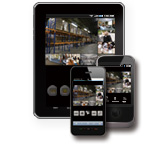 Free Mobile Apps
All Zmodo DVRs come with our free Smartphone App called "Zviewer". This free Apple (iOS) and Android accessible application allows you to access your camera footage any time from anywhere in the world. You can now remotely monitor your property 24/7 worldwide from your smartphone.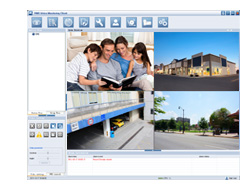 CMS (Control Management Software) for PC
All Zmodo DVRs are accessible over the Internet via PC computers using the included Camera Management Software. Gain peace of mind knowing that your property and loved ones are safe and sound.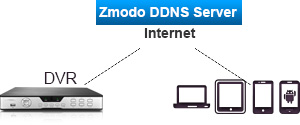 Free Zmodo DDNS Server
We offer a FREE DDNS service to our customers. If you register with Zmodo DDNS service, you get to use a host name of your choosing instead of an IP address, and the DDNS service will update the IP address that is linked to your host name when your IP address changes.
Professional Digital Video Recorder (DVR)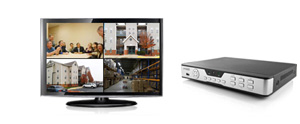 4CH H.264 D1 Real-time Security DVR
Maintain vigilance and experience true peace of mind with the Zmodo 4-channel security DVR. It can record up to four cameras simultaneously in D1 (704 x 480 pixels) resolution at 30 frames per second. Featuring the innovative network connectivity, it allows you to quickly and easily connect to your smartphone, tablet or PC from anywhere, anytime.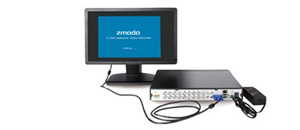 Easy Connection to your TV or Monitor
With equipped 1 BNC and 1 VGA video output, you can easily connect the DVR to your TV or monitor for instant viewing. View all cameras at once on a split screen, or view 1 camera at a time on full screen with the option to cycle through each of the cameras at a customizable speed.
Real Time Motion Activated Recording with Email Alerts
The enhanced motion detection settings ensure only true motion triggers the alarm. The motion detection mask easily allows you to block out areas with constant movement, such as roads or trees. This feature also will send you a real time email alert with an image attachment to your smartphone or tablet when a camera detects movement.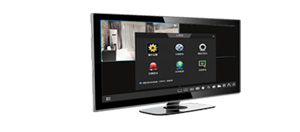 Multiple Recording Modes/Playback Options
The DVR can be set to continuous recording, time scheduled recording and motion triggered recording. Each individual camera can have unique settings. Easily find and playback your security footage by searching a specific channel using date or time, or all 4 channels simultaneously.

User-Friendly Navigation, Easy to Use
This DVR comes equipped with a state of the art, easy to use icon based interface. All you need to do is point and click to access any of the features of the DVR. The interface is very user friendly and comes equipped with both a USB mouse and remote control.
Pentaplex Operation
The DVR is designed to be pentaplex, allowing five actions simultaneously: live view, record, playback, backup stream files and remotely monitor and manage your DVR on your computer through the network without any recording loss.
Convenient Backup
Transfer video files from the surveillance system to a PC, Flash Drive or USB Hard Drive in order to free-up space for new video while retaining important footage.
High Resolution Security Cameras
600TV Line Indoor/Outdoor Security Cameras
With high resolution 600 TVL cameras, monitoring your surroundings has never been easier or clearer. Four high quality cameras, encased in a sturdy metal housing, offer improved sharpness, clarity and detail under all light conditions, and capture detailed video footage all the time.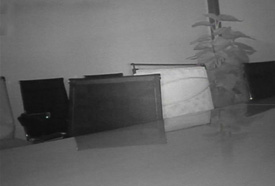 24 IR LEDs, up to 80ft IR Night Vision
Each camera comes equipped with 24 LEDs allowing the ability to view images up to 80ft away at night. The true night vision technology ensures you keep a continuous eye out for thieves, vandals, break-ins, or any other suspicious activity, protecting your family or business at any hour of the day.
Weatherproof Cameras for Indoor/Outdoor Use
Each camera comes equipped with professional-grade aluminum housing and hoods making the camera weather resistant. Adjustable wall mounts allow installation at almost any angle, giving you the best view of the areas you want to observe. These cameras are well equipped to handle indoor or outdoor conditions.
3.6mm Wide Viewing Angle Lens
Each camera comes equipped with a 3.6mm wide angle lens, allowing up to 70 degree viewing angle.
Professional Installation Services Provided Nationwide
This kit comes packaged with all the cables and accessories for DIY. We also offer installation services throughout the continental US via InstallerNet. Call installation service at 1-800-806-5513 and they will give you a quote over the phone and then schedule an appointment for your installation. Or inquire the service online: www.zmodo.com/installcard/.