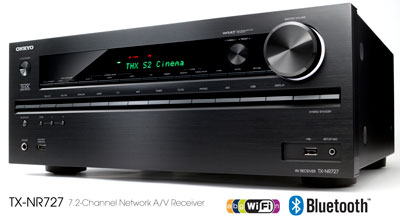 Step Up to Realistic THX Select 2 Plus-Certified Surround Sound
The Onkyo TX-NR727 7.2-channel network receiver boasts Three-Stage Inverted Darlington Circuitry for all seven channels to ensure that what was recorded is precisely what you hear. Audyssey DSX expansion allows you to add extra Wide or Height channels for more enveloping surround sound. A selection of powered outputs and line-outs are ready for synchronized audio in up to three zones.
Eight HDMI inputs handle 3D content, HD audio, and video display upscaled to 1080p or 4K with onboard Qdeo technology. The MHL/HDMI input lets you connect a smart phone for smooth 1080p playback on your TV. You can also connect to your smart phone via Bluetooth. Wireless home networking allows you to stream endless Internet radio and cloud-based music. InstaPrevue technology facilitates easy live sources selections. Enjoy intuitive system control with the Onkyo's remote apps for iPod touch, iPhone, Android phone, and Kindle Fire.
Features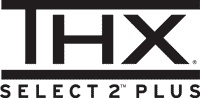 Enjoy the Audio Bliss of Reference-Level Sound
The Onkyo TX-NR727 is fully compliant with the most stringent requirements of the THX Select 2 Plus certification to deliver studio reference sound with minimal distortion.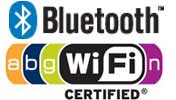 Built-In Wireless and Bluetooth: Stream Audio From Virtually Anywhere and Anything
The TX-NR727 is wireless LAN ready. Connect it to the wireless home network without LAN cables or adapters and get access to most internet music services. You can also pair up and stream high-quality wireless audio using built-in Bluetooth technology.

Qdeo Technology
Always enjoy high quality audio. Qdeo technology from Marvell upscales standard video to silky-smooth 1080p (for regular HDTVs) and to an incredible 4k on compatible displays. Also, this receiver will pass through 4K resolution from source devices.

Add Dimensions to Your Surround Sound
Audyssey DSX allows you to expand your surround sound with two Front Wide channels, expanding the width of the soundstage, or two Front Height speakers to add a vertical dimension to movies and games. Dolby Pro Logic IIz offers Front Height channels with 7.1-channel upmixing from stereo sources.

Eight HDMI Inputs Let You Watch Pretty Much Anything in High Resolution
The TX-NR727's eight HDMI inputs take surround sound formats from Dolby TrueHD and DTS-HD Master Audio, and support 3D video. The two outputs have Audio Return Channel, so you can boost your TV's sound through your receiver.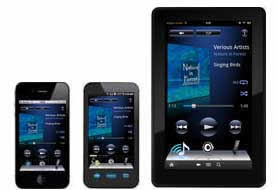 Onkyo's Free Remote App Makes Control Quick, Easy and Convenient
The Onkyo remote app for iPod touch, iPhone and Android devices is a convenient way to control your home entertainment from anywhere within wireless range. The app has a clear graphical interface to control playback, adjust settings and handle content across multiple zones.

Wide Range Amplifier Technology (WRAT)
From the quietest passages to booming explosions, Onkyo's exclusive technology enhances the audio of your movies, music and games like never before. Three-Stage Inverted Darlington Circuitry is used on all channels to handle reference-level playback without distorting.

Deep, Defined, Powerful Bass and Clear Vocals
Thanks to Phase-Matching Bass, this receiver delivers optimized low frequencies without compromising mid-range clarity. You can enjoy powerful bass playback and clear vocals.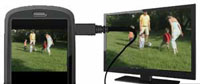 Watch Your Smartphone Content on Your TV and Easy Video Switching
MHL allows you to display full 1080p video and still images stored on mobile phones and other portable electronic devices on your HDTV with up to 7.1 channels of surround sound via the HDMI interface. InstaPrevue technology names your HDMI devices and displays live video thumbnails of available content. Switch sources easily, with just a glance. No need to remember what's connected to which port.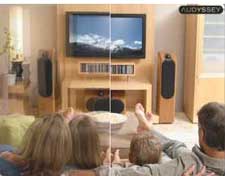 Optimized Sound with Audyssey Technology Auto-Adjustments
Enjoy clear, well-balanced, natural sound with Audyssey MultEQ room-correction technology. Audyssey Dynamic Volume maintains the desired listening level for all content, while optimizing the dynamic range. Use Audyssey Dynamic EQ for loudness correction.

Powered Zone 2 And Zone 2 Line-Out
Play music in the main room and Zone 2, or play a different audio source in either room. Controllable with Onkyo Remote Apps for iPhone and Android phone, and Kindle Fire.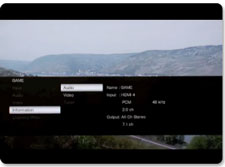 Overlaid Menus For Quick Adjustments on the Fly
The Quick Set-Up button on your remote puts menus over the program you're watching to switch inputs or change settings without interrupting your viewing. Similarly, the Home Menu button calls up simple icons for choosing a media source and menus for system settings.
What's in the Box