CyberpowerPC Desktop Computer Gamer Ultra 2229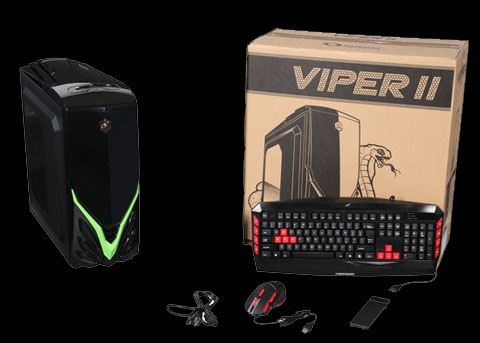 A GREAT FIGHTER.
Become invincible on the battlefield with the CyberpowerPC Gamer Ultra 2229. It's power-packed with the state-of-the-art components – powerful AMD FX-6300 6-core processor and premium AMD Radeon R7 240 Graphics, runs on the latest Windows 10, and features an optimized thermal design for impressive cooling performance. Everything you need in the fiercest gaming world is here. Confidently play the hottest tittles with unrivaled speed.
Additionally, as the CyberpowerPC Gamer Ultra 2229 comes with a USB gaming keyboard and a gaming mouse, you'll be ready to go from the day your PC arrives.
Clever Layout of All the Performance Components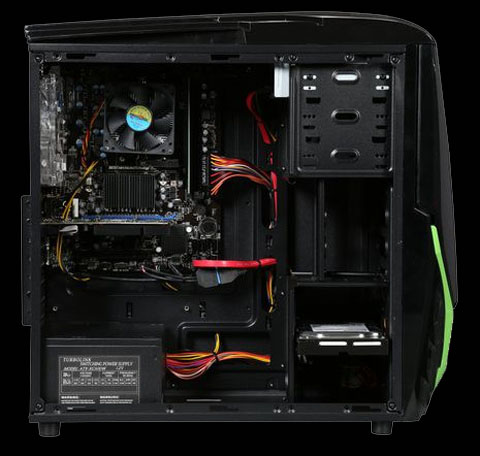 Unstoppable Processing Power
Obliterate the opposition with unrivaled gaming power. The powerful AMD FX-6300 64-bit 6-core processor runs at a stock speed of up to 3.50 GHz, delivering no-holds-barred processing power to accelerate everything you do. This means you can enjoy a smooth, lag-free gameplay – never have to slow down. The 4GB of RAM further optimizes your system's performance, ensuring fast system response and smooth multitasking. The 1TB HDD gives you plenty of room to store your files, games, or other media content
Exceptional Graphics Performance
Get a boost in graphics with premium AMD Radeon R7 240 Graphics. Based on the highly acclaimed 28nm GCN architecture, it's battle-ready with support for next-gen APIs (DirectX 12, Vulkan, OpenGL 4.5, Mantle). It features AMD App Acceleration to supercharge everyday tasks, such as web browsing, office applications, and video rendering. AMD CrossFire technology harnesses the power of two or more discrete graphics cards working in parallel to dramatically improve gaming performance. AMD HD3D technology enables you to play 3D games, watch Blu-ray 3D videos, and edit 3D photos on your 3D monitor, TV or projector. Now, battle online with supercharged performance, and take your gameplay to a whole new level.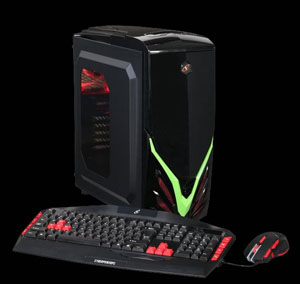 Impressive Cooling Performance
Don't worry that a large amount of heat will be built up in your system. Confidently play. The CyberpowerPC Gamer Ultra 2229 is pre-loaded with red LED fans for maximum airflow, ensuring reliable performance.
Gorgeous Look – from Inside Out
The CyberpowerPC Viper II Windowed Black Gaming Case boasts a stylish and robust design, and is accented with a classic black finish. Its large see-through window provides a direct view of the inner system, and creates a stunning atmosphere when the red LED fan is on.
Meet the New Windows 10
Windows 10 is so familiar and easy to use, you'll feel like an expert. The Start Menu is back in an expanded form, plus your pinned apps and favorites so they're ready and waiting for you. It starts up and resumes fast, has more built-in security to help keep you safe, and is designed to work with software and hardware you already have. Windows 10 comes with Microsoft Edge, an all-new browser that's built to give you a better web experience. Easily snap up to four apps in place and see all open tasks in a single view. The new Windows Store gives you a unified shopping experience across every Windows 10 device. Cortana works across your day and your devices to help you get things done. By learning more over time, Cortana becomes more personal and useful to you. Windows 10 enables your apps to look and work great in all modes, on all devices.