Designed for a 37- to 70-inch LCD/LED/plasma TV weighing up to 132 pounds, the Rosewill RHTB-13015 ultra-low-profile mount displays your TV in a professional and clean way. This mount accommodates a wide range of mount patterns up to 820x410mm. It also supports tilt, swivel, and level adjustment, so you'll always get the optimized view from your seat.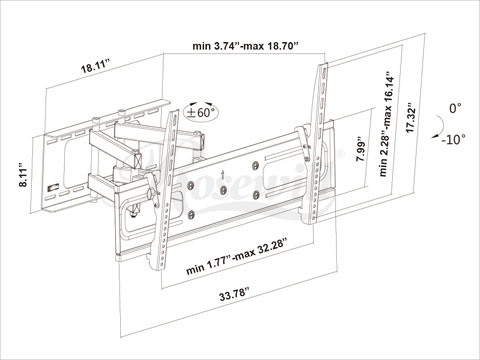 Articulating Mount A minimum 3.74-inch mounting profile allows a nearly wall-flush installation for a clean, professional look. This mount can also extend the TV up to 18.7 inch out, away from the wall, for a closer view.
Broad Compatibility Fits a 37- to 70-inch LED, 3D LED, or LCD TV weighing up to 132 pounds. Supports mount patterns 200x200mm, 400x200mm, 300X300mm, 400X400mm, 600X400mm, 800X400mm, and 820x410mm.
Adjustable Design The -10°~0° tilt, 120° swivel, and -5°~-+5° level adjustments give you ability to optimize the viewing angle.