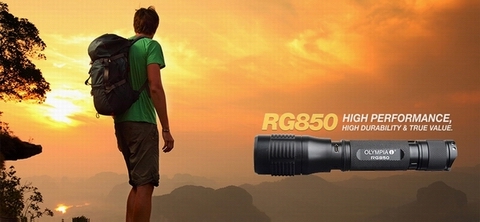 The RG series by Olympia is a high-performance rugged flashlight designed for any situation. It uses innovative CREE LED technology to ensure high-brightness for any illumination need.
Each light is crafted from aircraft-grade aluminum with Type III hard-anodized anti-abrasive finish. The textured body offers an anti-freeze non-slip grip making it just as easy to use with gloves as without. Every model has five light settings including strobe and SOS for emergency situations. Olympia stands for quality and integrity so all the flashlights are ANSI FL-1 tested.
The RG line is waterproof to IPX-8 and impact resistant to 1.5 meters. The light-weight, compact design makes this the go-to flashlight collection for all situations including hunting, hiking, camping, caving, general household use, recreational activities, rugged sports, industrial worksites or emergency situations.
The RG850 is the brightest flashlight in the RG series and features a micro-USB charging port with wall adapter.
RG850 Features:
Waterproof IPX-8 to 6.5 feet (2 meters)
850 Lumens
5 Light settings: High → Middle → Low → Strobe → SOS
5 Memory light settings: Automatically memorize last used setting/mode after being in any one of the five light settings for 3 seconds.
Can cycle through modes via "Momentary On" button capability
Complies with ANSI FL 1 Standard
Beam Distance: 1276 Feet (389 Meters)
Peak Beam Intensity: 12045 Candelas
Aircraft-grade aluminum with Type III anodized anti-abrasive finish
CREE-XML- U2 LED
Micro USB charging port
Compatible with: 2 x CR123 or 1 x 18650 rechargeable batteries
High performance metal smooth reflector
Reverse-polarity protection
Smart circuit for rechargeable batteries
RG850 Dimensions:

Length: 5.7" (145.3mm)
Diameter: 1.3" (34.1mm)
Weight w/o batteries:4.2oz (118.2g)
Working Voltage: 3 - 9.2V
ANSI/FL1
Mode
High
850 Lumens
1.1 Hours
1276 Feet (389 Meters) (Max.)
12045 Candelas (Max.)
4 Feet (1.5 Meters)
IPX-8 6.5 Feet (2 Meters)
Mid
360 Lumens
3 hours
Low
20 Lumens
65 hours
Strobe
9Hz
-