Evoke F4 with Bluetooth Portable Internet Radio
A fully featured portable music streaming and radio system, Evoke F4 brings an entire world of audio entertainment simply and easily within your reach.
You can listen to your music streamed from an Apple or Android device either via Wi-Fi or A2DP Bluetooth (Suitable for iPhone, iPod touch, iPad running iOS 5 and devices running Android v2.2. Free Pure Connect app required); enjoy your entire music collection streamed from your PC or Mac; listen to internet radio or FM radio; play on-demand programs, podcasts and ambient sounds; and stream millions of music tracks from our Pure Music subscription service.
Evoke F4 supports instant and timed recording of live internet radio to USB memory stick (A 2GB USB memory stick can record around 15 hours of digital radio (Based on typical 128kbps broadcast recorded). USB memory stick not supplied).
Features include touch-sensitive controls, large clear display, multiple alarms, a sleep timer and kitchen timer, an aux-in socket for your iPod or MP3 player and headphone socket.
Evoke F4 also takes an optional Pure ChargePAK F1 rechargeable battery pack for portable listening.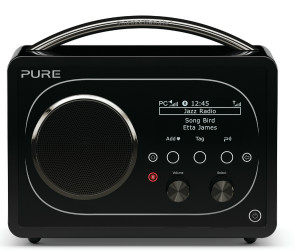 Key Features
Tune-in to worldwide internet radio and FM.
Listen to music streamed from your Apple or Android device using Wi-Fi or Bluetooth
Connect via Wi-Fi to other compatible products for synchronized multiroom audio
Play on-demand programs and podcasts
Enjoy your entire music collection streamed from your PC or Mac
Stream millions of music tracks using the Pure Music subscription service
Instant and timed record of internet radio to USB memory stick
Large graphical OLED display
Input for iPod / MP3 player
Takes an optional ChargePAK F1 for portable listening