Toast, bagel, bake and broil quickly and effortlessly with the Cuisinart's TOB-40 Custom Classic Toaster Oven Broiler. 1800W of power minimizes your wait time for delicious breakfast or appetizers. Spacious interior can accommodate one 11in. pizza and four slices of toast and the nonstick interior allows for easy cleanup. Front removable crumb tray also facilitates easy cleaning. Always-Even Shade Control monitors the temperature and adjusts the timing to consistently toast to the shade selected every time. Convenient auto slide-out rack allows for hands-free loading and easy removal of cooked foods. The Cuisinart TOB-40 also provides automatic shutoff safety.
Features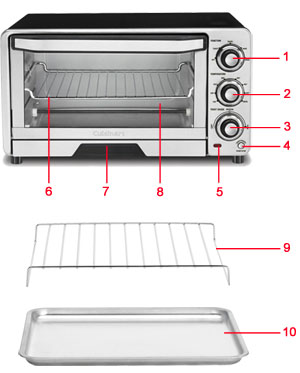 1. Function Dial
Select cooking method – Toast, Bagel, Bake, or Broil'
2. Temperature Dial
Select desired temperature for the Baking or Broiling functions.
3. Toast Shade Dial
Select the desired toast shade for the Toast and Bagel functions – Light, Medium or Dark.
4. Toasting Start/Stop Button
Push the Start/Stop button to start the Toast or Bagel function. Push the Start/Stop button to stop toasting in mid cycle and shut off oven.
5. Oven "On" Indicator
Indicator light will remain lit when oven is in use.
6. Oven Rack
Oven rack slides out automatically when the door is opened.
7. Slide-out Crumb Tray
The slide-out crumb tray comes already positioned in your oven. The crumb tray slides out from the bottom front of the toaster oven for easy cleaning.
8. Easy-Clean Interior
The sides of the oven are coated, providing an easy-to-clean surface.
9. Broiling Rack
A broiling rack fits into the baking pan/drip pan to use when broiling.
10. Baking Pan/Drip Pan
A baking pan/drip pan is included for your convenience. Use with the broiling rack when broiling. Use alone when baking or roasting.
11. Cord Storage (not shown)
Takes up excess cord and keeps countertop neat.
12. BPA-Free (not shown)
All parts that come in contact with food are BPA-free
What's in the Box