Cleaning of your house floor could never be easier. The Shark SK460 Steam & Spray is a powerful and easy-to-use cleaning tool that combines steam function with spray of cleanser. With three levels of steam amount control, it automatically spurts super heat steam as you clean. When combined with Steam Energized Cleanser, the Shark Steam & Spray provides an even higher level of cleaning performance. This powerful yet gentle cleanser eliminates your toughest stuck-on messes, without leaving residue behind. It offers three cleaning modes for various floor conditions: Steam & Spray mode for tough messes, Spray Only mode for quick battery-powered cleaning, and Steam Only mode for sanitizing with no residue. Plus, with the ergonomic handle and large water tank for less frequent refills, the Shark SK460 Steam & Spray mop is an amazing floor cleaning tool great for your entire home.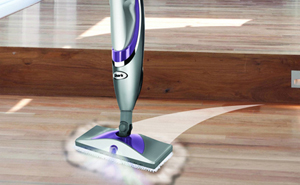 Superb Sanitization
Turns ordinary tap water into super-heated steam to eliminate household bacteria. Simply pump the handle a few times to start the steam. Your natural mopping motion will generate steam while you clean.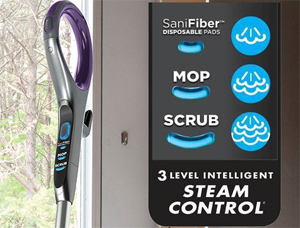 Three Settings of Intelligent Steam Control
Three electronic steam settings ensure you have the right amount of steam for any cleaning job.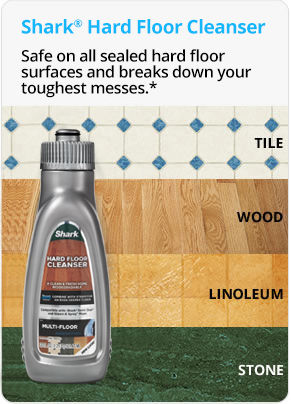 Steam Energized Cleanser
The Shark Steam Energized Cleanser is powerful and biodegradable. This cleanser is specially formulated to leave floors clean with no dulling residue. When combined with steam, Shark cleanser reaches an even higher level of cleaning. Ideal for breaking down tough greasy and stuck on messes.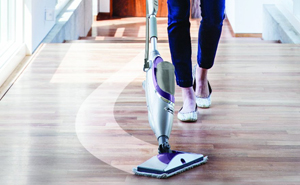 Easy Maneuverability
Swivel steering ensures easy 180-degree maneuverability around the house, even in tight spots around furniture.
Ready in 30 Seconds
The unit heats up and starts steaming in 30 seconds so you don't have to wait long before use.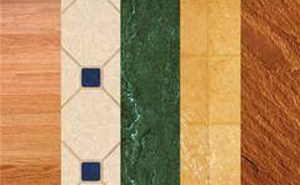 Works on All Floor Types
Works on all sealed hard floor surfaces such as hardwood, linoleum, tile, laminate and natural stone.
Washable & Disposable Pads
For the first time ever, Shark actually gives you the choice of what type of pad to use - disposable or washable!
You'll love the convenience of Shark disposable SaniFiber pads for quick pick-ups and they're great for areas like the bathroom - once the dirt, germs, and bacteria are picked up, you just throw the pad away.
Or, you can choose the Shark ultra-absorbent washable pads for bigger messes.
Three Cleaning Modes
The Shark Steam & Spray is the MOST VERSATILE steam floor cleaning machine ever - giving you three amazing Cleaning Modes! Before the Shark Steam & Spray, harsh chemicals were needed to sanitize your floors or break through messes - NOT ANYMORE - and now a powerful & biodegradable cleanser is added with the Shark Steam & Spray.
Spray Only Cleaning
Spray Shark Gentle Floor Cleanser to break down tough dirt and grime. Plus it's battery operated - go unplugged to spray and clean anytime anywhere!
Steam Only Cleaning
Sanitize floors in seconds with the power of super-heated steam.
Stream and Spray
When ENERGIZED with STEAM, Shark cleanser reaches an even higher level of cleaning, ideal for breaking down the tougher stuck on stains & greasy floor messes.
Warranty, Returns, And Additional Information