GPU/VPU
Screen Size
Memory
Seller
Price
Current Promotion
SSD
HDD
Virtual Reality Ready
Number of Cores
Optical Drive Type
Backlit Keyboard
HDMI
Video Port
Thunderbolt 3
Webcam
Wide Screen Support
Bluetooth
WLAN
Battery
Style
Weight
Video Memory
Refresh Rate
Useful Links
Customer Ratings
Ship From Country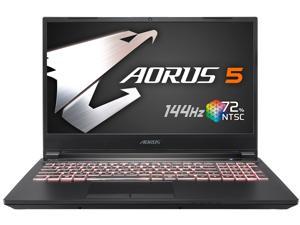 Gigabyte Aorus 5 - 15.6" 144 Hz - Intel Core i7-10750H - GeForce RTX 2060 - 16 GB DDR4 - 512 GB SSD - Windows 10 Home - Gaming Laptop (Aorus 5 KB-7US1130SH) - Only @ Newegg
Get Intel Software Bonus Bundle w/ purchase, limited offer
Graphic Type: Dedicated Card
Resolution: 1920 x 1080
Weight: 4.85 lbs.
Color: Black
Model #: AORUS 5 KB-7US1130SH
Item #: N82E16834725086
Return Policy: Standard Return Policy
$1,499.00

 
$1,099.00 (4 Offers)

–

Sale Ends in 2 Days (Mon) -

Save:

27%

$999.00

after

$100.00

rebate card

Free Shipping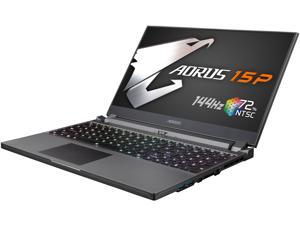 Gigabyte Aorus 15P - 15.6" 144 Hz - Intel Core i7-10750H - GeForce RTX 2070 Max-Q - 16 GB DDR4 - 512 GB SSD - Windows 10 Home - Gaming Laptop (Aorus 15P WB-7US1130SH)
Graphic Type: Dedicated Card
Resolution: 1920 x 1080
Weight: 4.52 lbs.
Operating System: Windows 10 Home 64-bit
Model #: 15P WB-7US1130SH
Return Policy: View Return Policy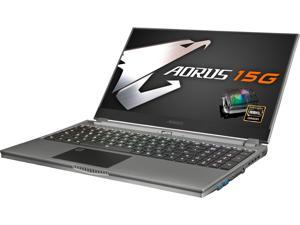 Gigabyte Aorus 15G - 15.6" - Intel Core i7-10750H - GeForce RTX 2070 Max-Q - 16 GB DDR4 - 512 GB SSD - Gaming Laptop (AORUS 15G WB-7US1130MH)
Get Intel Software Bonus Bundle w/ purchase, limited offer
Graphic Type: Dedicated Card
Resolution: 1920 x 1080
Weight: 4.85 lbs.
Color: Black
Model #: 15G WB-7US1130MH
Item #: N82E16834725112
Return Policy: Standard Return Policy
$2,199.00

 
$1,399.00 

–

Save:

36%

Free Shipping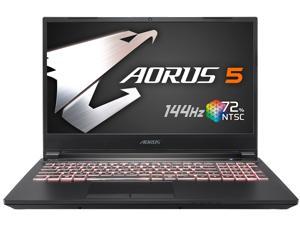 Aorus 5 SB-7US1130SH 15.6" 144 Hz IPS Intel Core i7 10th Gen 10750H (2.60 GHz) NVIDIA GeForce GTX 1660 Ti 16 GB Memory 512 GB PCIe SSD Windows 10 Home 64-bit Gaming Laptop
Graphic Type: Dedicated Card
Resolution: 1920 x 1080
Weight: 4.85 lbs.
Color: Black
Model #: AORUS 5 SB-7US1130SH
Return Policy: View Return Policy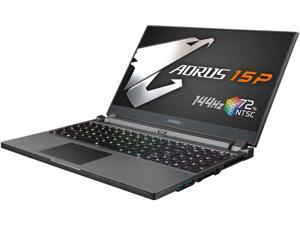 Aorus 15P WB-7US1130SH 15.6" 144 Hz Intel Core i7 10th Gen 10750H (2.60 GHz) NVIDIA GeForce RTX 2070 Max-Q 16 GB Memory 512 GB PCIe SSD Windows 10 Home 64-bit Gaming Laptop
Graphic Type: Dedicated Card
Resolution: 1920 x 1080
Weight: 4.52 lbs.
Operating System: Windows 10 Home 64-bit
Model #: AORUS15PWB-7US1130SH
Item #: N82E16834725123
Return Policy: Standard Return Policy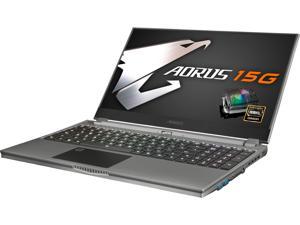 Aorus 15G XB-8US6150MH 15.6" 144 Hz Intel Core i7 10th Gen 10750H (2.60 GHz) NVIDIA GeForce RTX 2070 Super Max-Q 16 GB Memory 1 TB PCIe SSD Windows 10 Home 64-bit Gaming Laptop
Get Intel Software Bonus Bundle w/ purchase, limited offer
Graphic Type: Dedicated Card
Resolution: 1920 x 1080
Weight: 4.85 lbs.
Color: Black
Model #: 15G XB-8US6150MH
Item #: N82E16834725111
Return Policy: Standard Return Policy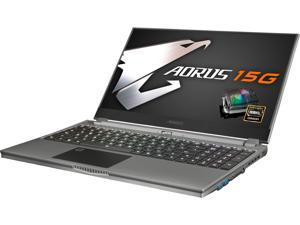 Aorus 15G KB-8US2130MH 15.6" 240 Hz Intel Core i7 10th Gen 10875H (2.30 GHz) NVIDIA GeForce RTX 2060 16 GB Memory 512 GB SSD Windows 10 Home 64-bit Gaming Laptop
Graphic Type: Dedicated Card
Resolution: 1920 x 1080
Weight: 4.85 lbs.
Color: Black
Model #: 15G KB-8US2130MH
Item #: 9SIAD6HBAP7761
Return Policy: View Return Policy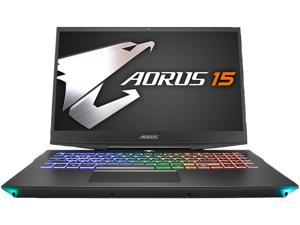 Gigabyte Aorus 15-WA-F74ADW 15.6" 144 Hz IPS Intel Core i7 9th Gen 9750H (2.60 GHz) NVIDIA GeForce RTX 2060 16 GB Memory 512 GB SSD Windows 10 Home 64-bit Gaming Laptop
Graphic Type: Dedicated Card
Resolution: 1920 x 1080
Weight: 5.29 lbs.
Color: Black
Model #: 15-WA-F74ADW
Item #: 9SIAS68DH70621
Return Policy: View Return Policy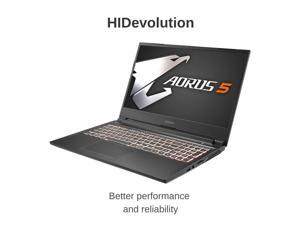 HIDevolution AORUS 5 SB-7US1130SH 15.6" FHD 144Hz | 2.6 GHz i7-10750H, GTX 1660 Ti, 16 GB 2666MHz RAM, 8 TB PCIe SSD | Authorized Performance Upgrades & Warranty
Graphic Type: Dedicated Card
Resolution: 1920 x 1080
Weight: 4.85
Part Number: AO5-SB-7US1130SH-HID6
Model #: AO5-SB-7US1130SH-6
Item #: 9SIA25VCUY9733
Return Policy: View Return Policy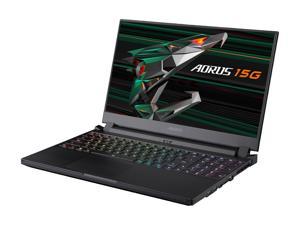 GIGABYTE AORUS 15G - 15.6" 240 Hz IPS - Intel Core i7-10870H - NVIDIA® GeForce RTX™ 3080 Laptop GPU 8GB GDDR6 - 32 GB Memory - 1 TB PCIe SSD - Windows 10 Home - Gaming Laptop (AORUS 15G YC-8US2450SH)
Release Date: 01/26/2021
Graphic Type: Dedicated Card
Resolution: 1920 x 1080
Weight: 4.51 lbs.
Color: Black
Model #: 15G YC-8US2450SH
Item #: N82E16834725124
Return Policy: Standard Return Policy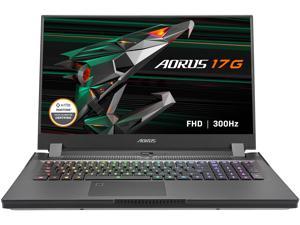 GIGABYTE AORUS 17G - 17.3" 300 Hz - Intel Core i7-10870H - NVIDIA GeForce RTX 3070 Laptop GPU 8 GB GDDR6 - 32 GB Memory - 512 GB PCIe SSD - Windows 10 Home - Gaming Laptop (AORUS 17G XC-8US6430SH)
Release Date: 01/26/2021
Graphic Type: Dedicated Card
Resolution: 1920 x 1080
Weight: 5.95 lbs.
Color: Black
Model #: 17G XC-8US6430SH
Item #: N82E16834725128
Return Policy: Standard Return Policy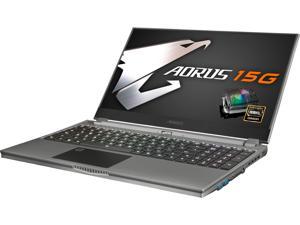 Aorus 15G YB-8US2130MP 15.6" 240 Hz Intel Core i7 10th Gen 10875H (2.30 GHz) NVIDIA GeForce RTX 2080 SUPER Max-Q 16 GB Memory 512 GB SSD Windows 10 Pro 64-bit Gaming Laptop
OUT OF STOCK
Graphic Type: Dedicated Card
Resolution: 1920 x 1080
Weight: 4.85 lbs.
Color: Black
Model #: 15G YB-8US2130MP
Item #: 9SIA1K6CAW8390
Return Policy: View Return Policy
What Customers Are Saying...
I needed to switch over to Apple computer, phone and ipad because of software changes in my buisness. I was able to purchase a Macbook Air, Iphone 5se, and Ipad Air. These items were either open box or refurbished with a A rating. Fabulous Prices, all worked and looked new. I am a faithful user of a popular on line store that deals in the same items, however I can not get these kind of deals especially at these condition and prices.
See All

12 Months Special Financing** every day on purchases of $499 or more.
Learn More
Experience video games with optimal fluidity by choosing AORUS® gaming laptops, which include multiple connectivity ports, Wi-Fi® support and a webcam. Intel® Core™ i7 and i9 central processing unit (CPU) types ensure that all games run smoothly without overheating the device. Play the latest First Person Shooter (FPS) games or adventures at the highest settings with NVIDIA® GeForce® GTX or RTX graphic cards in AORUS models. Gamers can browse laptops with a storage capacity of up to 4TB. AORUS Intel Core i7 gaming laptops come with a stylish design due to the backlit keyboard and sharp edges. High-speed processing and ample RAM support let you stream video games while playing. 
AORUS Gaming Laptops Guarantee Optimal Performance 
Programmable shading lets users fine-tune their settings for specific genre games and save profiles. Ray tracing reproduces natural light rays, delivering a visually immersive environment while gaming. Browse gaming mice to accompany the laptop, or use the highly sensitive touchpad, which is more convenient for outdoor use. One of the new essential aspects of AOUS 10th Gen gaming laptops is Deep Learning Super Sampling (DLSS), meaning artificial intelligence that helps the graphic processing unit (GPU) render images in real-time. The standard 144Hz refresh rate provides a lively and crisp video display without blurs. Dual fans with 47 blades keep laptop components from overheating, which extends the shelf life of AORUS products. Heat pipes are another essential part of the cooling process, taking care of CPU and GPU areas. 
Connectivity Is Key When Using a Gaming Laptop
Using several USB ports, gamers can add an external hard drive, a gaming mouse or recharge a smartphone via the AORUS laptop computer. Search through laptop accessories such as USB hub ports and security locks to find all the ways to upgrade the laptop. Use the audio jack to easily connect headphones or external speakers. The HDMI® 2.0 port allows a quick connection to a TV screen for a large-view gaming experience. Wi-Fi support includes a 2.4GHz and a 5GHz bandwidth, preventing web interruptions for smooth gaming. It also allows for seamless web browsing and data downloads without downtime. Bluetooth® connectivity is also available, which is practical for wireless headphone use. 
AORUS Laptops Offer Practical and Sleek Design
A matte black finish on the chassis offers style and durability throughout long-term gaming. With compact sizes, AORUS gaming laptops can fit comfortably in a laptop bag, and their lightweight construction is convenient for frequent travelers. Mechanical keyboards keep all buttons intact through years of gaming. Red Green Blue (RGB) technology provides a wide-range gamut of colors so that every user can find their preference. 
Experience the Clear Video Display of 10th Gen Laptops
Thin bezels and wide-screen support let gamers see all the details during intense gameplay. Screen sizes of AORUS laptops are available in a range from 15 in. through 17.3 in. Anti-glare screen properties ensure a clear view of the monitor in most cases.