BBQ Grills Brand Spotlight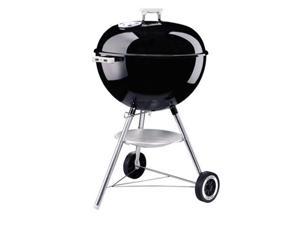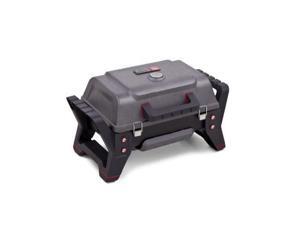 Char-Broil Grill2Go X200 Portable TRU-Infrared Liquid Propane Gas Grill
GoPlus Outdoor BBQ Grill Charcoal Barbecue Pit Patio Backyard Meat Cooker Smoker
Type: Combo Grill
Fuel Type: Charcoal
Model #: OP3525
Item #: 9SIAAH777Z3179
Return Policy: View Return Policy

vidaXL BBQ Charcoal Smoker with Bottom Shelf Black Barbecue Grill Stand Garden

vidaXL Kamado Barbecue Grill Smoker Ceramic 31.9" Outdoor BBQ Grill Cooking
 
$439.00 

–

Special Shipping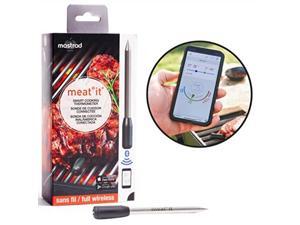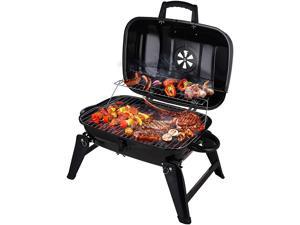 Ochine Portable Charcoal Grill BBQ and Smoker with Lid Folding Tabletop Grill for Camping Patio Backyard Outdoor Cooking, Black
Type: Charcoal Grill
Model #: 94831211-888
Item #: 9SIAU4DFCC7720
Return Policy: View Return Policy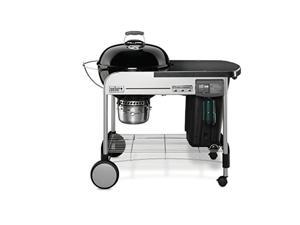 Weber 15501001 Performer Deluxe Charcoal Grill, 22-Inch, Black
Type: Charcoal Grill
Primary Cooking Area (sq/in): 201 to 400 sq/in
Fuel Type: Charcoal
Weight: 96
Model #: 15501001
Item #: 9SIAFVDFCT7277
Return Policy: View Return Policy

vidaXL Charcoal BBQ Stand with Wheels Black Steel Wood Grill Smoker Stand
BBQ grills impart a unique flavor to meats and other foods. They can use different types of fuel, including gas, pellet and charcoal. Each fuel generates a slightly different taste. Modern BBQs have intuitive controls, and some models are capable of maintaining a set temperature with minimal user intervention. There are compact models to fit the needs of people who live in condos or for those who enjoy carrying their own grill to the park or family get-togethers.
Pellet BBQ Grills Are Versatile and Easy to Use
Pellet grills are easy to ignite, and cooking on them enhances the flavor of meat. They pre-heat quickly, saving you time, and they allow you to monitor the temperature easily. This helps you to cook your foods evenly. Versatile pellet BBQ grills can manage different temperatures, typically from 180 to 500 degrees, so you can use them for different cooking techniques, including searing, braising and roasting. Some models have intuitive digital controls, while others offer systems for easier ash clean-up. The most advanced pellet grills come with a Wi-Fi controller, which lets you monitor the grilling temperature from your Android or iOS device. Others use special algorithms and sensors to feed the right amount of fuel and control airflow.
Gas Grills Come with Several Burners to Cook Different Dishes at the Same Time
Gas grills work similarly to a stovetop. Many models have multiple burners, so you can cook a few dishes at the same time. Each burner has an intuitive dial to regulate the temperature. You can fuel your outdoor BBQ grill with a propane tank. Most gas models pre-heat in about 15 minutes, so you can get your meal ready quickly and conveniently. Some models have versatile side burners and cabinets to help you make the most out of your cooking space and maximize space for grilling accessories. 
Charcoal Grills Provide a Delicious Smoky Flavor
Charcoal grills can reach very high temperatures, up to around 700 degrees F. This allows them to impart a distinctive smoky flavor to meats and other foods. There are very compact models available, which work well in small backyards and patios. Their attractive designs will blend well with your patio furniture. Some models feature an ashtray for easier clean-up or venting systems to maintain an optimal temperature. Most charcoal BBQ grills have an attractive price/quality ratio. 
Smoker Grills Slowly Roast Your Foods, Providing a Distinctive Flavor
Most smokers make it easy to get evenly cooked and moist steaks on the table. They can use different fuels, such as propane, pellet, charcoal or electricity. Vertical smokers help to save space and come with several racks to cook different dishes at the same time. Some models have an insulated front door to keep an optimal temperature. Others have systems to add fuel without opening the door or an air damper to control smoke. Smokers with LED displays are particularly suitable for use in the evening or in places with minimal outdoor lighting. Horizontal smokers look similar to BBQs, but they also feature a lid, which helps to keep meats moist.