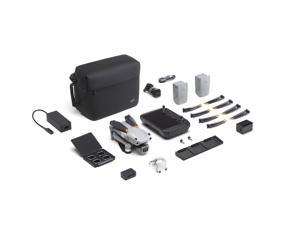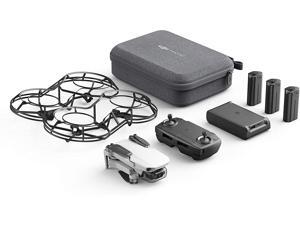 Refurbished: DJI Mavic Mini Combo - Drone FlyCam Quadcopter UAV with 2.7K Camera 3-Axis Gimbal GPS 30min Flight Time, Less Than 0.55 lb, Gray
Visit the DJI Store
Speed: Max Ascent Speed: 4 m/s (S Mode) 2 m/s (P Mode) 1.5 m/s (C Mode) Max Descent Speed: 3 m/s (S Mode) 1.8 m/s (P Mode) 1 m/s (C Mode) Max Speed (near sea level, no wind): 13 m/s (S Mode) 8 m/s (P Mode) 4 m/s (C Mode)
Maximum Altitude: Maximum Takeoff Altitude: 3000 m
Flight Time: Up to 30 minutes
Hardware Stabilization: Gimbal Mechanical Range: Tilt: -110° to 35° Roll: -35° to 35° Pan: -20° to 20° Controllable Range: Tilt: -90° to 0° (default setting) -90° to +20° (extended) Stabilization: 3-axis (tilt, roll, pan) Max Control Speed (tilt): 120°/s Angular Vibration Range: +/-0.01°
Model #: CP.MA.00000123.01.E
Item #: 9SIAXZ3EM77441
Return Policy: View Return Policy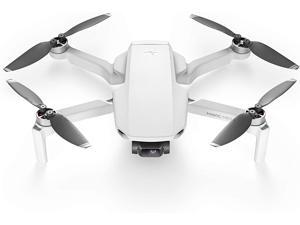 Refurbished: DJI Mavic Mini - Drone FlyCam Quadcopter UAV with 2.7K Camera 3-Axis Gimbal GPS 30min Flight Time, Less Than 0.55 lb., Gray
Visit the DJI Store
Speed: Max Ascent Speed: 4 m/s (S Mode) 2 m/s (P Mode) 1.5 m/s (C Mode) Max Descent Speed: 3 m/s (S Mode) 1.8 m/s (P Mode) 1 m/s (C Mode) Max Speed (near sea level, no wind): 13 m/s (S Mode) 8 m/s (P Mode) 4 m/s (C Mode) Max Wind Speed Resistance: 8 m/s (Scale 4)
Maximum Altitude: 3000 m
Flight Time: 30 minutes (measured while flying at 14 kph in windless conditions)
Hardware Stabilization: Gimbal Mechanical Range: Tilt: -110° to 35° Roll: -35° to 35° Pan: -20° to 20° Controllable Range: Tilt: -90° to 0° (default setting) -90° to +20° (extended) Stabilization: 3-axis (tilt, roll, pan) Max Control Speed (tilt): 120°/s Angular Vibration Range: +/-0.01°
Model #: CP.MA.00000120.01.E
Item #: 9SIAXZ3EM77427
Return Policy: View Return Policy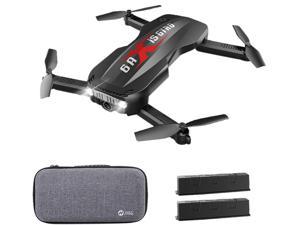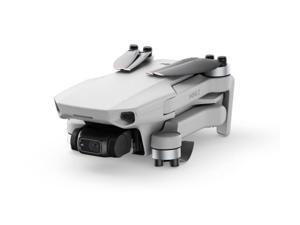 $499.00

 
$449.00 

–

Save:

10%

Free Shipping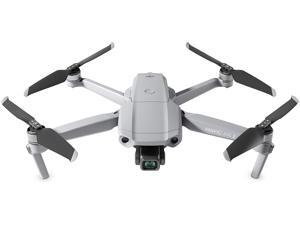 Refurbished: DJI Mavic Air 2 - Drone Quadcopter UAV with 48MP Camera 4K Video 8K Hyperlapse 1/2" CMOS Sensor 3-Axis Gimbal 34min Flight Time ActiveTrack 3.0 Ocusync 2.0
Visit the DJI Store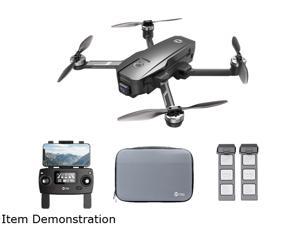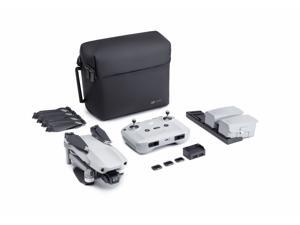 Refurbished: DJI Mavic Air 2 Fly More Combo - Drone Quadcopter UAV with 48MP Camera 4K Video 8K Hyperlapse 1/2" CMOS Sensor 3-Axis Gimbal 34min Flight Time ActiveTrack 3.0 Ocusync 2.0
Visit the DJI Store
Speed: Max Ascent Speed: 4 m/s (S Mode) 4 m/s (N Mode) Max Descent Speed: 3 m/s (S Mode) 3 m/s (N Mode) 5 m/s (S Mode and N Mode during a sharp descent) 3 m/s (all modes at elevations over 4500 m) Max Horizontal Flight Speed: 19 m/s (S Mode) 12 m/s (N Mode) 5 m/s (T Mode)
Range: Max Flight Distance: 18.5 km
Flight Time: Max Flight Time (without wind): 34 minutes Max Hover Time (without wind): 33 minutes
Hardware Stabilization: Gimbal Stabilization: 3-axis (tilt, roll, pan) Mechanical Range: Tilt: -135° to 45° Roll: -45° to 45° Pan: -100° to 100° Controllable Range: Tilt: -90° to 0° (Default) -90° to 24° (Extended) Max Controllable Speed (tilt): 100°/s Angular Vibration Range: +/- 0.01°
Model #: CP.MA.00000167.03.E
Return Policy: View Return Policy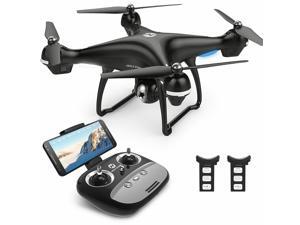 $169.99

 
$99.99 

–

Save:

41%

Free Shipping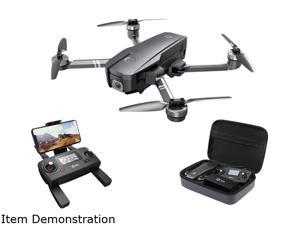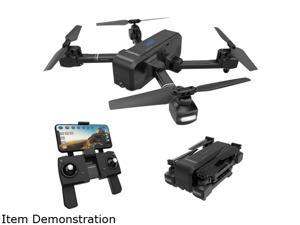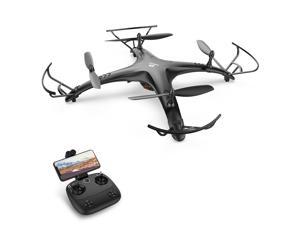 Drones are autonomous flying vehicles. Consumers can use them for photography and videography or for navigational practice and pleasure. You can even compete in FPV drone racing with the live stream camera feeds on some models. There are drones to meet any budget, including inexpensive models that allow beginners to get familiar with the basic controls. There are also professional-level devices with increased flight time and expanded flight controls. Remote control drones can include cameras, which connect via Bluetooth to a mobile phone, and some models can be controlled through a mobile app.
Quadcopter Drones Offer Inexpensive Fun
The quadcopter drone is the most popular design, combining inexpensive manufacture with market availability. Its use of multiple rotors means that it is cheaper to produce. There are minimal controls to learn and, once the user has mastered them, they will be able to fly the drone virtually anywhere. Features like brushless motors add to the cost of a quadcopter drone, but they allow longer flights and quieter operation. Flight times vary, but beginner models and toy drones offer between 5 and 10 minutes while advanced drones will last half an hour or more. Models with extra batteries allow you to use one battery while another is charging, so there's no need to break between flights.
Capture Video Footage with Built-In Cameras
Some drones are more than just RC vehicles. Whether you want to capture family moments, keep an eye on local wildlife or record a local event, a camera drone enables the taking of photos and the recording of video footage. Camera resolution can range right up to full 4K UHD quality, and even some basic models offer HD. It is common for WiFi drones to stream footage to a mobile app so that you can easily record and capture photographs. Racing drones, or First Person View (FPV) drones, include a cradle for a screen or mobile phone that gives a direct view from the cockpit of the drone.
Enjoy Greater Control with Automatic Flight Modes
Flying a drone takes practice and a mastery of the controls. However, some remote control drones offer automatic flight modes designed to automate some actions. Some drones can record their starting position and will return to this position at the press of a button, ensuring it can't be lost. With hover mode, a drone retains its pitch and elevation, making it easy to capture still photos and good quality video footage. A 3-axis gimbal is another popular addition to quadcopter drones. It keeps the camera steady, reducing blur and vibrations, and giving you the best image quality possible.
Upgrade Your Drone with Spare Parts and Accessories
Most drone owners progress from beginner models to more advanced as they improve their flying or want to capture better quality images. Ensure that you have spare parts while learning the basics, because bumps can happen. Invest in drone accessories like spare batteries and gimbals to improve the flying experience and enjoyment, too.